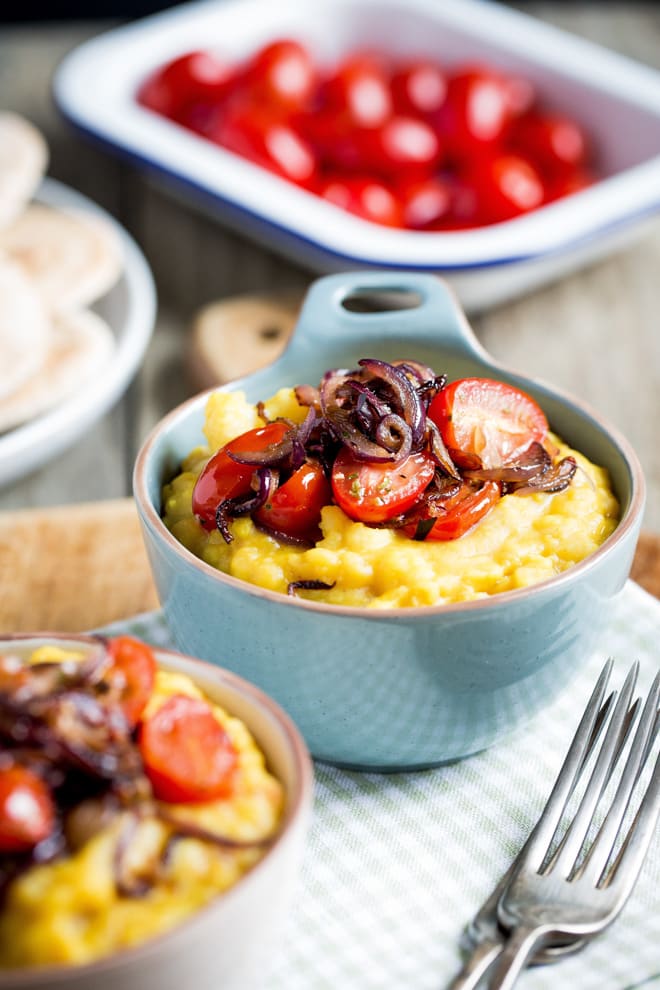 Yellow Split Pea and Cauliflower Dhal
Prep: 10 mins | Cook: 60 mins | Total: 70 mins | Quantity: 2 servings
Ingredients
1 cup (200g) Hodmedod's Yellow Split Peas
1 clove garlic – peeled and crushed
1 tsp fresh ginger – peeled and grated
2 cups (500ml) vegetable stock
2 cups (200g) cauliflower (fresh or frozen) – broken into small florets
1/2 cup (125ml) unsweetened almond milk
1-2 tsp turmeric powder
Salt and pepper
Drizzle of olive oil
1 red onion – peeled and finely sliced
handful cherry tomatoes – halved
Instructions
Give the split peas a rinse under cold water, drain and put into a medium non-stick saucepan along with the crushed garlic, grated fresh ginger and the vegetable stock
Gently bubble over a medium heat for around 45 minutes till the peas are quite soft but still with a little bit of bite to them.  Stir the pot frequently and top up with a bit of extra water if it starts to bubble dry.  You don't want to end up with a stodgy lump but you don't want it too liquid either so just add a little bit of extra water as necessary!
Add the cauliflower florets and almond milk and cook for a further 15 minutes, again stirring frequently
While that's finishing off saute the peeled and sliced onion in a small pan until very soft and starting to caramelise, add the halved cherry tomatoes and cook for a couple of minutes till warmed through
Check the seasoning of the split peas and add salt and pepper to taste
To serve put the dhal in a bowl and top with the onions and tomato.  Enjoy! 
Notes
I use a non-stick saucepan when cooking anything like split peas or fava beans or the pan needs LOTS of soaking before washing up!
Recipe by The Cook & Him at https://thecookandhim.com/recipes/yellow-split-pea-and-cauliflower-dhal/