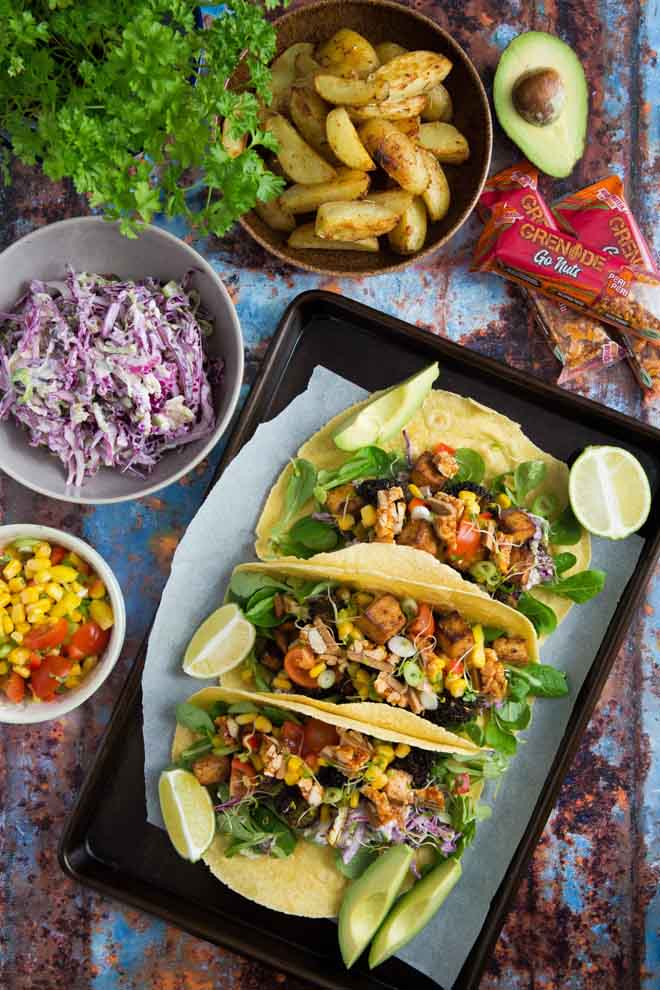 Peri Peri Tacos with Sweetcorn Salsa
Prep: 15 mins | Cook: 35 mins | Total: 50 mins | Quantity: 2-4 servings
Ingredients
Tofu:
2 cups (400g) tofu
3 cups (280g / 1 large head) broccoli – broken into florets and measured
3 tblsp oil
2 tblsp liquid aminos (or soy sauce)
1 tsp fresh grated ginger
1 tblsp agave or maple syrup
2 tsp garlic powder
1 tsp ground cumin
1 tsp smoked paprika
1 tsp chili flakes (add more if you like it extra spicy!)
1-2 tsp dried oregano
Good pinch each of salt and pepper
3 x Grenade Go Nuts Peri Peri bars – roughly chopped
Sweetcorn Salsa:
½ cup (100g) sweetcorn
½ cup (100g) cherry tomatoes – quartered
½ red pepper – finely diced
2 spring onions – thinly sliced
1 tblsp olive oil
1 tsp white wine vinegar
½ tsp garlic powder
Pinch of salt and pepper
To serve:
Instructions
Drain the tofu and lay between several pieces of kitchen paper for at least 30 minutes
Preheat your oven to 180 Fan / 200 C / 400 F / Gas 6 and line a large tray with parchment or a silicon mat
In a large bowl mix together the oil, aminos, ginger, syrup, spices, oregano and salt and pepper
Dice the tofu into roughly 2cm cubes and add to the bowl. Gently toss in the sauce then lift out and place on your prepared tray
Put the broccoli florets in the bowl and toss with the remaining sauce. Lay onto the tray with the tofu and bake for 35 minutes until golden and crisp
While that's cooking make the salsa
Drain the sweetcorn and tip into a bowl. Add the quartered tomatoes and sliced onions
Whisk together the oil, vinegar, garlic powder and seasoning to taste and stir into the sweetcorn mixture
To serve the tacos, layer up the lettuce, coleslaw, tofu and broccoli onto a tortilla. Top with the salsa and Go Nuts Peri Per bars, fold end enjoy!
Recipe by The Cook & Him at https://thecookandhim.com/recipes/peri-peri-tacos-with-sweetcorn-salsa/