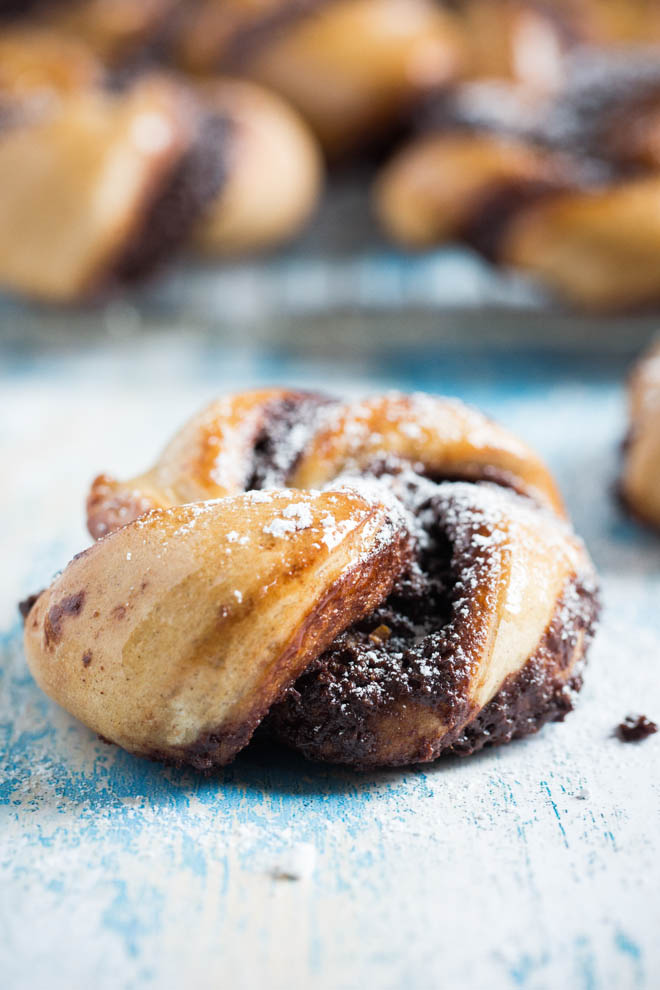 Chocolate and Pistachio Babka Buns
Prep: 30 mins | Cook: 25 minutes mins | Total: 55 mins | Quantity: 12-14 babka buns
Ingredients
Chocolate Filling:
1/2 cup (125g) dairy free dark chocolate
1/2 cup (125g) vegan butter
2 tblsp tahini
1/4 cup (20g) raw cacao powder
4 tblsp icing sugar
1/2 cup (50g) pistachios – shelled weight – roughly chopped
Bun dough:
3 + 1/2 cups (500g) strong white bread flour
1 + 1/2 tsp salt
2 tsp ground cinnamon
1 tsp ground nutmeg
1 + 1/3 cups (300ml) unsweetened plant milk
1 tblsp sugar
1 tblsp active dried yeast
3 tblsp maple syrup to glaze
Instructions
Start by making the chocolate paste as it needs time to cool and set enough to a spreadable consistency
Melt together the chocolate and butter either in a microwave or over a bain-marie (a heat proof bowl set over a saucepan of barely simmering water)
When melted whisk in the tahini, cacao powder and icing sugar and set aside. You can speed up the setting by putting it in the fridge - but keep an eye on it, you don't want it so set you can't spread it!
Into a large bowl put the flour, salt, cinnamon and nutmeg
In a small pan very gently heat the milk and sugar to blood temperature - this means when you put your finger in you can't tell if it's warm or cold! If it's too warm leave to cool down or you might end up killing the yeast
Whisk in the yeast and leave to froth for 5 minutes
Add the liquid to the flour mixture and mix together to form a dough
Tip out onto a lightly dusted surface and knead vigorously for 5-10 minutes. Knead the dough by stretching and tearing it
Put the dough in a clean, lightly oiled bowl, cover and leave to prove in a warm place until doubled in size (roughly an hour - or less if you have a prove setting on your oven or a warm windowsill!)
Tip the dough out, knead lightly then roll out to a large rectangle roughly 17 x 16 inches (43 x 40 cm)
Spread the paste over half of the dough then sprinkle with the chopped nuts
Using a sharp knife cut into 12-14 even strips approximately 1 inch thick
Twist each piece into a spiral, stretching as you twist then tie into a knot. Place onto the prepared tray
Repeat for each strip, spacing them reasonably well apart on the tray so they have room to grow
Leave to prove until well risen and roughly doubled in size again
Preheat your oven to 180 Fan / 200 C / 400 F / Gas 6 and line 2 large baking trays with parchment or silicon mats
Bake the babka buns for 25 minutes until golden. Immediately after removing from the oven brush with the maple syrup for a lovely sticky glaze
Enoy!
Recipe by The Cook & Him at https://thecookandhim.com/recipes/chocolate-and-pistachio-babka-buns/