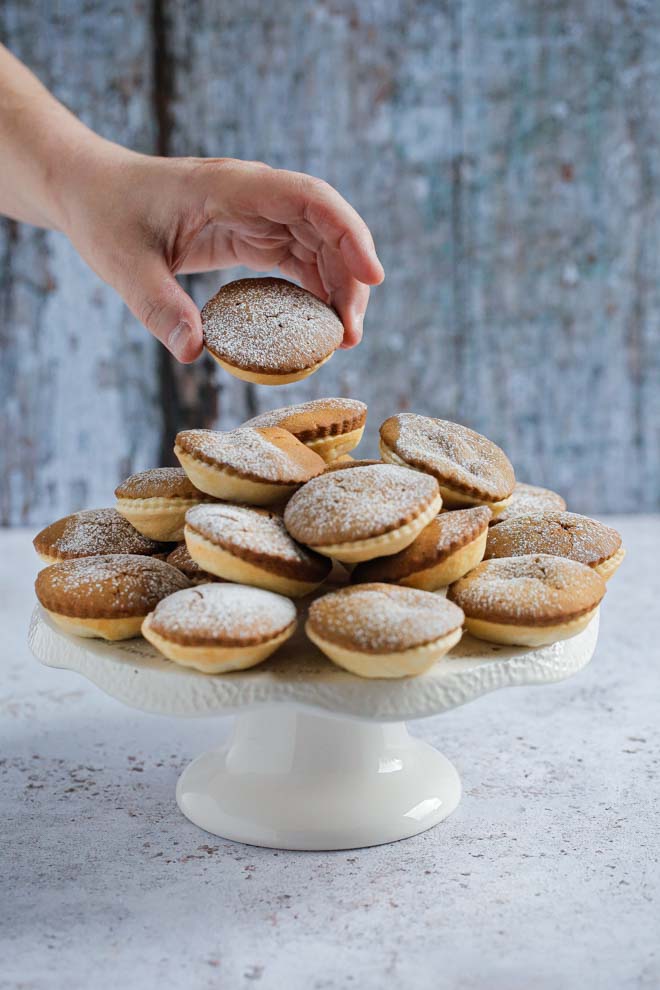 Gingerbread Mince Pies
Prep: 60 mins | Cook: 20 mins | Total: 80 mins | Quantity: roughly 30 mince pies
Ingredients
Gingerbread:
100g vegan butter
90g soft light brown sugar
2 tblsp golden syrup
1 tblsp black treacle
250g plain flour
2 tsp ground cinnamon
3 tsp ground ginger
1/2 tsp bicarbonate of soda
375g pack ready rolled shortcrust pastry
Instructions
If you're making your own mincemeat, do that first and allow to cool while you make the other components. If you use the linked recipe you'll need roughly 2/3 of it and it takes around half an hour to make, start to finish
To make the gingerbread beat together the butter, sugar, syrup and treacle. You can use a stand mixer or beat by hand - if so, make sure to soften the butter beforehand
Add the flour, cinnamon, ginger and bicarbonate and mix until it just forms a dough, try not to over mix. Wrap in parchment or cling film and put in the fridge for at least 30 minutes (or up to a few days ahead)
To make the mince pies pre-heat the oven to 170 Fan / 190 C / 375 F / Gas 5
Uncurl the pastry onto a floured surface and roll out a little thinner. Use pastry cutters to cut around 30 discs to fit the base of your mince pie tin(s). If you've only got 1 or 2 mince pie tins, you can cook these on rotation - cut all the pastry circles, put onto a tray or plate, cover with cling film and keep in the fridge until needed
Pop the pastry into the cups of the mince pie tin(s) and gently press down to form the cup base
Add around 1 heaped-ish teaspoon of mincemeat to each pie and set aside
Roll out the gingerbread on a floured surface to 5 mm thick then cut smaller circles to fit the tops of your pies. Lift them onto the pies, gently pressing down round the edges
Bake for 20 minutes - the gingerbread will still feel a little too soft to the touch when you take it out of the oven but it will firm up once it cools
Store in an airtight container once cooled or freeze
Notes
Re-heat in a warm (not hot) oven if you want that fresh from the oven mince pie feeling!
Recipe by The Cook & Him at https://thecookandhim.com/recipes/gingerbread-mince-pies/