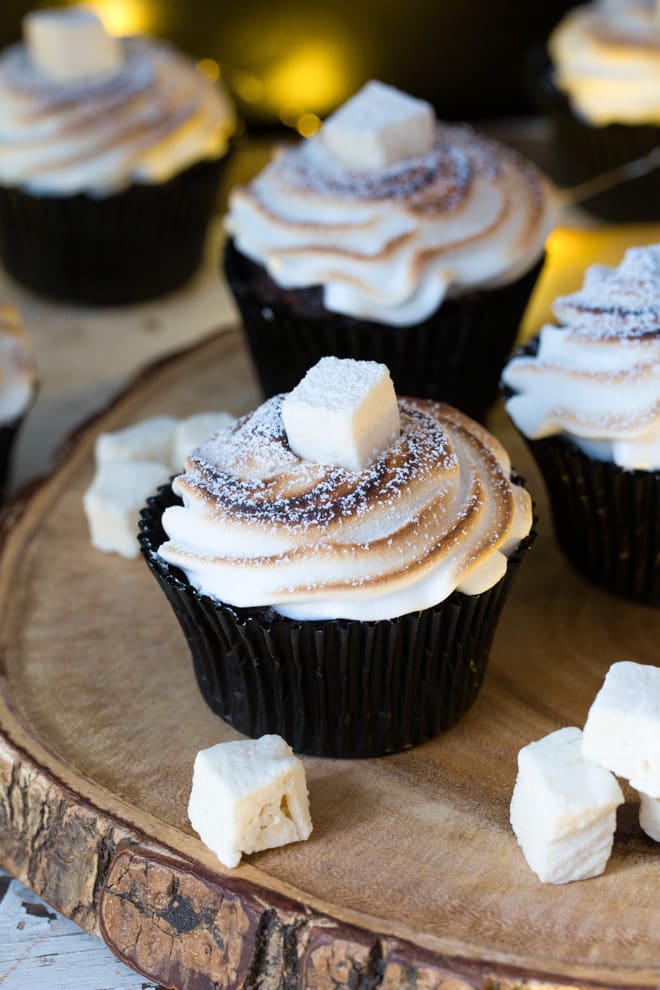 Vegan Hot Chocolate Muffins
Prep: 30 mins | Cook: 20 mins | Total: 50 mins | Quantity: 12 muffins
Ingredients
1/4 cup coconut oil
1 + 1/2 cups plain flour
1 tsp bicarbonate of soda
1/2 cup raw cacao powder
1 cup coconut sugar
1 tsp apple cider vinegar
1 + 1/4 cups hot water
100g dairy free dark chocolate chips
For the meringue topping
Roughly half the liquid from a 400g can of chickpeas
1/4 cup icing sugar
1/2 tsp cream of tartar (see note)
1 packet of Ananda's Madacascan Vanilla Marshmallows
Stand mixer or hand held electric whisk
Kitchen blow torch (not essential – I just used a hot grill!)
Instructions
Melt the coconut oil and set aside to cool slightly while you prepare everything else
Preheat your oven to 180 Fan / 200 C / 400 F / Gas 6 and line your muffin tin with 12 cases
In a large bowl mix together the plain flour, bicarbonate of soda, cacao powder and coconut sugar.  I just use a rubber spatula for this and stir until well mixed
Put the kettle on to boil
Whisk the cider vinegar into the coconut oil then add to your bowl of dry ingredients along with the hot water and stir until just mixed together
Stir in the dairy free chocolate chips
Divide the mixture between your cases, filling each case about 3/4 full.
Bake for 20-25 minutes until a skewer inserted in the centre of a muffin comes out clean.  Leave to cool in the tin for 5 minutes before removing from the tin and cooling completely on a wire rack
Once they're cool, make the meringue - you'll need an electric whisk for this (unless you have Popeye muscles!)
Preheat your grill to its hottest setting (unless you're using a kitchen blow torch) and put your muffins onto a baking tray
Put the chickpea water into the bowl of a stand mixer or just into a medium bowl if using an electric hand whisk and stir the cream of tartar into the icing sugar
Whisk until it forms soft snowy peaks - this usually takes at least a couple of minutes.  Then gradually add (a spoonful at a time) the icing sugar/cream of tartar mix whisking continuously while doing this
Once you've added all the icing sugar and you have glossy peaked meringue, spoon it into a piping bag and pipe onto the top of your cooled muffins.  I used a star nozzle but if you don't have a piping bag you can just spoon the meringue on to the top of each muffin
Put the muffins under the grill.  DO NOT WALK AWAY!!  Apologies for the caps but I can't stress this part enough!  If you've preheated your grill they take literally seconds to go from perfectly toasted to burnt mess!  Keep your eye on them and turn the tray if necessary to get even toasting
Cool slightly before topping with a vegan marshmallow for sheer indulgence ?
Store in an airtight container for up to 5 days.  I didn't store ours in the fridge as normal meringue has a tendency to 'weep' if put in the fridge and I assume the same would happen with this vegan meringue!
Notes
The cream of tartar is there to help keep the meringue stable.  Adding this helps prevent the meringue from slowly dissolving if you don't eat all of these muffins straight away - because who would ever do that??  These lasted a whole 3 days the last time I made them and the meringue was still in perfect shape!
Recipe by The Cook & Him at https://thecookandhim.com/recipes/vegan-hot-chocolate-muffins/