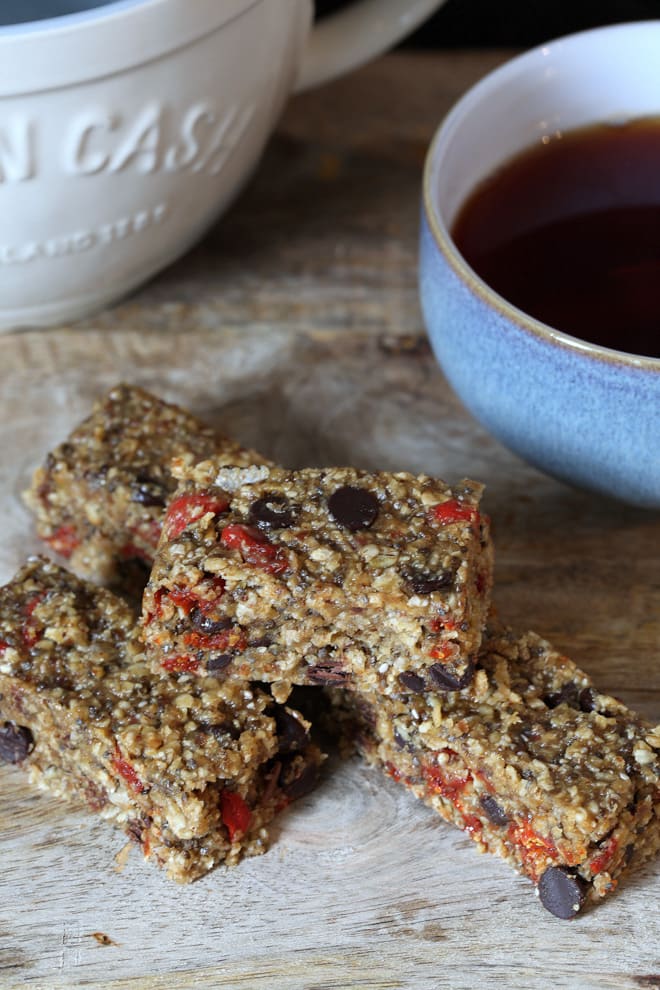 Peanut Butter Protein Bars
Prep: 20 mins | Cook: 0 mins | Total: 20 mins | Quantity: 16 - 20 bars
Ingredients
Instructions
Line a 9 x 9 inch tin or dish with a piece of parchment or cling film, covering the base and coming up the sides.  This just makes it easy to lift the set bars out of the tin!
In a food processor or using the grinder attachement of a blender blitz 1 + 1/2 cups of the oats and all of the flax seeds and blend until it looks like flour
Tip this into a large bowl along with the remaining 1/2 cup of unblended oats, the hemp protein powder, chia seeds, dark chocolate chips and goji berries and give it all a good stir
In a smallish bowl or jug stir together the peanut butter, almond milk and maple syrup till you have a smooth 'paste' then add this to the bowl of dry ingredients
Mix everything well until fully incorporated together
Tip into your prepared dish or tin and smooth/push out to the corners making it flattened and level as you go
Put in the fridge.  It takes several hours to set enough to cut the bars evenly and is better left overnight.  But if you can't wait and you don't care about nicely cut bars you can enjoy this whenever - the taste doesn't change, just the texture!
Notes
If you make this and enjoy it but are put off by having to regrind the oats, next time grind the oats and flax and put in a lidded container along with the other dry ingredients.  It means the next time you make them all you have to do is stir through the wet ingredients
I actually make 2-3 extra tubs of the weighed out dry ingredients as there's rarely a week goes by this isn't in our house or I'm making it for fellow addicts ?
Recipe by The Cook & Him at https://thecookandhim.com/recipes/peanut-butter-protein-bars/