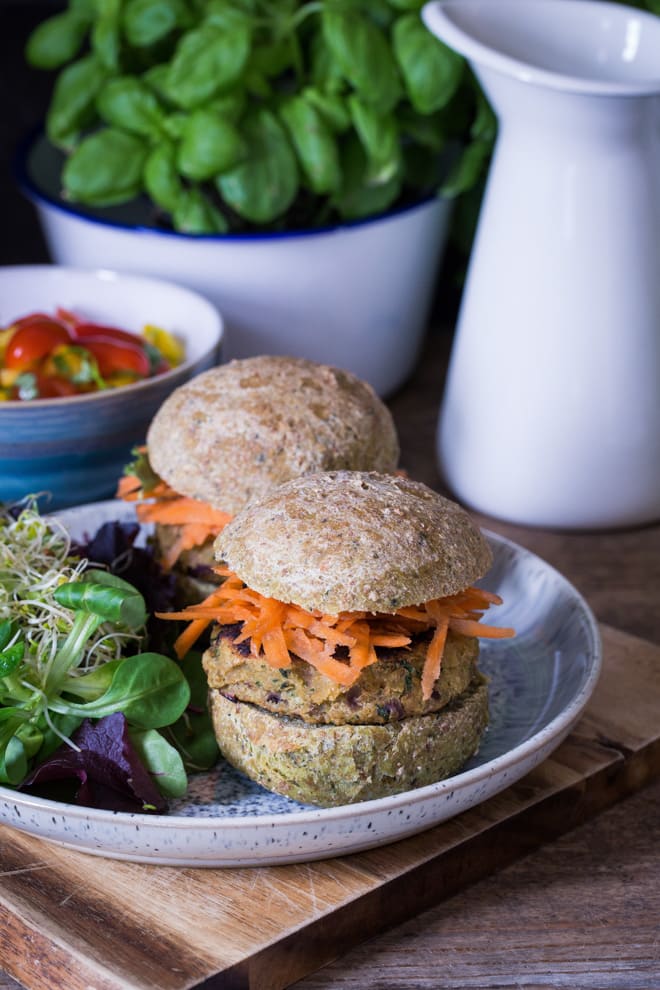 Falafel Recipe
Prep: 15 mins | Cook: 30 mins | Total: 45 mins | Quantity: 4 / 12 falafel / rolls
Ingredients
Falafel
1 red onion – peeled
2 cloves garlic – peeled
400g can of chickpeas – drained
2 tsp ground cumin
1 tblsp vegan basil pesto
handful fresh basil leaves
2 tblsp wholemeal flour
salt and pepper
drizzle of olive oil
Spinach Oat Rolls
225g wholemeal bread flour
225g strong white bread flour
50g oats
1 tsp active dry yeast
1 tsp sugar
75g baby spinach leaves
1 tblsp olive oil
1 tsp salt
300ml tepid water
Instructions
If you're not making the rolls, start from point number 9. If you're making the rolls, start with those first - in a large bowl mix tip both the flours, the oats, yeast and sugar.  Stir until mixed together well
Into a food processor put the spinach, salt, oil and about 1/4 of the water.  Whizz until the spinach is very well chopped
Add the spinach mixture to your large bowl of dry ingredients and mix until a dough starts to form
Tip out onto a floured work surface and knead for around 10 minutes.  This might seem a long time but it's a good workout and is very important to the finished bread result 
Once the dough feels soft but elastic put into a clean bowl that you've rubbed with a little olive oil
Cover with a tea-towel and leave in a warm place for around an hour until doubled in size 
Once the bread has doubled in size tip it out of the bowl and knead again to knock the air out.  This might seem counter-intuitive but kneading a second time results in a better crumb and no giant air pockets!
Line a large baking tray with parchment or a silicon mat.  Equally divide the dough into 12 and shape into rolls using the cups of your hands.  Put on the tray, cover in a piece of oiled clingfilm and again leave in a warm place until doubled in size
In the meantime, make the falafel burgers - roughly chop the peeled onion and garlic (you don't need to be too precise as it's going to get whizzed up in a food processor!)  
Put into a small frying pan with a drizzle of olive oil and gently fry for a few minutes over a medium heat until the onion is soft and turns translucent
Into a food processor tip the drained chickpeas, whizz until they're quite well chopped, using a spatula to scrape down the sides of the bowl as necessary
Then add the cooked onion and garlic, the pesto, cumin, basil leaves, flour and a good pinch of salt and pepper whizz again until everything is well chopped together, again scraping down the sides.  Remove the blade and put the bowl in the fridge till your rolls are ready (if you're not making the bread, skip straight to step 15!)
Once your rolls are almost doubled in size preheat the oven to 200 Fan / 220 C / 425 F / Gas 7.  Once up to temperature, bake the rolls for 30 minutes - tap the bottom to see if they're cooked - they will sound hollow when they're done!
Transfer to a wire rack to cool while you make the burgers
Divide the falafel mixture into 4 equal(ish) balls and flatten and shape into burger patties with your hands
Gently warm a little olive oil in a frying pan and carefully place in the burgers
Cook for around 10 minutes each side until crisp and golden
Serve immediately in a split bread roll - we like them slathered in hummus and grated carrot too ?
Notes
If you want to understand about bread, why the ingredients are there and why the all the processes I wrote a step by step guide right here for perfect bread every time!
The rolls freeze really well, so don't worry about having too many!
Recipe by The Cook & Him at https://thecookandhim.com/recipes/falafel-burgers-with-spinach-oat-rolls/