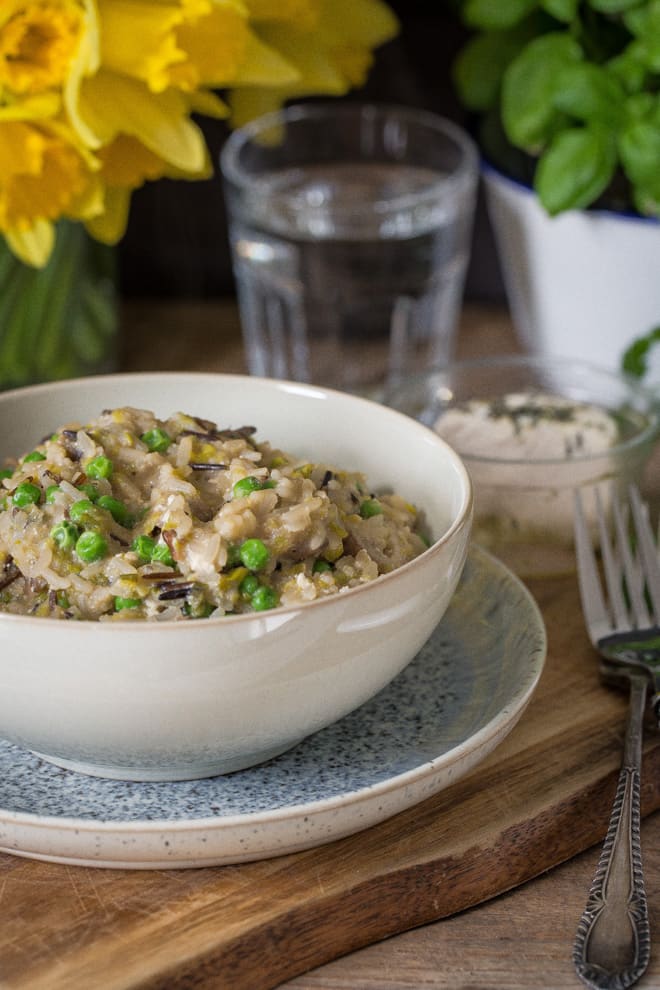 Mushroom Risotto Recipe
Prep: 10 mins | Cook: 20 mins | Total: 30 mins | Quantity: 2 portions
Ingredients
2 leeks
1 tblsp olive oil
300g closed cup mushrooms
2 large cloves garlic – crushed
150g Arborio Rice
750ml vegetable stock
200g petit pois peas (fresh or frozen work perfectly!)
75g New Roots Free the Goat Cheeze with Thyme and Lavender
Salt and pepper to taste
Instructions
Peel any tough or brown outer leaves from the leeks, split lengthways then thinly cut into half circles. Rinse well to remove any of the dirt that gets trapped in the layers and drain, shaking off any excess water
In a large frying pan gently warm the olive oil then tip in all the leeks. Cook over a medium heat for a few minutes till they start to soften, stirring occasionally
While the leeks are cooking, halve the mushrooms then roughly slice
When the leeks are starting to soften add the mushrooms and crushed garlic and saute for just a couple more minutes
Tip in the rice and cook, stirring, for 2 minutes
Pour in the vegetable stock, stir well then leave to simmer till almost all the liquid is absorbed (around 15-20 minutes), stirring occasionally
Stir in the petit pois peas just a minute or so before the liquid has all gone
Once all the liquid is absorbed, stir in the vegan cheese and season to taste.
Tip into 2 bowls, grab a fork and enjoy!
Recipe by The Cook & Him at https://thecookandhim.com/recipes/leek-and-mushroom-risotto/