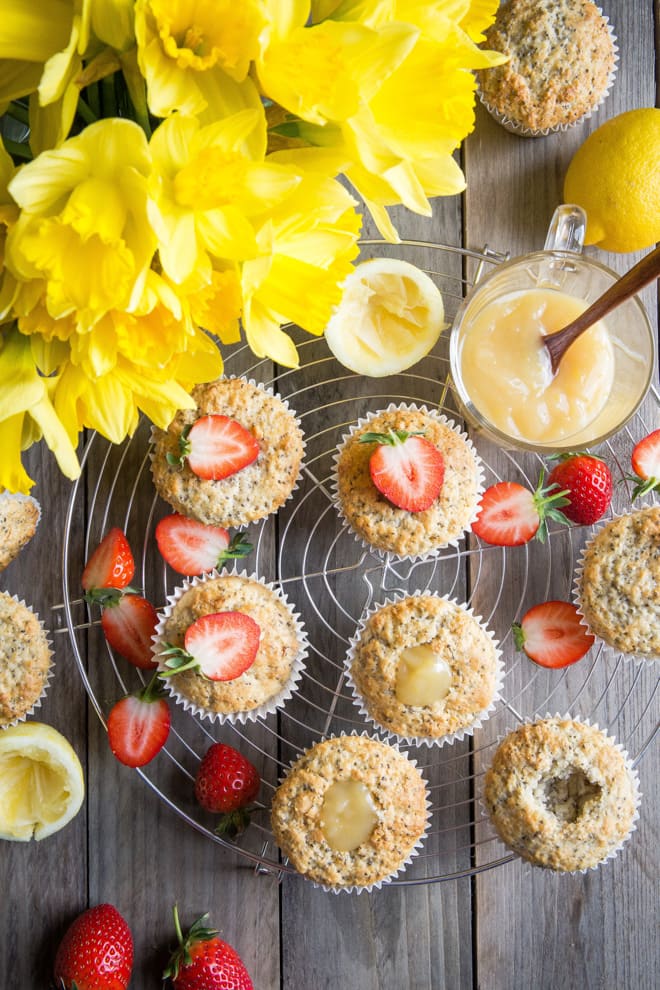 Chia Lemon Muffins with Lemon Curd
Prep: 30 mins | Cook: 25 mins | Total: 55 mins | Quantity: 12 muffins
Ingredients
Lemon Curd
2 tblsp cornflour
1/2 cup almond milk
Juice of 2 lemons
3/4 cup golden caster sugar
1 tblsp vegan spread (I used Vitalite)
Muffins
2 cups plain flour
2 1/2 tsp baking powder
1/4 tsp bicarbonate of soda
3 tblsp chia seeds
1/2 cup coconut sugar
1 lemon – grated zest and juice
1 cup almond milk
1 tsp apple cider vinegar
1/4 cup coconut oil – melted
Optional
fresh strawberries for decoration
Instructions
Start by making the lemon curd (so it has time to cool before spooning into the muffins!)  
Put the cornflour into a small bowl and whisk with 1-2 tblsp of the almond milk to make a smooth thin paste
Put the rest of the milk in a small saucepan along with the lemon juice and sugar, whisk together then bring almost to the boil.  Whisk in the cornflour mixture and gently bubble, whisking continuously until smooth and thick.  Take off the heat and set aside to cool
For the muffins, preheat the oven to 170 Fan / 190 C / 375 F / Gas 5 and line your muffin tin with cases
In a large bowl stir together the flour, baking powder, bicarbonate of soda, chia seeds and coconut sugar
In a small bowl or jug whisk together the lemon juice and zest, almond milk, vinegar and melted coconut oil then pour into the dry ingredients
Stir together until just mixed then spoon into the cupcake cases.  Bake for 20-25 minutes until a skewer or toothpick inserted in the centre comes out clean
Cool in the tin for 5 minutes before transferring to a wire rack to cool completely
Scoop out a piece of the centre of the muffins then spoon in the lemon curd and top with a half a fresh strawberry
Notes
If you don't intend to serve/eat the muffins straight away don't scoop out the middle, keep whole until you do intend to eat them
Store the lemon curd in the fridge and the muffins in an airtight container
First time I made the lemon curd I used coconut sugar - tasted great but because of the colour of coconut sugar the curd looked more like Nutella!!  If you'd prefer to use coconut sugar or another unrefined sugar it won't alter the taste but may drastically change the colour to a very non-lemon one! ?
Recipe by The Cook & Him at https://thecookandhim.com/recipes/chia-lemon-muffins-with-lemon-curd/