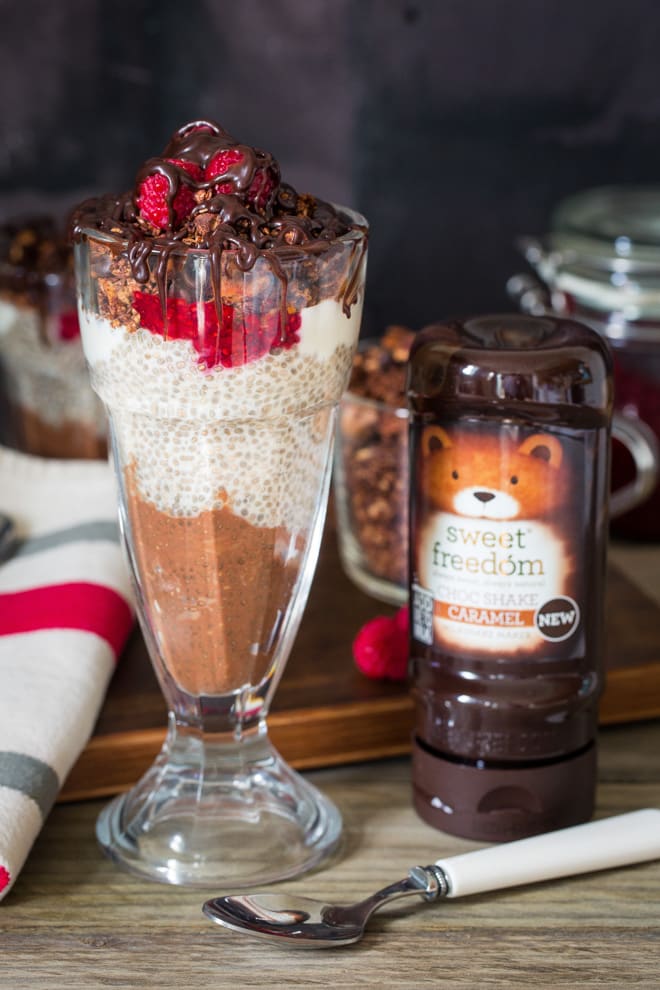 Neapolitan Breakfast Parfait
Prep: 30 mins | Cook: 30 mins | Total: 60 mins | Quantity: 4 servings
Ingredients
Jam
500g raspberries – fresh or frozen
1/2 lemon – grated zest and juice
3 tblsp maple syrup
3 tblsp chia seeds
Granola
1/2 cup unpeeled hazelnuts
2 cup rolled oats
2 tblsp raw cacao powder
2 tblsp coconut oil
1/2 cup dairy free chocolate chips – we use dark chocolate as it's less sweet and gives a richer flavour!
Vanilla Chia Pudding
1/4 cup chia seeds
1 tblsp maple syrup
1 cup almond milk
1 tsp vanilla extract
Chocolate Chia Pudding
1/4 cup chia seeds
1 tblsp raw cacao powder
2 tblsp Sweet Freedom Choc Shake – Caramel
1 cup almond milk
8 tblsp coconut yoghurt
Optional
fresh raspberries and an extra squeeze of Sweet Freedom for decoration!
Instructions
As everything is made in advance it's up to you where you start!  The jam and granola need to cool and the puddings need to set - all of this takes a couple of hours but as it's breakfast you'll most likely be making everything at least the day before (unless you're a VERY early riser!)
I'll start with the jam.  
Put the raspberries, maple syrup, lemon zest and juice into a heavy based saucepan (this helps lessen the chance of it burning if you forget to stir it frequently!)
Over a low-medium heat, gently bubble for 10 minutes till the fruit is very mushy, stirring frequently
Add the chia seeds and bubble for a further 5 minutes, again stirring frequently then set aside to cool
For the granola, preheat your oven to 170 Fan / 190 C / 375 F / Gas 5.  Line a large tray with parchment or a silicon mat
Tip the hazelnuts onto a small tray and toast for 15 minutes
Allow to cool for 5 minutes then rub the skins off between your hands to remove the skins (I don't tend to be overly fussy when doing this!)
Roughly chop then tip into a large bowl along with the oats and cacao powder
Melt the coconut oil then whisk in the Caramel Choc Shake.  Stir this through the oat mixture the tip the whole lot onto your large baking tray and cook for 15 minutes
Remove from the oven and carefully stir - bringing the mix around the edge into the centre and pushing the centre out to the edges.  Put back in the oven for another 15 minutes
Remove from the oven and leave to cool completely before adding the chocolate chips
For the chia puddings measure the ingredients into lidded containers and whisk to mix thoroughly.  Put in the fridge for at least an hour before using
To assemble spoon the chocolate chia pudding into the bottom of a glass (size and prettyness is up to you ?)
Add the vanilla chia pudding and dot/swirl with the a couple of tablespoons of coconut yoghurt and 2-3 teaspoons of raspberry jam
Top with a handful of granola and, if using, the fresh raspberries and a extra squeeze of Sweet Freedom!
Notes
Both the jam and granola recipes make more than you need to construct the parfait.  Feel free to halve the recipes.  We just LOVE them and like to have extra on hand for other breakfasts
The jam will keep for 2-3 weeks in an airtight jar in the fridge
The granola will keep for around 4 weeks in an airtight container at room temperature
Recipe by The Cook & Him at https://thecookandhim.com/recipes/neapolitan-breakfast-parfait/