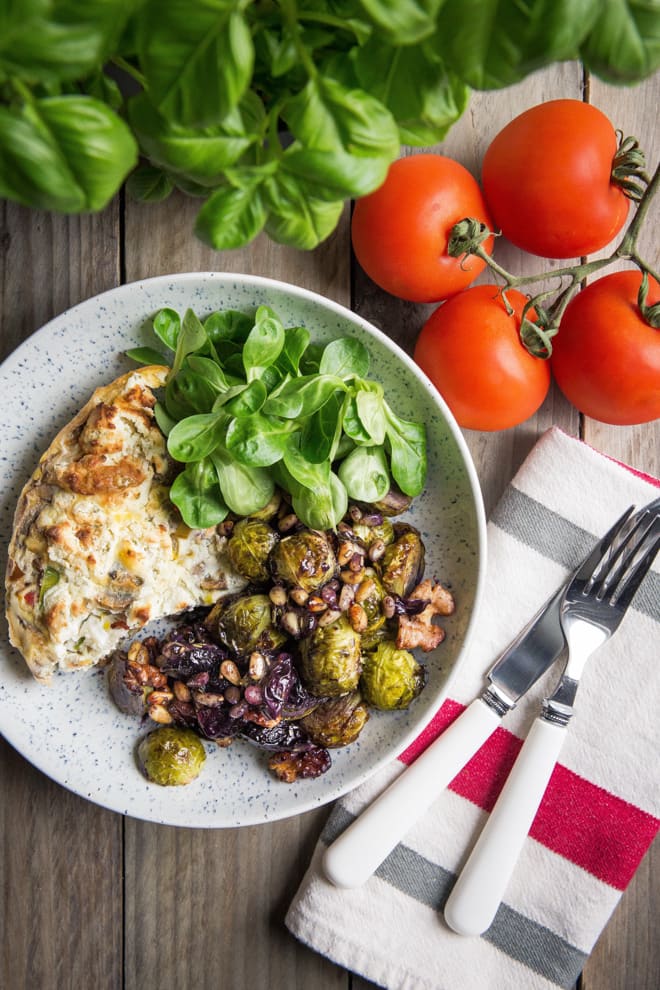 Roasted Sprouts, Grapes and Walnuts
Prep: 10 mins | Cook: 20 mins | Total: 30 mins | Quantity: 2 portions
Ingredients
1 tblsp olive oil
1/2 tsp dried rosemary
1 tblsp balsamic vinegar
1/2 tsp wholegrain mustard
1 tblsp nutritional yeast
Salt and pepper
250g sprouts
1/2 cup black grapes
1/4 cup walnut halves
1 tblsp pine nuts
Instructions
Preheat your oven to 210 Fan / 230 C / 450 F / Gas 8
In a medium bowl put the oil, rosemary, balsamic, mustard, nutritional yeast and a reasonable pinch each of salt and pepper.  Stir together
Remove any gnarly outer leaves from the sprouts, give a quick wash then cut in half (unless they're very tiny!)
Toss them into the bowl along with the grapes, walnuts and pine nuts and stir till everything is coated well
Tip onto a medium tray and roast for 10 minutes.  Remove from the oven, give a quick stir then return to the oven for a further 10 minutes
Serve immediately ?
Notes
For personal preference I roasted them for 20 minutes because I still like a bit of bite to my sprouts.  If you prefer them softer either par-boil for a couple of minutes before or roast another 10 minutes in the oven.  My advice would be to roast everything except the grapes for 10, add the grapes and stir then cook the whole lot for another 20 mins.
Recipe by The Cook & Him at https://thecookandhim.com/recipes/roasted-sprouts-grapes-and-walnuts/