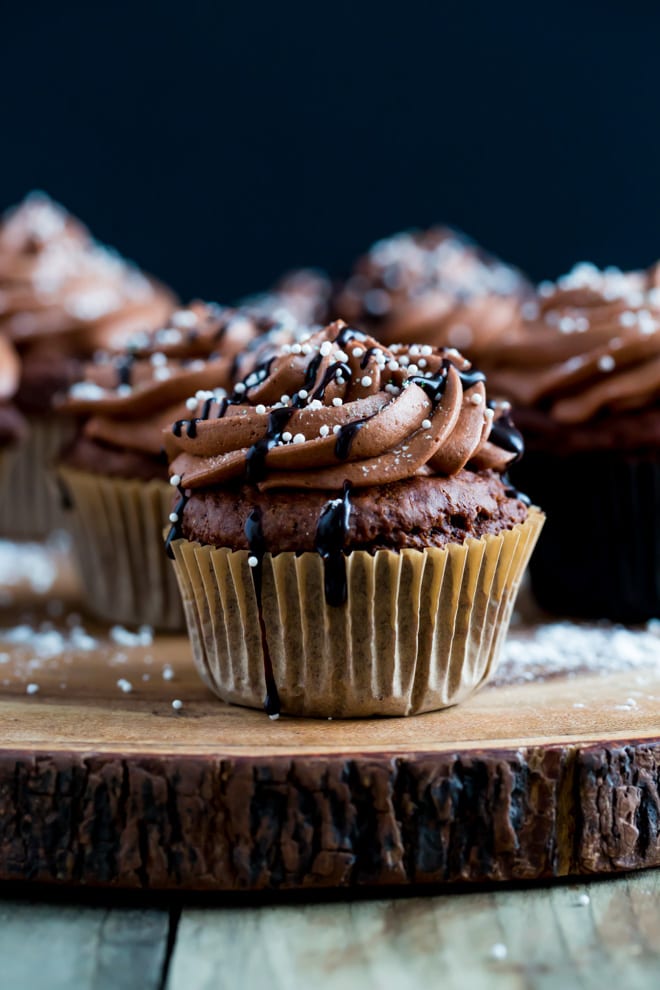 Posted in Recipes on 14.02.2019
Vegan Chocolate Cupcakes Recipe
prep: 15 mins / cook: 25 mins / inactive: 0 mins / total: 40 mins / quantity: 10 cupcakes Print recipe?
These vegan chocolate cupcakes are light but rich and decadent with a smooth and creamy vegan chocolate frosting.  They're also super simple and I hope will become your go-to vegan cupcakes recipe!
So, to date, I only seem to have posted muffin recipes (other than these monstrously delightful Halloween Cupcakes) and decided it was well past time I did something about it!  And what better than with the honest to goodness best vegan chocolate cupcakes?!
I've seen a lot of recipes highlight the fact that a) you won't be able to tell these are vegan cupcakes and b) it's a recipe with no strange ingredients.  Well it's true on both counts for these vegan chocolate cupcakes!  In all honesty, if you regularly bake vegan or try vegan recipes you'll know by now just how easy it as to make things that are just as good as, if not better, than their non-vegan counterparts.
And the ingredients generally aren't all that strange – flax and chia seeds are often used in vegan baking, as is nut milk, coconut yoghurt and vinegar.
For vegan baking to be successful, the most important part is replacing the egg.  Egg in baking gives things richness and lift.  Simply adding either a flax or chia 'egg' replicates the lost moisture of egg but doesn't always give it that oomph that you find in light, airy cupcakes.
So for this vegan chocolate cupcakes recipe I've used a tried and tested favourite – apple cider vinegar and baking soda.  These two ingredients used together in a recipe make a carbonated chemical reaction and results in that light crumb associated with the most delicate of cupcakes.
The rich chocolate flavour comes from raw cacao powder.  I only ever use this in baking now.  It has the most amazing smell and taste and delivers all that chocolate goodness with less processing and refinement as well as being high in heart healthy antioxidants.  I've used it in these easy vegan cupcakes in both the batter and frosting because if you're going to call something chocolate it should really scream CHOCOLATE right?
These vegan chocolate cupcakes are really rather good without the chocolate frosting but in moments of quiet reflection I don't ever want to wonder why I didn't eat more frosted cupcakes.  Life is just too short sometimes to leave things unfrosted.
I even went an extra step on some of these  and drizzled over the luscious thing that is Sweet Freedom Choc Shot.  This stuff shouldn't be as damn good yet as healthy as it is.  There's witchcraft or magic involved in it I'm sure.
If you're looking for other chocolate recipes we've got you more than covered!  Here's a few of our most popular:
If you make this recipe or any of the recipes from The Cook & Him we'd LOVE to see! Just snap a picture and share it on Instagram using #thecookandhim and tagging @thecookandhim in the photo itself (as this guarantees we'll see your picture!
)
And don't forget to follow us on Instagram , Facebook or Twitter for even more recipe inspiration and chat, competitions, behind the scenes and so much more!
Vegan Chocolate Cupcakes Recipe
prep: 15 mins / cook: 25 mins / inactive: 0 mins / total: 40 mins / quantity: 10 cupcakes
Ingredients
Cupcakes:
1/2 cup (120ml) unsweetened almond milk
1/2 cup (120ml) coconut yoghurt
1 tsp apple cider vinegar
1 tsp vanilla extract
1 + 1/4 cups (180g) plain flour
1 tsp baking powder
1/2 tsp bicarbonate of soda
1/4 cup (20g) raw cacao powder
1/2 cup (100g) coconut sugar (can sub with golden caster sugar)
Frosting:
1/2 cup (125g) dairy free margarine (see note)
1 cup (140g) icing sugar
1/4 cup (20g) raw cacao powder
Sugar sprinkles / edible glitter etc
Optional – a few drizzles of Sweet Freedom Choc Shot
Instructions
Preheat your oven to 180 Fan / 200 C / 400 F / Gas 6 and line 10 muffin holes with cases. If you use muffin cases as I did then you'll get 10 good sized cupcakes, if you use cupcake cases you'll get a lot more but smaller cupcakes out of this mix!
In a bowl or jug put the almond milk, yoghurt, vinegar and vanilla, give a quick whisk and leave to 'curdle' slightly while you prepare everything else
Into a large bowl sieve together the flour, baking powder, bicarbonate of soda and raw cacao powder
Stir in the sugar
Add the milk and vinegar mixture to the large bowl and stir everything together until well mixed, stirring up from the bottom of the bowl so you don't miss any flour 'pockets'
Evenly divide between your cases - filling each one roughly 2/3 full then bake for 22-25 minutes. Use a skewer or cocktail stick inserted in the middle of one of the cupcakes - if it comes out clean with no raw dough clinging to it the cupcakes are cooked. If not, just return to the oven for a few more minutes
While they're cooking and cooling make the icing - particularly if you're using a softer spread as you'll need to give it some time to chill (see note)
Once the cupcakes are cooked, leave them to cool in the tin for 5 minutes before transferring to a wire rack to cool completely
Once they're cooled, spoon the icing into a piping bag fitted with a your nozzle of choice - I used a large star nozzle
Pipe swirls of icing on top of each cupcake then add your sprinkles - I used simple white sprinkles and some iridescent edible glitter for a bit of sparkle ;)
Store in an airtight container
Notes
Which margarine you use is up to you - if you use a block margarine it will be similar to using butter and have a thicker consistency. Spread type vegan butter in a tub will be much softer and will possibly need to be chilled after beating in the icing sugar and before piping or spreading onto your cupcakes.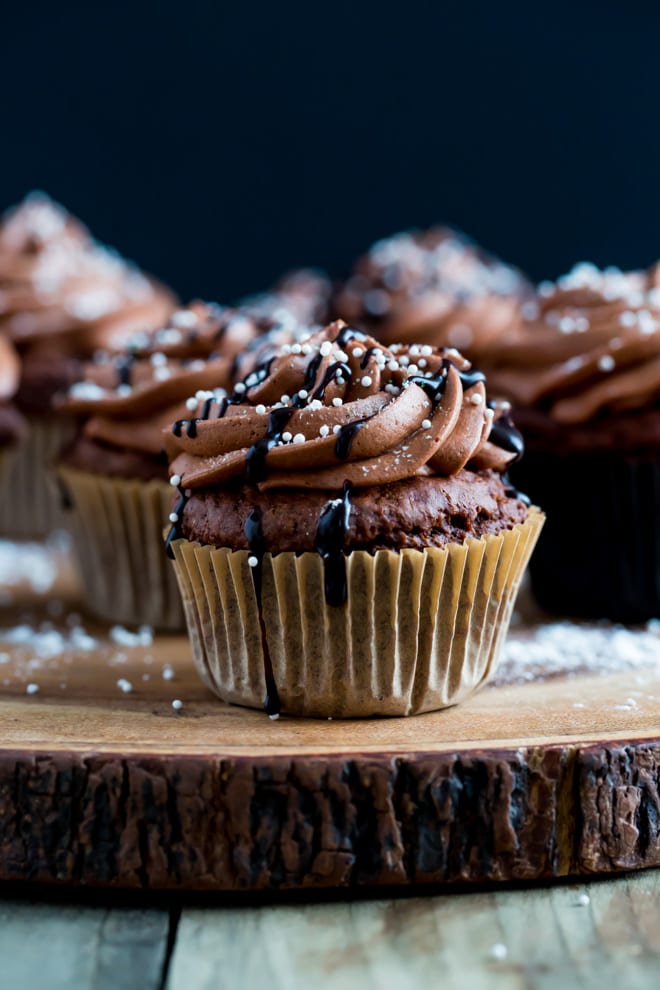 Some products I used in today's post...
Some of the links above are affiliate links, which pay us a small commission for our referral at no extra cost to you! Thank you for supporting The Cook & Him.
Hello and welcome to The Cook & Him.
We are Sam (The Cook), Phil (Him) and our little dog Nooch. What started with a plan to shed a few pounds back in 2016, soon became obvious that eating healthy doesn't have to be bland and boring.
So, combining Sam's 15 years of experience working within Michelin starred restaurants and our love for deliciously healthy food, we're creating recipes for you to make and enjoy. We've added our own unique spin on traditional and contemporary vegetarian and vegan recipes that keep you (and your pets!) healthy and full.  And we make sure they just work.
All things autumn - warming soups, savoury bakes and delicious sweet treats!
and I would like to see...
Or search for a recipe or post by keyword