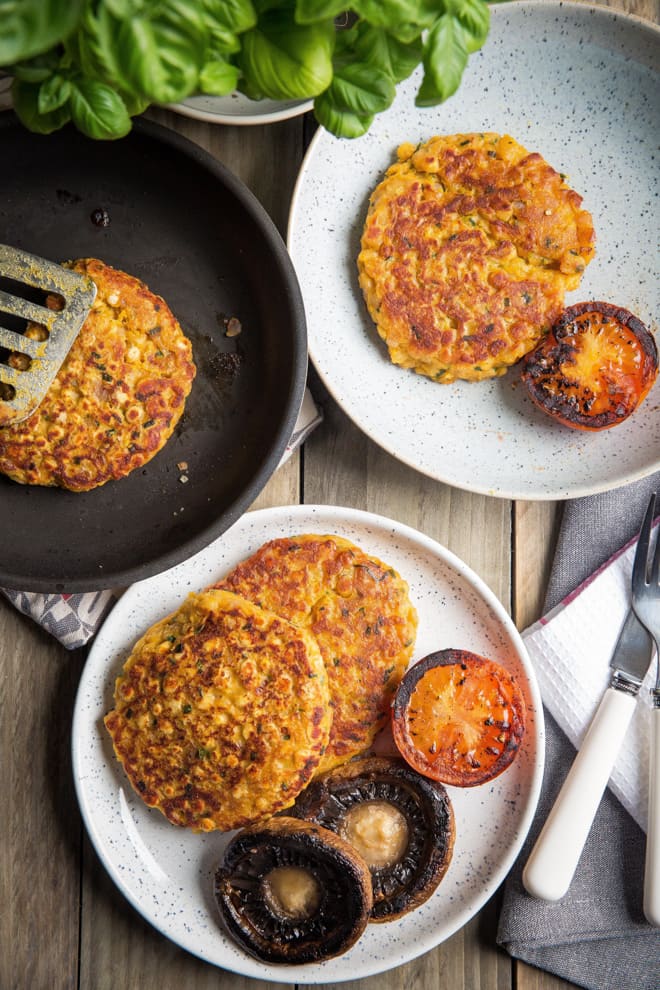 Split Yellow Pea Breakfast Fritters
Prep: 15 mins | Cook: 50 mins | Total: 65 mins | Quantity: 4 large fritters (2 portions)
Ingredients
1 red onion – peeled and finely diced
1 large carrot – peeled or scrubbed and finely grated
Couple of drizzles of olive oil
3 cups vegetable stock
1/4 cup fresh chives – snipped
1 tblsp light soy sauce
Salt and pepper
3 tblsp Hodmedod Yellow Pea Flour
Instructions
In a large(ish) saucepan, saute the onion and carrot with a drizzle of olive oil until the onion is just starting to soften
Add the split yellow peas and vegetable stock and simmer gently for around 30 minutes - I like my peas soft but still with a bit of bite.  Stir the peas often and keep an eye on the level of liquid, you want the liquid evaporated by the end but you don't want the peas to boil dry (or you'll be cleaning the pan for weeks!!)
Stir in the snipped chives, soy sauce and seasoning to taste.  Then stir in the yellow pea flour and leave to cool - this takes around an hour but you can make to this stage in advance and store in the fridge till you're ready to shape and fry
Divide the mixture into 4 equal parts and roughly shape into patties - I just use my hands for this.  It's a little messy but I've found it to be the best way!
As you shape each patty, lay them into a large frying pan with another drizzle of olive oil
Cook for 8-10 minutes each side over a medium heat, you want a lovely golden colour
Serve immediately with a couple of fried or grilled field mushrooms and halved tomatoes or a light side salad
I've also eaten these cold the next day and they're just as lovely!
Recipe by The Cook & Him at https://thecookandhim.com/recipes/split-yellow-pea-breakfast-fritters/