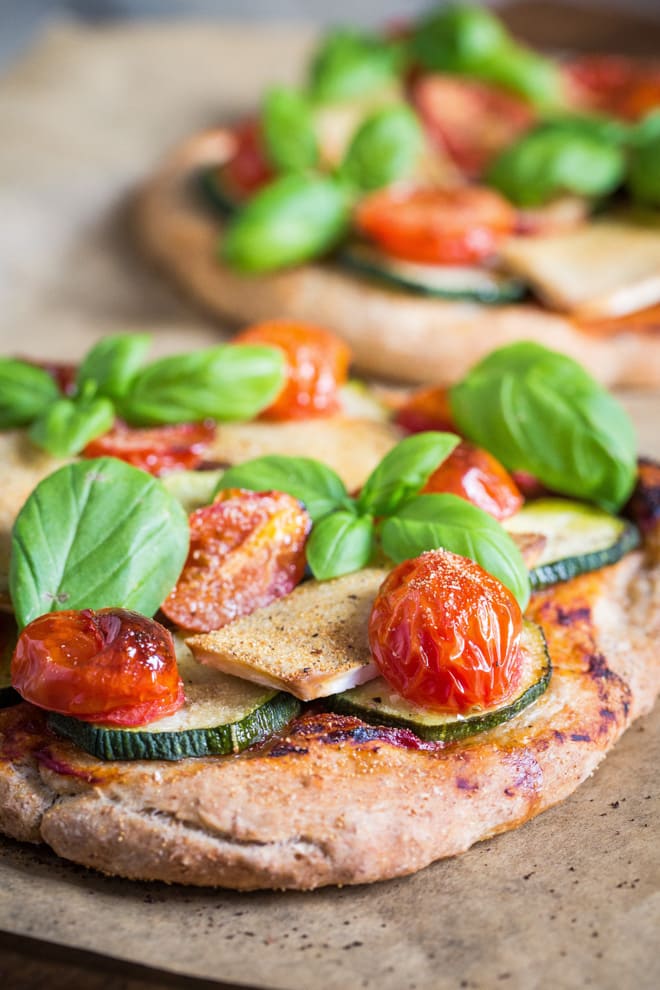 Easy Vegan Pizza
Prep: 30 mins | Cook: 25 mins | Total: 55 mins | Quantity: 4 x 6 inch pizzas
Ingredients
Flatbread
3/4 cup tepid water (see note)
1 + 1/2 tsp active dried yeast
1 tsp coconut sugar
1 cup plain white flour
1 cup plain wholemeal flour
1 tblsp olive oil
1 tsp salt
Topping
Approx 2 tblsp tomato puree
1 large courgette – sliced
1 New Roots Vegan Camembert Cheese – sliced into 12 pieces
20 cherry tomatoes – halved
1 tblsp garlic powder
Sea salt
Few sprigs of fresh basil
Instructions
Start with the dough.  Put the tepid water into a large bowl or into the bowl of a stand mixer
Whisk in the yeast and sugar, cover with a t-towel and leave for around 15 minutes until the surface is frothy
Tip in the flour, salt and olive oil and mix either by hand, with a rubber spatula or the dough hook of your machine, to a smooth soft dough.  Because we're using plain flour for a light, chewy dough you don't need to knead the heck out of it!  Just mix until it forms a dough
At this point you can transfer to a lightly oiled bowl and store, covered (with a t-towel or cling film), in the fridge for a couple of days.  Otherwise cover the bowl with the t-towel again and leave to prove for around 30 minutes
Preheat oven to 200 Fan / 220 C / 425 F / Gas 7 and line one large or 2 medium baking trays with parchment or a silicon mat
Tip the the dough onto a floured work surface and evenly divide into 4 pieces
Using a floured rolling pin or floured hands roll or shape the dough into flatish discs and lift onto your baking tray(s)
Spread roughly 1/2 tblsp tomato puree onto each base
Top with the sliced courgette then 3 pieces of Camembert per pizza and scatter over the halved cherry tomatoes
Sprinkle over the garlic powder and a pinch each of sea salt
Bake for 20 minutes until risen, crisp and golden, top with a few sprigs of fresh basil and enjoy!
Notes
The water should be blood temperature - meaning when you put your finger in it you can't feel if it's hot or cold!  If anything, err on the side of cold - too hot and you run the risk of killing the yeast.
Get experimental with your toppings - we've also had sliced mushrooms, peppers and pesto with New Roots Goat Cheeze.  All just as delicious!
Recipe by The Cook & Him at https://thecookandhim.com/recipes/vegan-pizza/