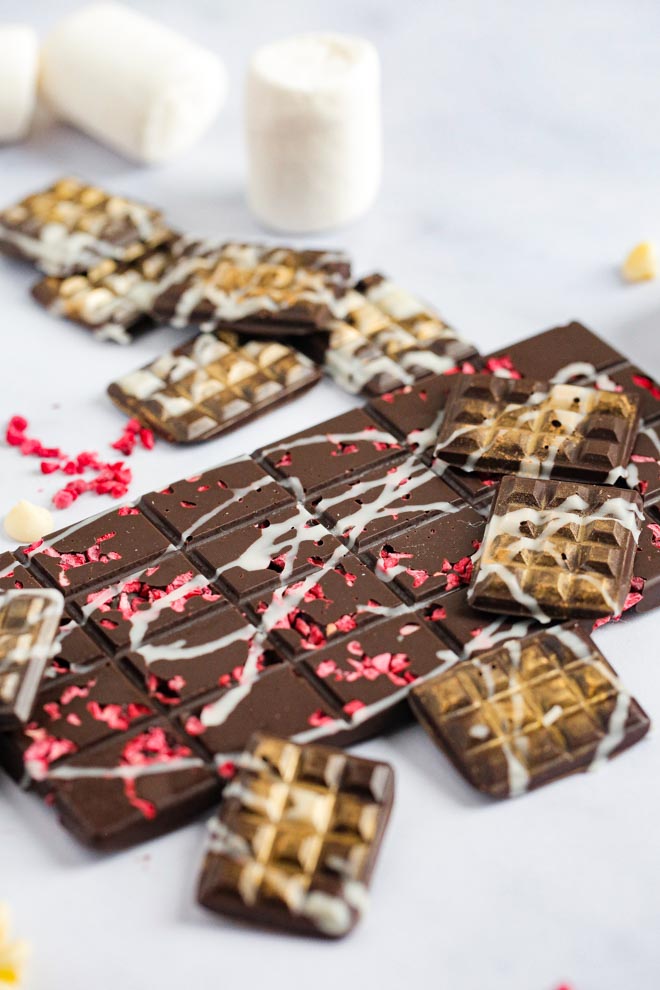 Honey Flavoured Chocolate Bars
Prep: 10 mins | Cook: 0 mins | Total: 10 mins | Quantity: serves 2-4
Ingredients
Instructions
Place your silicon moulds onto a tray or something sturdy to transport to the fridge
If using, brush the edible lustre dust into the crevices of some/all of your moulds
Melt the white chocolate then use a teaspoon to drizzle/flick it across the moulds
If using, scatter in the freeze dried raspberry pieces
Melt the dark chocolate then pour that in the moulds to completely fill each one
Put the moulds on the trays in the fridge for around an hour until set
Store in the fridge or at room temperature
Notes
The quantity of chocolate I've listed exactly fills the two moulds I've linked
If melting chocolate in the microwave do it in a few seconds bursts, stirring each time. Chocolate (especially white chocolate and in such a small quantity) can very easily burn in the microwave. No-one wants that horrible acrid smell!!
Alternatively melt the chocolates in bowls set over saucepans of barely simmering water. Once the water boils, turn off the heat and allow the temperature of the bowl to continue to melt the chocolate. This is a longer way of doing it but almost guarantees no burnt chocolate!
For even fancier chocolate you could use food colouring in the melted white chocolate!
Recipe by The Cook & Him at https://thecookandhim.com/recipes/honey-flavoured-chocolate-bars/