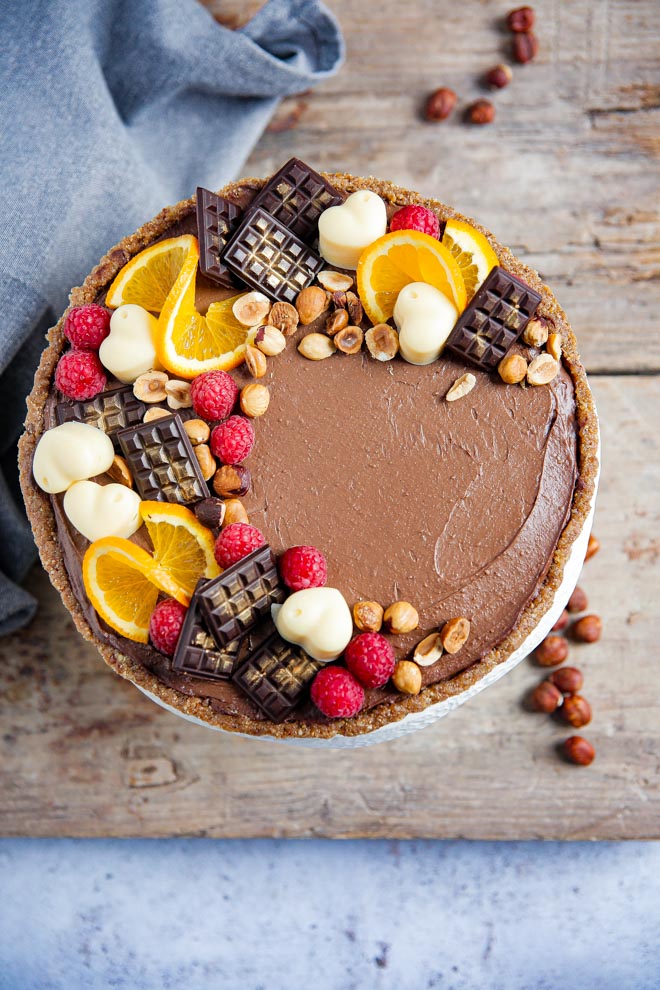 No Bake Chocolate and Hazelnut Tart
Prep: 30 mins | Cook: 0 mins | Total: 30 mins | Quantity: 10 - 12 slices
Ingredients
Tart Base:
140g whole hazelnuts
65g pecan nuts
80g cashew nuts
240g dates (pitted weight)
Tart Filling:
230g dark dairy free chocolate
350g silken tofu
120ml dairy free hazelnut milk
70g almond butter
70g tahini
 2 tblsp agave or maple syrup
Optional Toppings:
Fresh raspberries
Orange slices
Toasted hazelnuts
White chocolate hearts or truffles
Equipment:
Food processor or blender
Instructions
If you have hazelnuts with the skin on you'll need to toast them in the oven first. Cook for 15 minutes at 180 Fan / 200 C / 400 F / Gas 6. Remove from the oven and leave to cool for a few minutes before rubbing between your hands to remove the skin
Put the peeled hazelnuts into a food processor with the pecans, cashews and protein powder and whizz until very finely chopped
Add the dates and whizz till the mixture starts to stick together. It's ready when you can press it between your fingertips and it holds its shape. This may take a minute or two unless you have very fresh, sticky dates!
Tip into a 10 inch (25 cm) loose bottomed tart tin and press to cover the base and sides. Take some time and care over this - make sure to push it into the corners and crevices - I also use the bottom of a glass to help push the crumb to the edge and flatten the base
Put the tin into the fridge or freezer while you make the filling
To make the filling start by melting the chocolate in the microwave or in a bain-marie (a bowl set over a pan of barely simmering water)
Put the tofu, milk, almond butter, tahini, agave and protein powder into a blender or food processor and whizz until smooth
Pour in the melted chocolate and whizz again until just incorporated
Tip the mixture into the tart case, smooth the top and put the tart in the fridge for at least two hours to set
Serve topped with fresh fruit, mini homemade chocolate bars, truffles and extra toasted hazelnuts
Notes
Place the tin onto a large tray or something flat to help transport the pie in and out of the fridge!
Recipe by The Cook & Him at https://thecookandhim.com/recipes/no-bake-chocolate-and-hazelnut-tart/