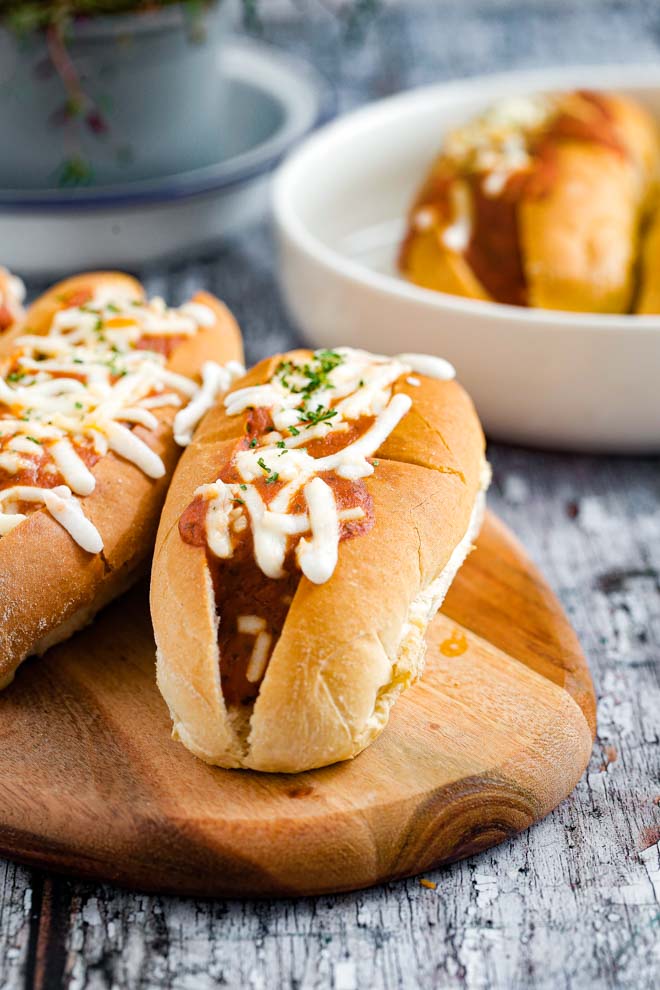 BBQ Meatball Sub Sandwiches - Easy and Vegan!
Prep: 15 mins | Cook: 40 mins | Total: 55 mins | Quantity: 18 meatballs
Ingredients
BBQ Meatballs:
1/4 cup (30g) oats
1 can cooked chickpeas – drained
1 + 1/2 tblsp ground flax seeds
2 tblsp nutritional yeast
1 tsp smoked paprika
1 tsp garlic powder
1 tsp onion powder
1/4 cup (70g) BBQ sauce
1/2 tsp mustard
1/2 tsp dried thyme
good pinch each of salt and pepper
Tomato Sauce:
2 tblsp olive oil
2 tblsp plain flour
1/2 cup (125ml) tomato passata
1/2 cup (125ml) vegetable stock
1 tsp smoked paprika
1 tblsp tomato puree
1 tsp garlic powder
1 tsp dried parsley
pinch each of salt and pepper
To serve:
6 sub rolls
Vegan mozzarella – grated
Instructions
Preheat your oven to 180 Fan / 200 C / 400 F / Gas 6 and line a baking tray with parchment or a silicon mat
Put all the ingredients for the meatballs into the food processor (don't forget to drain the chickpeas first!)
Whizz until everything is finely chopped and well mixed, scraping down the sides of the bowl as necessary
Divide the mixture into as many balls as you want to make. This mixture makes 18 regular sized meatballs. Roll the mixture in your palms to make the balls then place onto your prepared baking tray
Bake for 25-30 minutes until firm and crisp
While they're cooking make the tomato sauce - heat the oil in a saucepan until sizzling then stir in the flour
Whisk in the remaining sauce ingredients until the sauce is thick and smooth
Split the sub rolls across the top without cutting all the way through then nestle in the cooked meatballs
Spoon over the tomato sauce, dividing it evenly amongst the rolls then sprinkle over the grated vegan cheese
Bake for a further 10 minutes until the rolls are just crispy
Enjoy!
Notes
Both the raw meatball mixture and cooked sauce can be kept in the fridge for a few days if making in advance or batch making
Recipe by The Cook & Him at https://thecookandhim.com/recipes/vegan-bbq-meatballs-sub-sandwiches/