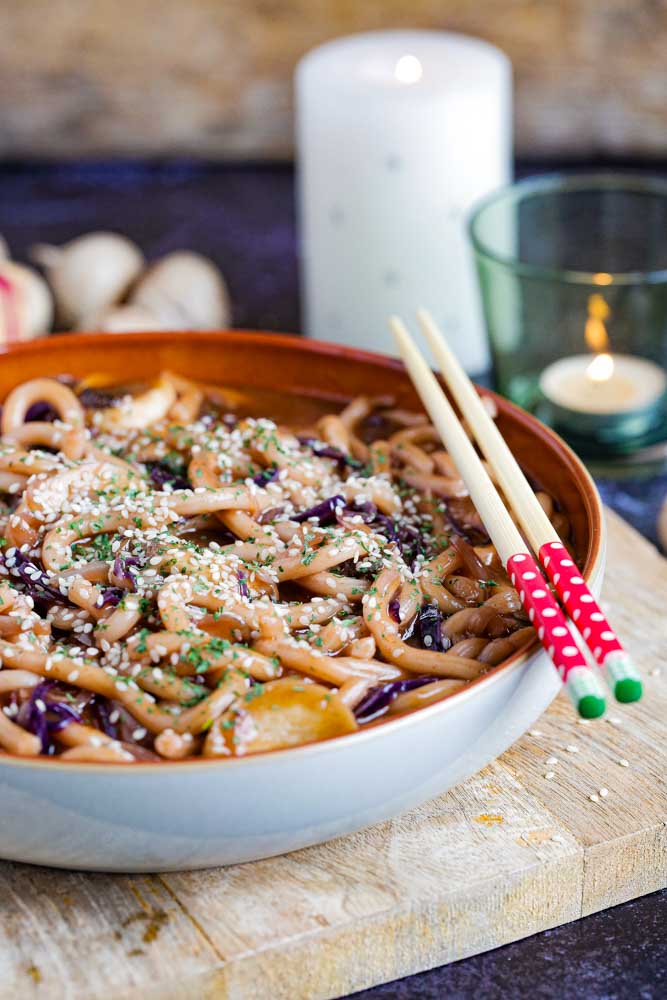 Udon Noodles with Black Garlic and King Oyster Mushrooms
Prep: 15 mins | Cook: 20 mins | Total: 35 mins | Quantity: serves 2
Ingredients
Sauce:
2 tblsp liquid aminos or soy sauce
1 heaped tsp miso paste
1 tblsp hoisin sauce
1 tblsp agave or maple syrup
1 tblsp rice vinegar
1 tsp smoked paprika
2 cups (500ml) vegetable stock *
Stir Fry:
2 king oyster mushroom – thickly sliced
1 tblsp sesame oil
2 tblsp vegan butter
1 white onion – peeled and thinly sliced
1/4 red cabbage – thinly shredded
1 whole bulb of black garlic
2 'nests' of udon noodles
1-2 tblsp cornflour
salt and pepper
Optional:
Sesame seeds and fresh parsley to garnish
Instructions
Start with the sauce - simply whisk all the ingredients together in a jug and set aside till needed
In a large frying pan heat the sesame oil then add the sliced mushrooms. Add dots of butter all over the pan and sizzle until melted, turning the mushrooms once or twice during cooking
When the mushrooms are softened and a lovely golden caramel colour remove from the pan to a plate or bowl
To the same pan add the cabbage and onion and stir fry in any of the cooking liquid left from the mushrooms. Cook the veggies, stirring frequently until softened
Stir in the black garlic and the sauce and bubble for a couple of minutes
Stir in the noodles, gently breaking them apart into their strands
In a small jug, mug or bowl whisk the cornflour with a splash of water to a runny paste
Stir the cornflour mixture into the sauce and bubble for a few moments until the sauce is thicker and sticky
Return the mushrooms to the pan and heat through. Taste and add salt and pepper as required
Serve in warmed bowls and sprinkle the noodles with sesame seeds and chopped parsley if using
Notes
* I used a vegan beef stock cube for a darker, richer flavour
If you can't get hold of king oyster mushrooms you can use a couple of handfuls of oyster or chestnut mushrooms instead. Keep them chunky when tearing or slicing!
Recipe by The Cook & Him at https://thecookandhim.com/recipes/udon-noodles-with-black-garlic-and-king-oyster-mushrooms/