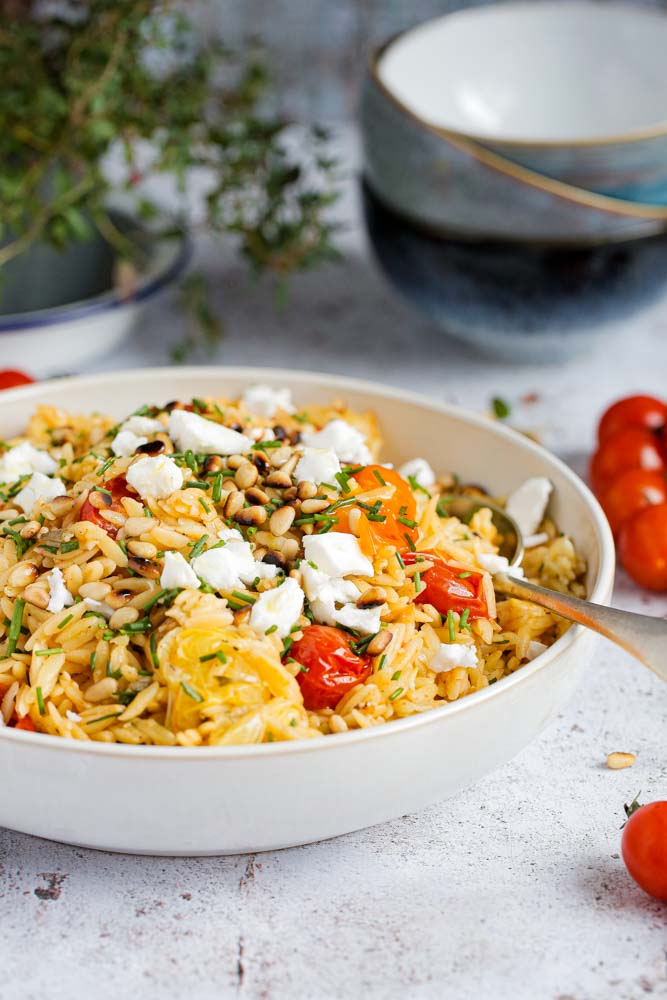 Lemon and Herb Orzo with Roasted Tomatoes
Prep: 5 mins | Cook: 25 mins | Total: 30 mins | Quantity: serves 4
Ingredients
Roasted Tomatoes:
3 cups (420g) cherry tomatoes
2 tblsp oil
4-5 cloves garlic – peeled
5 sprigs fresh thyme
1 tblsp agave or maple syrup
1 tsp smoked paprika
salt and pepper
Pasta
Dressing:
2 tblsp balsamic vinegar
juice of 1 lemon
2 tblsp grated vegan parmesan
handful each of chopped fresh basil, parsley and chives
1 tsp onion powder
salt and pepper
To finish:
Toasted pine nuts
Vegan feta cheese
Instructions
Heat your oven to 180 Fan / 200 C / 400 F / Gas 6
Tip the tomatoes and peeled whole garlic cloves onto a baking tray, drizzle over the olive oil, syrup, paprika, salt and pepper and thyme sprigs. Toss everything together on the tray then roast for 25 minutes
Bring a large pan of salted water to the boil then tip in the orzo. Cook according to packet instructions
To make the dressing simply stir together all the ingredients in a large bowl
When the orzo pasta is cooked, drain and add that to the dressing
Remove and discard the thyme stalks from the roasted tomatoes
Remove the garlic from the tomatoes and roughly chop then add to the orzo
Stir the roasted tomatoes into the pasta and mix everything together really well
Transfer to serving bowls and sprinkle over the toasted pine nuts and crumbled vegan feta cheese
Notes
This pasta dish is just as delicious cold as leftovers as it is freshly made so don't be afraid of making too much for one meal!
Recipe by The Cook & Him at https://thecookandhim.com/recipes/lemon-and-herb-orzo-with-roasted-tomatoes/