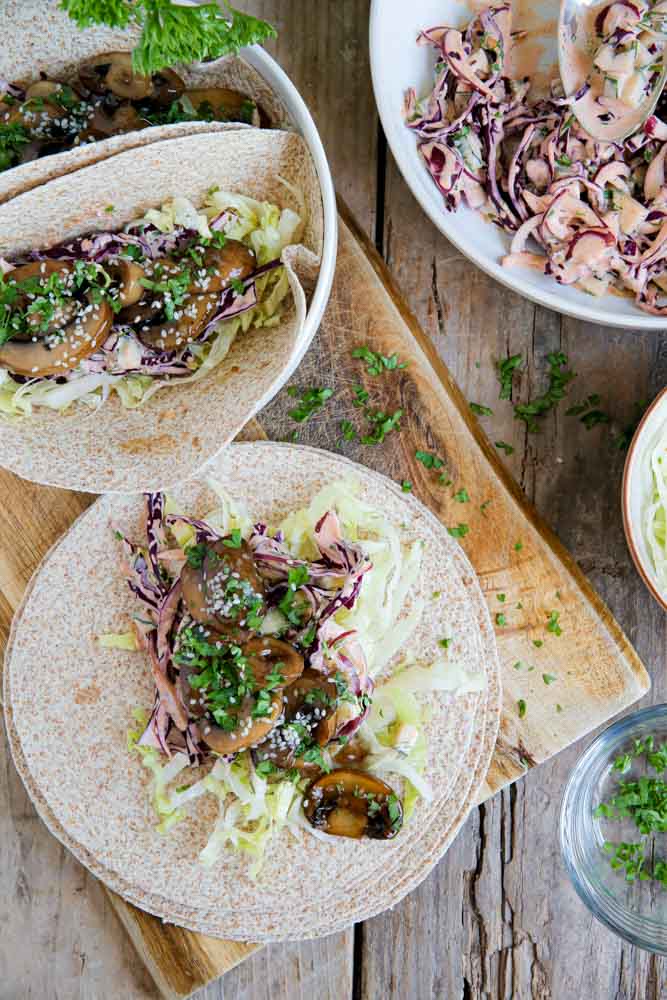 Teriyaki Mushroom Tacos with Red Cabbage Slaw
Prep: 20 mins | Cook: 10 mins | Total: 30 mins | Quantity: 8 tacos
Ingredients
Red Cabbage Slaw:
1/4 red cabbage – shredded
1 red onion – peeled and finely sliced
1/4 cucumber – diced
3-4 tblsp vegan mayonnaise
few sprigs fresh parsley
1 tsp smoked paprika
salt and pepper to taste
Teriyaki Mushrooms:
2 tblsp liquid aminos or soy sauce
2 tblsp maple or agave syrup (or light brown sugar)
2 tblsp bourbon whiskey
1 clove garlic – peeled and minced
1 tsp rice wine vinegar
1/3 cup (80ml) water
1 tblsp cornflour
1 tblsp sesame oil
17 ounces (500g) chestnut mushrooms – thickly sliced
To serve:
8 soft flour tortillas
Shredded lettuce
Sesame seeds (optional)
Instructions
To make the coleslaw put the shredded cabbage, sliced onion, and diced cucumber in a large bowl
Add the vegan mayonnaise, chopped fresh parsley and smoked paprika and stir well. Taste and add salt and pepper as needed
To make the teriyaki sauce put the aminos, syrup, bourbon, garlic, vinegar and water in a small saucepan and gently bring to the boil
In a small bowl whisk the cornflour with enough water to make a runny paste - it shouldn't take much, just a tablespoon or so
Add the cornflour paste into the teriyaki sauce and whisk until the sauce thickens and turns clear
Heat the sesame oil in a frying pan until hot then saute the mushrooms. Allow them to caramelise on the bottom before stirring
Once the mushrooms are cooked stir in the teriyaki sauce and keep warm
To build the tacos, layer on the shredded lettuce, top with the coleslaw then top with the warm teriyaki mushrooms and a sprinkle of sesame seeds
Fold the tortilla and enjoy!
Recipe by The Cook & Him at https://thecookandhim.com/recipes/teriyaki-mushroom-tacos-with-red-cabbage-slaw/