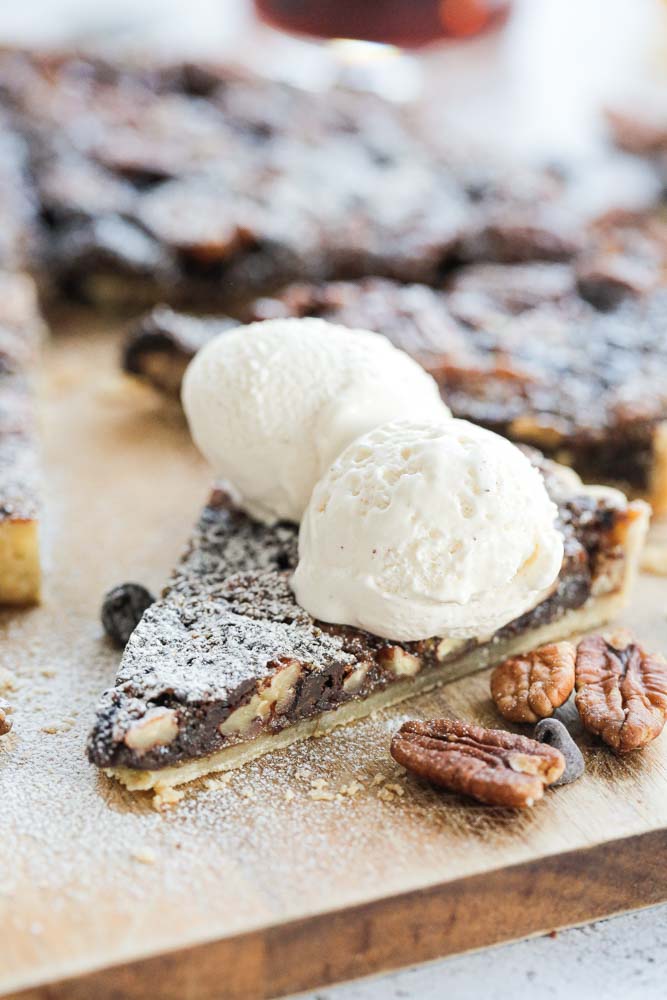 Bourbon Chocolate Pecan Pie
Prep: 20 mins | Cook: 40 mins | Total: 60 mins | Quantity: 8-10 slices
Ingredients
Pastry:
1 + 1/2 cups (200g) plain flour
1/2 cup (120g) vegan butter
1/2 tsp salt
3-5 tblsp cold water
Filling:
4 tblsp ground flax seeds
6 tblsp cold water
1/2 cup (140g) glucose syrup or corn syrup
1/2 cup (90g) light brown sugar
1 tsp vanilla
1/3 cup (80ml) bourbon whiskey
1/2 tsp salt
1/4 cup vegan butter – melted
1 cup (100g) dark, dairy free chocolate – chopped into chunks or chocolate chips
1 cup (120g) pecans
Instructions
To make the pastry put all the ingredients except the cold water into a food processor and whizz till it becomes fine breadcrumbs. If you're making this by hand rub the butter into the flour and salt until no lumps of butter remain
Add enough cold water to make a soft but not sticky dough
Roll out the pastry on a floured surface until it's just larger than your tin then carefully lift into the tin using the rolling pin
Ease the pastry into the tin, pushing into the fluted edges (if your tin has them). Cut off the excess pastry (see note) then prick all over the base with a fork
Put the tin into the freezer for at least 30 minutes
Preheat your oven to 160 Fan / 180 C / 350 F / Gas 4, put the frozen tart case onto a baking tray then bake for 20 mins until just crisp.
While the pastry is baking mix the ground flax seeds with the water and set aside to thicken
Put the glucose syrup into a large bowl then whisk in the sugar, vanilla, bourbon, salt and melted butter
Stir in the chocolate and pecans
Remove the part baked tart case from the oven and pour in the filling
Return the chocolate pecan pie to the oven and bake for a further 35-40 minutes until bubbling and just starting to set. It will set and harden more upon cooling
Allow to cool for around half an hour before cutting into slices. Serve warm with vegan vanilla ice cream or whipped cream
Store any completely cooled leftovers in an airtight container at room temperature or in the fridge
Notes
Roll out and bake any pastry trimmings - dogs and garden birds love them in small quantities!
Recipe by The Cook & Him at https://thecookandhim.com/recipes/bourbon-chocolate-pecan-pie/