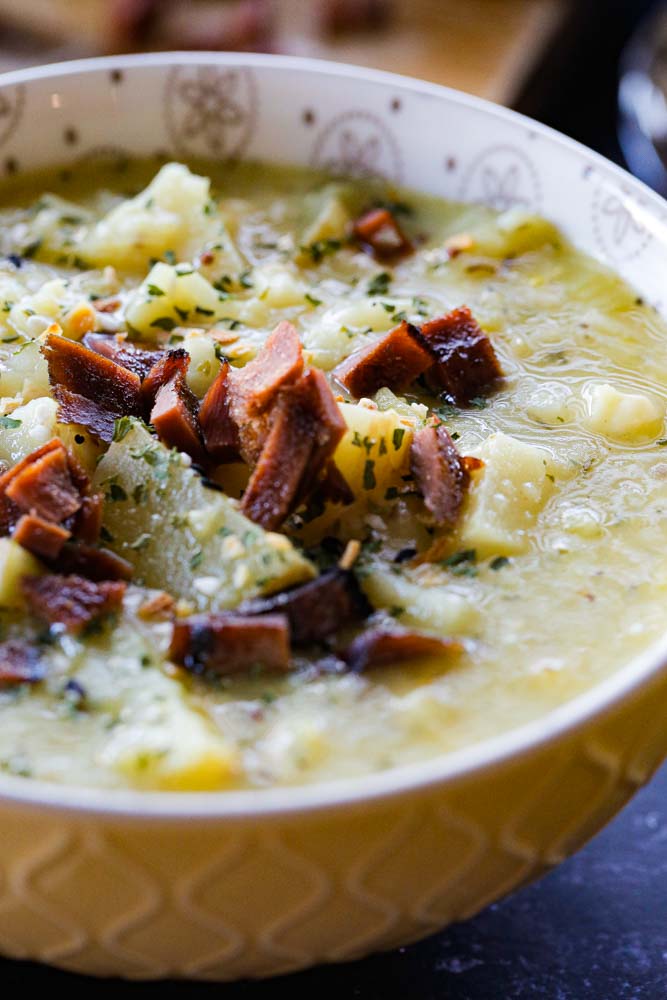 Leek and Potato Soup with Crispy Vegan Bacon
Prep: 15 mins | Cook: 20 mins | Total: 35 mins | Quantity: 4 portions
Ingredients
1 tblsp oil
1 large leek – white part only finely sliced
1 stick celery – finely diced
1 large parsnip – peeled and finely diced (discard woody core)
5 cloves garlic – peeled and crushed
1 tblsp fresh thyme leaves, stalk discarded (or sub 1 tsp dried)
3 cups (450g) diced potatoes (see note)
3 cups (750ml) vegetable stock
1 cup (250ml) apple cider
1 tsp wholegrain mustard
1 cup (250ml) vegan cream
1 cup (80g) grated vegan cheese (see note)
salt and pepper to taste
a few strips of vegan bacon
Optional:
Snipped fresh chives and/or chopped fresh parsley
Instructions
Heat the oil in a large saucepan over a medium heat then saute the leek, celery, parsnip and garlic for 2-3 minutes
Add the thyme and cook for a further minute
Add the potatoes, vegetable stock, cider and mustard and cook until the potatoes are just soft - you want a tiny bit of bite left
While the soup is cooking fry the bacon strips until crisp then chop or crumble into small pieces
Scoop out 2 cups (500ml) of the soup and puree in a blender or with an immersion blender
Stir in the cream and cheese and stir until the cheese has just melted
Taste and season with salt and pepper as needed - you could also add some chilli or red pepper flakes if you'd like a little heat/spice
Spoon into serving bowls and top with the crumbled bacon pieces
Notes
I used baby new potatoes and left them with the skin on. If you use larger potatoes you might want to peel first.
For the cheese I used a cheddar type vegan cheese for flavour - a smoked vegan cheese like Applewood might also be nice or a shredded vegan mozzarella.
Recipe by The Cook & Him at https://thecookandhim.com/recipes/leek-and-potato-soup-with-crispy-vegan-bacon/