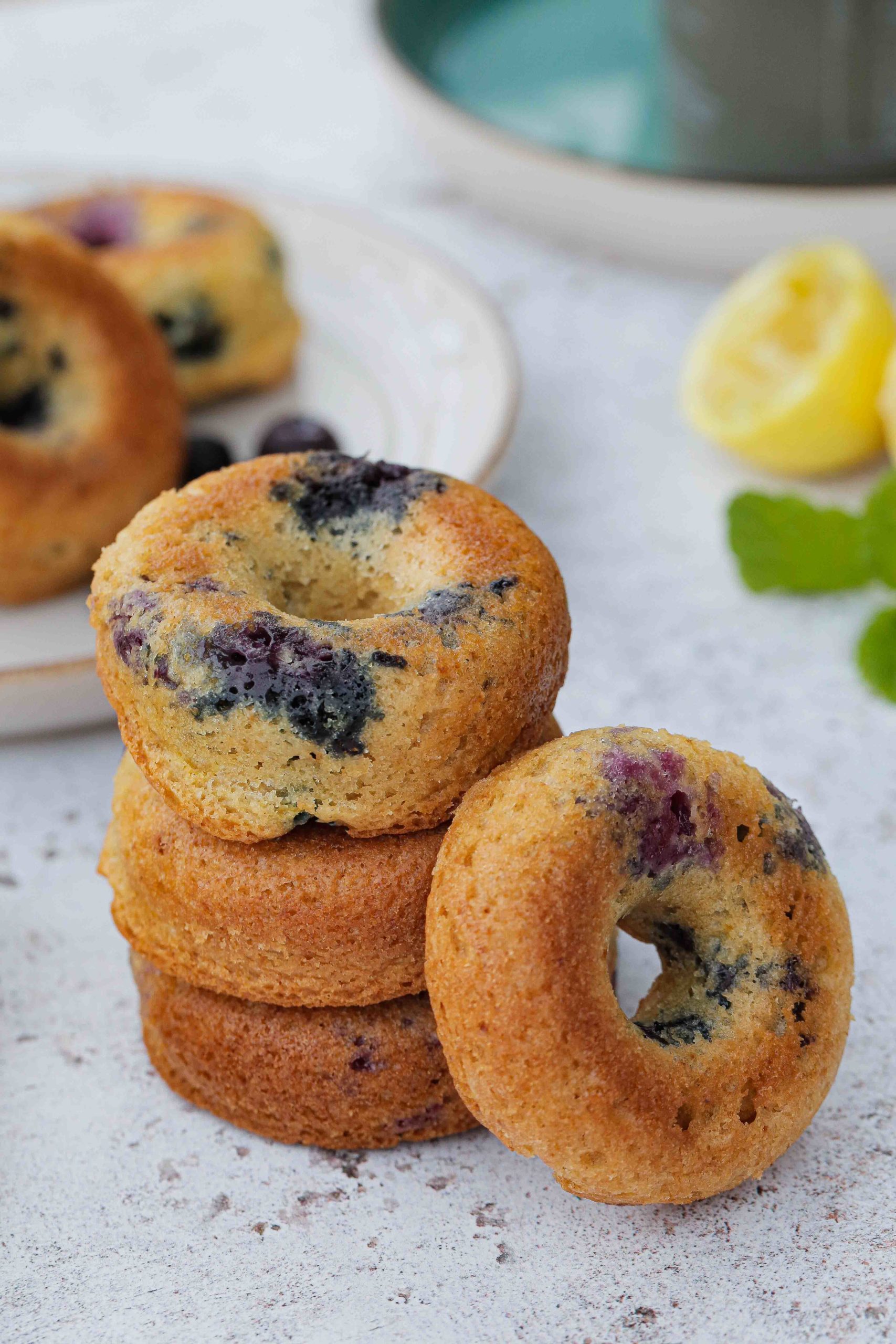 Lemon and Blueberry Baked Donuts
Prep: 20 mins | Cook: 20 mins | Total: 40 mins | Quantity: 16 donuts
Ingredients
1/4 cup (70ml) light vegetable oil
1 cup (240ml) non-dairy milk
1/2 cup (120g) vegan yoghurt
1 lemon – grated zest and juice
2 cups (330g) plain flour
1 cup (200g) golden caster sugar – or sub with regular caster sugar
1 + 1/2 teaspoons baking powder
1 teaspoon bicarbonate of soda
1 cup (150g) blueberries – fresh or frozen
Equipment:
Donut moulds – I used these silicon moulds
Disposable piping bags
Instructions
Preheat your oven to 180 Fan / 200 C / 400 F and lightly brush some oil round each of the recesses in your donut moulds. If using silicon moulds place them on baking trays for support
In a small bowl or jug whisk together the oil, milk, yoghurt, grated lemon zest and juice
In a large bowl whisk or stir together the flour, sugar, baking powder and bicarb
Add the wet ingredients to the bowl of dry and stir or whisk until well mixed - stir up from the bottom of the bowl making sure there are no flour pockets remaining
Spoon the batter into a piping bag, snip the end off - you only need a smallish hole - and pipe the batter into the moulds, filling each one roughly 2/3 full
Bake for 20 minutes until puffed and golden and springy to the touch
Allow to cool for 5-10 minutes before carefully removing from the moulds onto a cooling rack
Eat immediately while still warm or allow to cool and store in an airtight container either at room temperature or in the fridge
These donuts can also be frozen - defrost at room temperature. A quick zap in the microwave warms them up a treat too!
Recipe by The Cook & Him at https://thecookandhim.com/recipes/lemon-and-blueberry-baked-donuts/