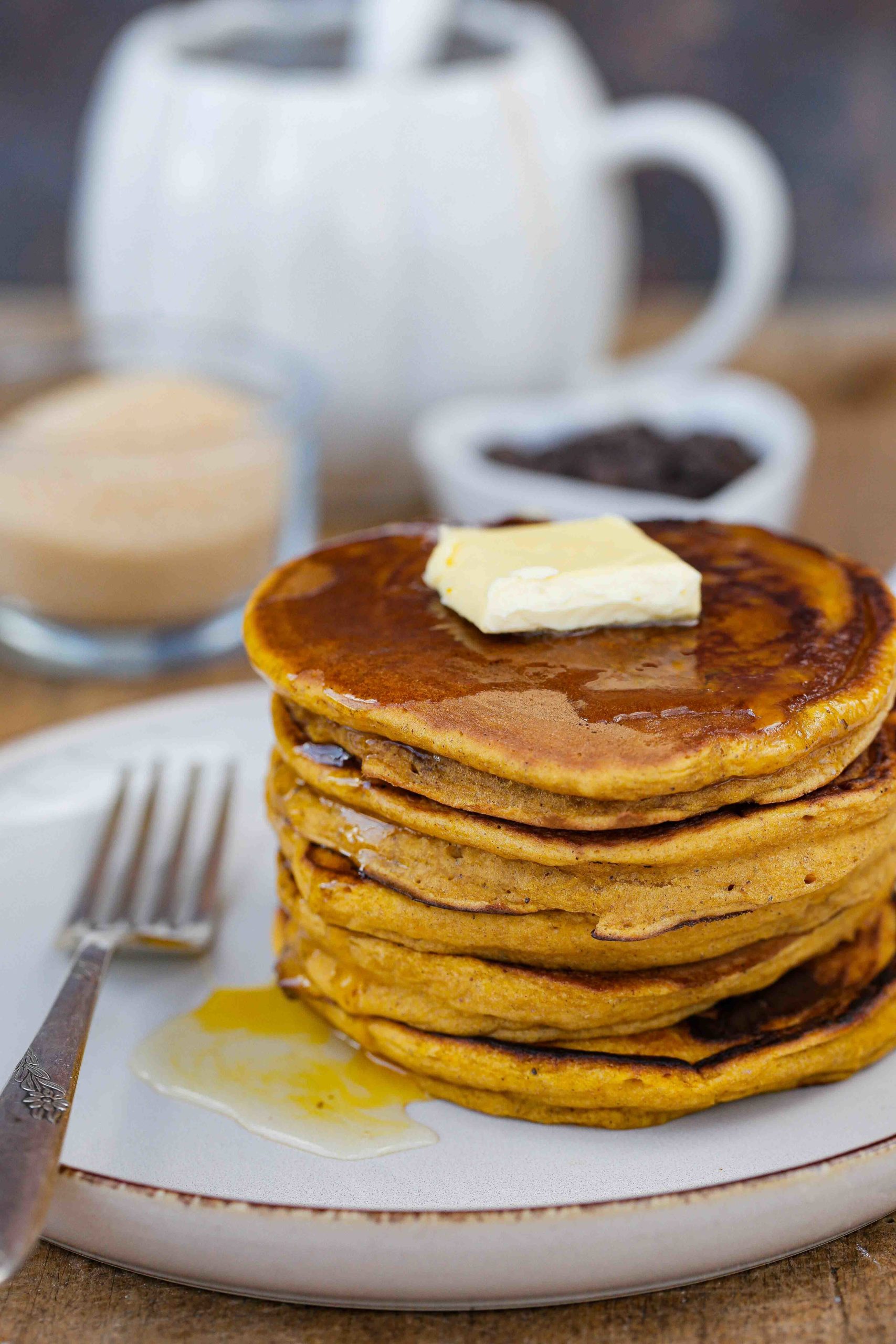 Vegan Pumpkin Pancakes
Prep: 10 mins | Cook: 20 mins | Total: 30 mins | Quantity: 14 large pancakes
Ingredients
1 + 1/4 cups (300ml) non dairy milk
1 tablespoon apple cider vinegar
1 cup (270g) pumpkin puree (see note)
2 cups (350g) plain flour
1 teaspoon baking powder
1 teaspoon bicarbonate of soda
1/4 cup (50g) light brown sugar
1/2 teaspoon each of ground cinnamon and nutmeg (see note)
1/4 teaspoon each of ground ginger and allspice (see note)
Optional to serve:
Maple syrup and vegan butter
Instructions
In a small bowl or jug whisk together the milk and apple cider vinegar and set aside to thicken while you prepare the dry ingredients
In a large bowl whisk together the flour, baking powder, bicarb, sugar and spices
Whisk the pumpkin puree into the milk then whisk all of that into the bowl of dry ingredients - the batter should be quite thick but still drop off a spoon. Add a little more milk or pumpkin puree if too thick
Heat a large non-stick frying pan or skillet over a medium high heat and add spoonfuls of the pancake batter, spreading each one slightly and spacing apart so you have room to flip
Once bubbles start to form on the top of the pancakes carefully but confidently flip them over and cook for a further minute or two on the other side
Repeat until you've used all the batter. Keep the cooked pancakes warm in a low oven or reheat in the microwave
Cool any extras then store in an airtight container in the fridge. Reheat in the microwave
Serve the pancakes warm with a drizzle of syrup and a dot of vegan butter.
Notes
Super easy method for making your own pumpkin puree in blog post
Substitute the individual spices for 1 + 1/2 teaspoons pre-blended pumpkin spice - either your own blend or shop bought
Recipe by The Cook & Him at https://thecookandhim.com/recipes/vegan-pumpkin-pancakes/