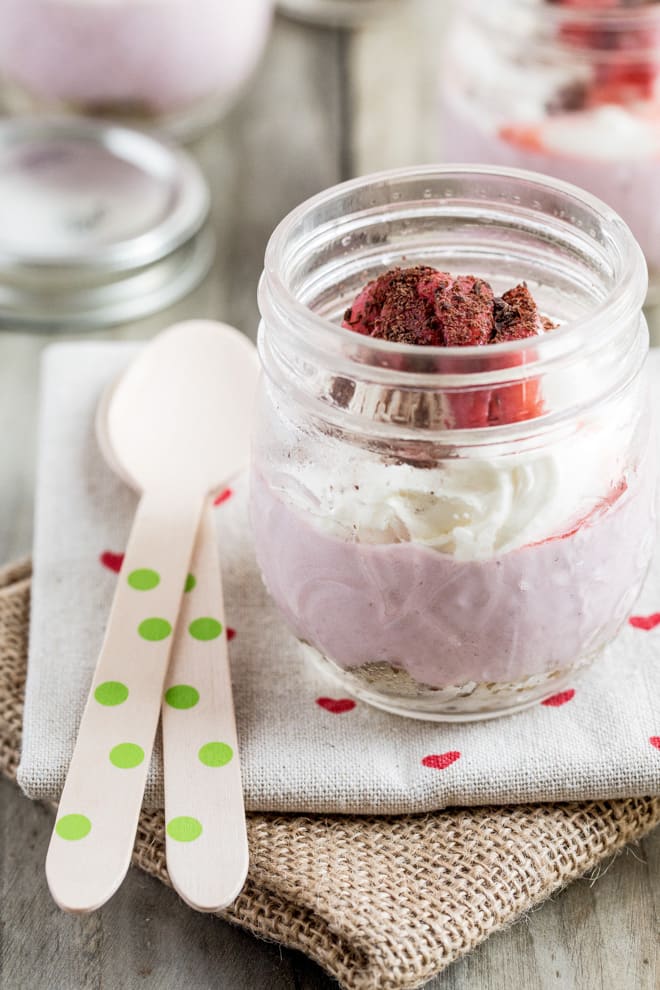 Strawberry Cheesecake Sundaes
Prep: 30 mins | Cook: 0 mins | Total: 30 mins | Quantity: 4 sundaes
Ingredients
Base
1/4 cup (40g) macadamia nuts
1/4 cup (30g) walnuts
3 dates – stone removed
Cheesecake
2 tblsp coconut oil – melted and cooled
3/4 cup (100g) cashew nuts
1 cup (240g) strawberries – fresh or frozen, stalks removed
1/2 cup (100ml) unsweetened almond milk
2-3 tblsp maple syrup
Optional topping
Coconut cream (see note)
A few extra strawberries – fresh or defrosted if frozen
Dairy free dark chocolate – grated (you don't need much!)
Blender – I use a Nutribullet RX
Instructions
If you're using the coconut cream remember the night before you make these sundaes to put the can of coconut milk in the fridge (see note)
Start by soaking the cashews for the cheesecake mix. Put into a heatproof bowl and cover with boiling water.  Leave to stand for an hour
Put the macadamia nuts, walnuts and dates into a food processor and whizz until roughly chopped – you don't want them to be too fine but you don't want huge lumps either!
Spoon the mixture evenly between your 4 serving glasses then put the glasses in the fridge
Put the cooled and softened cashews into a blender along with the strawberries, almond milk, melted coconut oil and maple syrup. Start with 2 tablespoons and add more if you find the blended mix not sweet enough
Blend everything until very smooth then divide between the 4 glasses. Return to the fridge and chill until set – 2-3 hours minimum.  If you're in a hurry you can pop in the freezer for 1/2 - 1 hour
Once set spoon on some of the whipped coconut cream. Dice or halve the strawberries and scatter over the top followed by a couple of pinches each of grated dark chocolate
Enjoy!
Notes
To make coconut cream, just chill a can of coconut milk in the fridge overnight then open the tin and scoop out the hard white part (the watery liquid is perfect in smoothies) and beat until soft and smooth.
Recipe by The Cook & Him at https://thecookandhim.com/recipes/strawberry-cheesecake-sundaes/