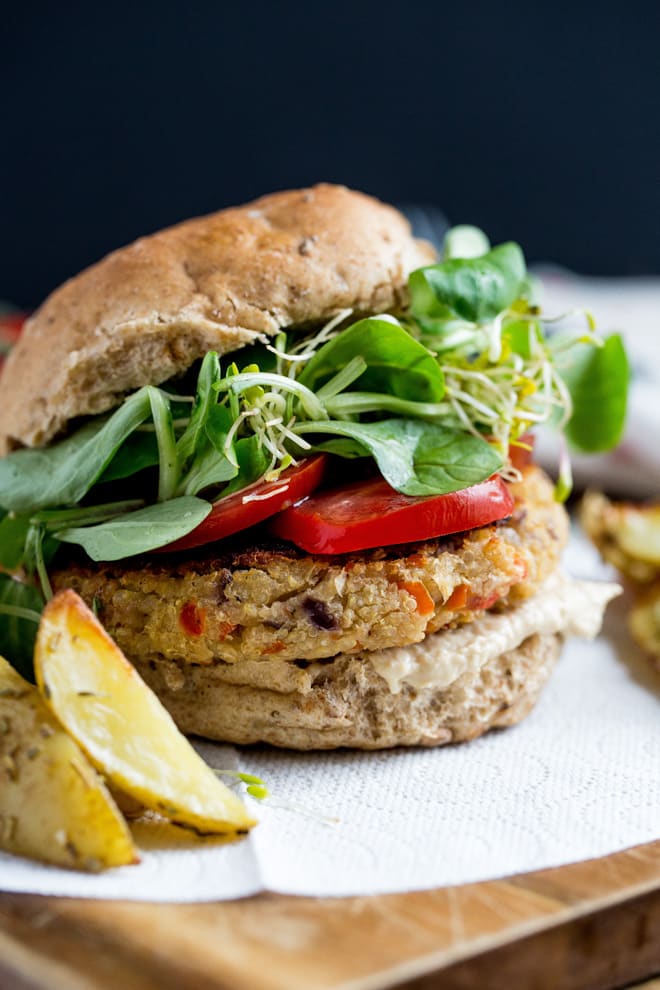 Camembert and Quinoa Burgers
Prep: 20 mins | Cook: 20 mins | Total: 40 mins | Quantity: 4 burgers
Ingredients
1 red onion – peeled and finely diced
1/2 red pepper – seeds removed and roughly diced
2 large cloves garlic – peeled and crushed
drizzle of olive oil
2 cups cooked quinoa
1 cup ( 1 x 400g can) cannellini beans (though you can probably substitute with whatever beans you prefer or have – they just need to be cooked!)
1 tblsp tomato puree
1 tsp mustard (I've used dijon but you could use English, wholegrain etc)
1/2 tsp salt + few grinds of black pepper
2 tblsp Hodmedods Green Pea Flour
Instructions
In a small frying pan over a medium heat, gently saute together the diced onion and pepper and the crushed garlic in a drizzle of olive oil for 5-10 minutes until softened
Into a food processor, tip the quinoa, beans, tomato puree, mustard, pea flour, salt, pepper and sauted veg
Whizz until well chopped and blended together, scraping down the sides of the the bowl as necessary.  You want it all quite well minced, not to the point of puree but no huge lumps either!
Dice the Camembert into smallish pieces and stir through the blended mixture.  At this point you can store the mixture in a lidded container in the fridge for a few days
Divide equally into 4 and shape into burgers
Sizzle in a little olive oil over a medium heat for 8-10 minutes each side till well golden and crispy
Serve and enjoy!  These are fabulous in a wholemeal bun spread with hummus and top the burgers with crisp green leaves and sliced tomato ?
Recipe by The Cook & Him at https://thecookandhim.com/recipes/camembert-and-quinoa-burgers/