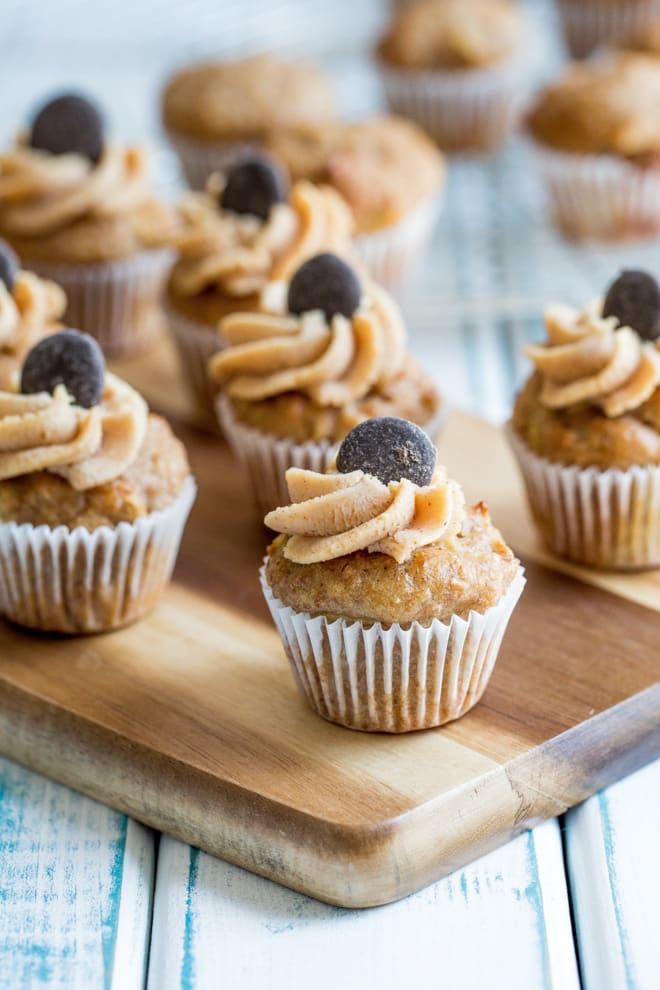 Peanut Butter and Apple Pupcakes
Prep: 20 mins | Cook: 25 mins | Total: 45 mins | Quantity: 24 mini muffins
Ingredients
Pupcakes
2 organic free range medium eggs
3/4 cup (170g) plain yoghurt
2 tblsp honey
1/3 cup (90g) smooth sugar free peanut butter (see **note**)
1 large apple
1/2 tsp ground cinnamon
1 cup (150g) plain wholemeal flour
1 + 1/2 tsp baking powder
Frosting
3 tblsp cream cheese
2 tblsp smooth sugar free peanut butter (see **note**)
24 dog chocolate drops
Instructions
Preheat the oven to 160 Fan / 180 C / 350 F / Gas 4 and line a 24 cup mini muffin tin with mini muffin cases (too many 'm's!)
Crack the eggs into a large bowl and whisk in the yoghurt honey and peanut butter till smooth
Grate the apple (but don't include the core or seeds, just discard those) add to the bowl and stir together
Stir in the cinnamon, flour and baking powder
Spoon into your mini muffin cases, filling them well
Bake for 25 minutes until risen, golden and a toothpick inserted into the centre of a muffin comes out clean
Leave to cool for a couple of minutes in the tin before transferring to a wire rack to cool completely. 
If you're not planning on using all the muffins reasonably soon, freeze them in batches once completely cooled
Once cooled beat together the cream cheese and peanut butter and either spoon or pipe onto the muffins.  Top with a chocolate drop
Go and spoil your pup! ??
Notes
**IMPORTANT NOTE**  Lots of peanut butters include sweetener, particularly Xylitol which is toxic to dogs. Make sure to use a brand of peanut butter that doesn't include any form of sweetener.  Many thanks to one of our newsletter subscribers for this information ?
You could make normal sized muffins rather than mini ones, just make in exactly the same way and fill the larger muffin cases quite well too.  They may need a little longer to cook than the smaller ones though - check by inserting a toothpick into the centre of a muffin and if it comes out clean with no cake raw mixture clinging to it they're done!
Recipe by The Cook & Him at https://thecookandhim.com/recipes/peanut-butter-and-apple-pupcakes/