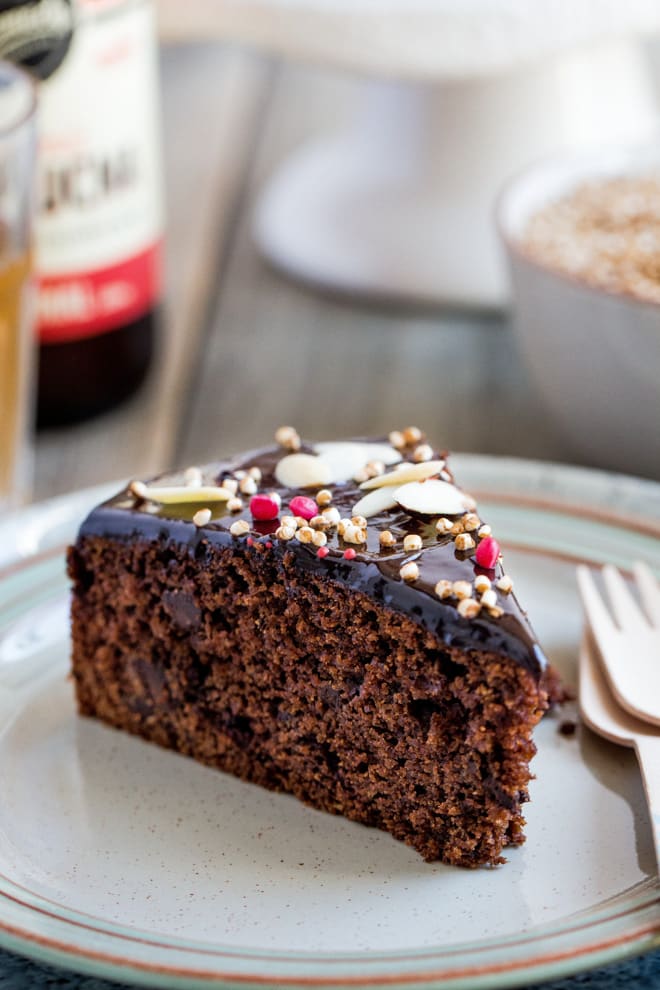 Vegan Chocolate Cake with Kombucha
Prep: 15 mins | Cook: 60 mins | Total: 75 mins | Quantity: 8 - 10 slices
Ingredients
1 + 1/2 cups (170g) plain flour
3/4 cup (120g) coconut sugar
1/2 tsp baking soda
2 tsp baking powder
1/2 cup (60g) ground almonds
1/4 cup (25g) raw cacao powder
1/2 cup (75g) dairy free dark chocolate – roughly chopped into smallish chunks (or you could use choc chips, I just wanted larger chunks to marble the cake!)
1 cup (225ml) Remedy Kombucha – Original Flavour
1/3 cup (65ml) oil – I used extra virgin olive oil but feel free to use what you prefer!
1 tblsp apple cider vinegar
Frosting
3-4 tblsp Sweet Freedom Chocolate Pot
Optional sprinkles
Instructions
Preheat your oven to 170 Fan / 190 C / 375 F / Gas 5
Brush a little oil around the inside of an 8 inch (20 cm) loose bottomed or spring form cake tin and dust with flour, shaking out any excess
Cut a round piece of parchment to fit the bottom of the tin and place inside (I just draw round the outside of the tin and cut a little inside the circle!)
In a large bowl whisk together the flour, coconut sugar, baking powder, baking soda and raw cacao powder
Stir in the chopped chocolate chunks (or chips if using!)
In a small bowl whisk together the kombucha, oil of choice and vinegar
Add the wet ingredients to the dry ingredients and gently mix together with a large rubber spatula until well combined
Scrape into your prepared tin and bake for 45 minutes - 1 hour.  Check after 45 minutes by inserting a cocktail stick or skewer into the centre of the cake - it will come out clean if the cake is cooked.  If it doesn't return to the oven for another 15 or so minutes, testing the cake again
Once cooked, leave to cool in the tin for around half an hour before removing from the tin onto a wire rack and leaving to cool completely
Once completely cooled spread the chocolate frosting over the top of the cake and sprinkle with whatever you fancy!
Enjoy ?
Recipe by The Cook & Him at https://thecookandhim.com/recipes/vegan-chocolate-cake-with-kombucha/