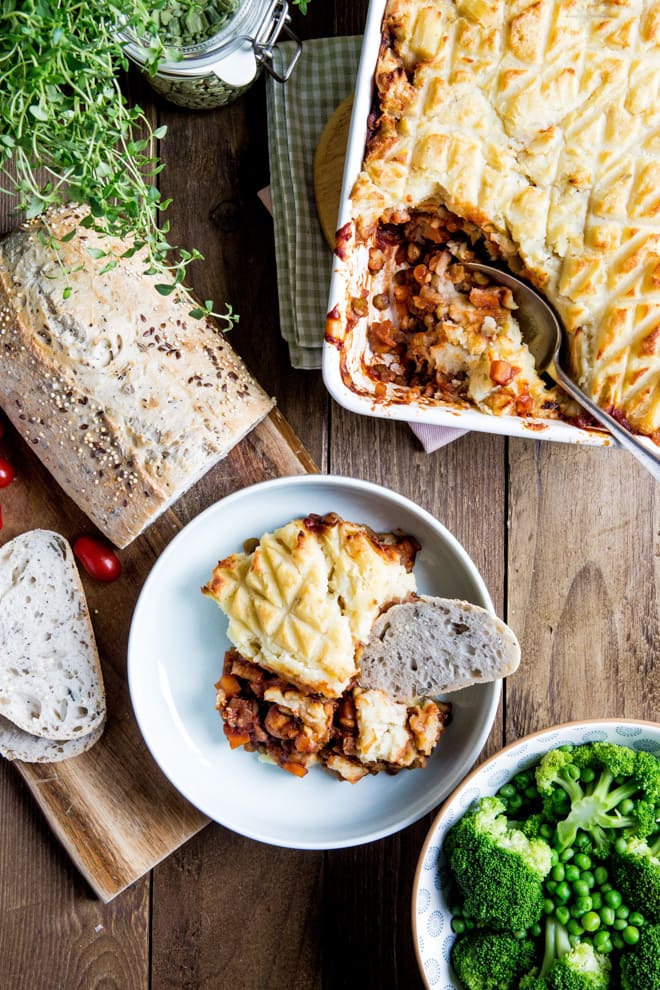 Vegan Shepherds Pie with Spiced Split Peas
Prep: 15 mins | Cook: 60 mins | Total: 75 mins | Quantity: 4 - 6 servings
Ingredients
1 red onion – peeled and finely diced
2-3 sticks celery – finely diced
2 medium carrots – peeled and roughly diced
4 cloves garlic – peeled and crushed
drizzle of olive oil
1 + 1/4 cups (250g) Hodmedods Split Green Peas
2 cups (500g) tomato passata
1 cup (250ml) water
2 tsp ground cumin
1-2 tsp smoked paprika (add more if you prefer it extra spicy!)
1 tblsp Hodmedods Umami Paste
2 vegetable stock cubes
1 tblsp soy sauce
few sprigs fresh thyme – leaves only or 1 tsp dried thyme
3 cups (300g) mushrooms – halved or quartered if large
Mash
2 large parsnips
6 large potatoes
2 tblsp dairy free butter (I used Vitalite)
3 tblsp nutritional yeast
Salt and pepper
Instructions
Prepare all your vegetables (onion, celery, carrots and garlic) and put into a large frying pan with a drizzle of olive oil
Saute over a medium heat until just starting to soften
Add the split peas, passata, water, cumin, paprika, umami paste, stock cubes and thyme leaves and bubble gently over a medium heat, stirring occasionally, for 25-30 minutes
I like some bite still to my peas, if you prefer them softer you'll need to cook for longer and probably need to add more water to stop it boiling dry.  You're looking for a dense consistency to the filling - not too watery
While that's cooking prepare your mash - peel the parsnips and potatoes.  Remove and discard the thick, woody stem from the parsnips and chop those and the potatoes into even sized chunks and put in a saucepan.  Cover with boiling water and cook for 15-20 minutes until soft (check by inserting a knife into a piece of potato, if it goes in easily they're done!)
Drain all the water off the potatoes and parsnips, add the dairy free butter and nutritional yeast and mash well.  Taste and season with plenty of salt and pepper
Taste and season the filling, stir in the mushrooms, then pour into a large baking dish, spreading out evenly to fill the dish.  Leave to cool 10 minutes (this helps it firm up a bit before topping with the mash)
If you're baking to eat now, preheat your oven to 180 Fan / 200 C / 400 F / Gas 4
Spoon on the mash - I dot piles of mash all over the top then push it out with a large palette knife to the edges of the dish, covering the filling underneath
You can leave to cool to room temp then chill in the fridge at this point otherwise put in your preheated oven and bake for 35-40 minutes
If you chill then bake later you'll need to cook for around 45 minutes to 1 hour.  Make sure to check it's piping hot before serving - insert a knife into the middle of the pie and carefully test on your bottom lip that it's hot
This can also be baked then any leftovers chilled and reheated as above
Enjoy!
Recipe by The Cook & Him at https://thecookandhim.com/recipes/vegan-shepherds-pie-with-spiced-split-peas/