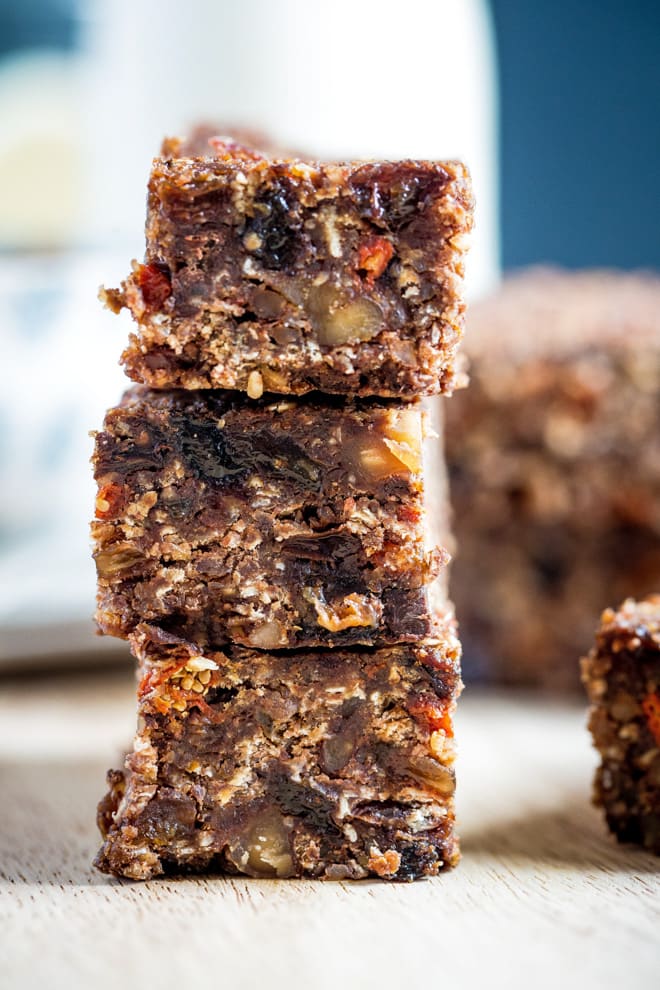 Healthy Vegan Granola Bars
Prep: 30 mins | Cook: 25 mins | Total: 55 mins | Quantity: 15 bars
Ingredients
1/2 cup (75g) macadamia nuts
1/2 cup (65g) pecan nuts
1 cup (150g or approx 10) dates – stone removed
1 + 1/2 cups  (150g) rolled oats
1 Weetabix  biscuit (see note)
1/2 tsp ground cinnamon
1 tsp ground nutmeg
3 tblsp ground flax seeds
1/2 cup (80g) sultanas
1/3 cup (70g or approx 6) Avicenna Organic Dried Apricots
1/3 cup (40g) goji berries
1/2 cup (100g) dairy free dark chocolate chips
1 orange – grated zest only
3 tblsp maple syrup (can sub with agave syrup, Sweet Freedom Fruit Syrup or other liquid sweetener)
Instructions
Start by preheating your oven to 180 Fan / 200 C / 400 F / Gas 6.  Line a 7 x 9 inch (18 x 23 cm) baking tin with parchment
Put the macadamia and pecan nuts onto a tray and bake for 10 minutes.  Remove from the oven and cool while you prepare everything else
Lower the temperature of the oven to 160 Fan / 180 C / 350 F / Gas 4
Next the dates - put into a heatproof bowl and cover with boiling water.  Set aside
Put the oats, Weetabix, cinnamon, nutmeg and ground flax seeds into a food processor and blitz to a fine(ish) powder.  Tip into a large bowl (don't wash your food processor bowl up yet!)
Mix the nuts together then put half into the food processor and grind to powder.  Roughly chop the other half then put both into the large bowl with the oats (again, don't wash the food processor bowl up yet!)
To the large bowl of oats and nuts add the sultanas, goji berries, chocolate chips and grated orange zest.  Stir everything together until well mixed
Remove the dates from the water (don't discard the water) and put into the food processor with the maple syrup (or other liquid sweetener) and 4 tblsp of the date water
Blitz to a smooth paste then scrape into the large bowl with the oat/nut mixture
Mix together - if it's too dry at this point and not clumping together add more of the date water to a soft, slightly sticky mixture
Tip into your prepared tin then put in the oven and bake for 25 minutes until the center is firm and the edges lightly golden
Allow to cool completely before cutting into bars
Store in a sealed container in the fridge - however they're a lovely fudgy consistency if allowed to stand at room temperature for around half an hour before eating!
Notes
I've used Weetabix as Martha's recipe called for oat bran and wheatgerm, neither of which I had so I just subbed with the Weetabix for their extra crunch and healthy goodness!
If you want to use Martha's original ingredients she used 2 tblsp each of oat bran and wheatgerm
Recipe by The Cook & Him at https://thecookandhim.com/recipes/healthy-vegan-granola-bars/