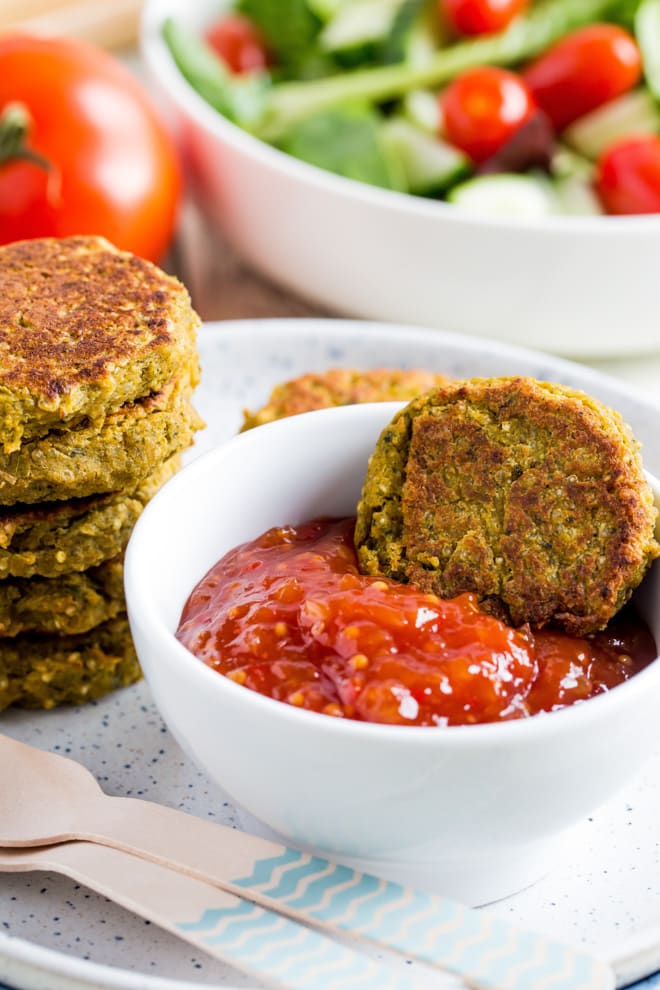 Kid Friendly Veggie Nuggets
Prep: 20 mins | Cook: 60 mins | Total: 80 mins | Quantity: 25 - 30 nuggets
Ingredients
1 large (350g) sweet potato – peeled and diced into medium chunks
1/2 cup (100g) quinoa
1 cup (250ml) vegetable stock (or water and a veg stock cube)
1/2 cup (3-4 whole) spring onions – finely sliced
3 cloves garlic, peeled and roughly chopped
drizzle of olive oil
3 handfuls (approx 80g) spinach
400g can (240g drained weight) chickpeas
1 tsp mustard (I used dijon but wholegrain would work too!)
4 tblsp yellow pea flour (see note)
1/2 tsp dried rosemary
2 tblsp nutritional yeast (optional, but it does add a nice mild cheesy flavour!)
salt and pepper
Instructions
Put the diced sweet potato into a medium saucepan, add a pinch of salt, cover with boiling water and simmer for 10-15 minutes until the potatoes are soft. Drain well once cooked
In a small pan put the quinoa, veg stock, spring onions and garlic and simmer for 10 minutes, stirring occasionally until all the liquid has been absorbed.  Add the spinach and stir it through - the heat will wilt it and reduce its volume
Put the quinoa mixture, cooked potatoes, drained chickpeas, mustard, pea flour, rosemary, nutritional yeast and a good pinch each of salt and pepper into a food processor (see note)
At this stage you can chill the mixture to cook later - just put into a sealed container and keep in the fridge for up to a couple of days
Preheat your oven to 180 Fan / 200 C / 400 F / Gas 6 and line a large baking tray with parchment or a silicon mat
Heat a drizzle of oil in a large frying pan over a low/medium heat
The nugget mix is quite wet - don't worry.  Just drop tablespoons of the mixture into the warm frying pan and lightly flatten.  I cooked around 7-8 nuggets in the pan at a time
Cook for a couple of minutes until the base is firm and crispy enough to flip with a palette knife or fish slice
Cook for another minute or two on the other side then lift onto the baking tray.  Repeat until you've used up all the mix
Here you can either store the nuggets on the tray in the fridge until you're ready to use or pop in the oven and bake for 15-20 minutes until firm and delicious!
Notes
The yellow pea flour can be subbed for any gluten free flour or just plain flour or wholemeal flour if you don't need these to be gluten free.  The pea flour does have a lovely mild taste though!
If, like us, you only have a small food processor you might need to blend the nuggets in a couple of batches - I mix everything together in a large bowl then process it in 2-3 batches, otherwise it just sits in the processor bowl not moving!!
Recipe by The Cook & Him at https://thecookandhim.com/recipes/kid-friendly-veggie-nuggets/