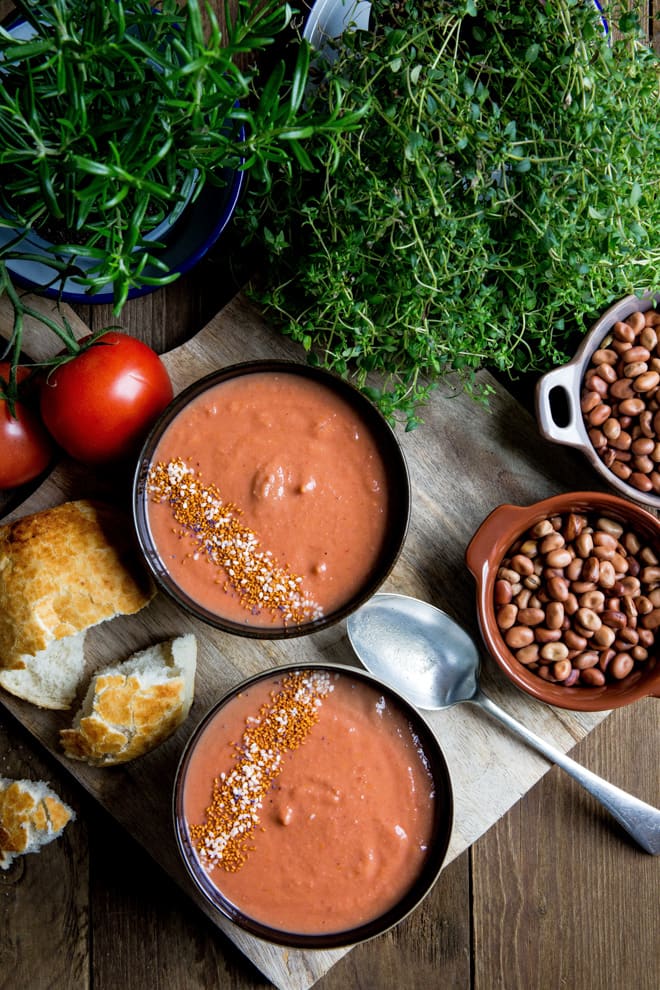 Roasted Garlic and Tomato Soup
Prep: 20 mins | Cook: 45 mins | Total: 65 mins | Quantity: 4 portions
Ingredients
1 cup (200g) Hodmedods Organic Whole Fava Beans
3 cups (720 ml) vegetable stock
4 cups (700g) diced tomatoes
2 red onions – peeled and quartered
2 sprigs fresh rosemary – needles only
4 sprigs fresh thyme – leaves only
Olive oil
1 head of garlic – still in its skin
Salt and pepper
2 tblsp balsamic vinegar
2 tblsp coconut sugar
3 tblsp tomato puree
1 tblsp light soy sauce
Instructions
Preheat your oven to 180 Fan / 200 C / 400 F / Gas 6 and line a large tray with a silicon mat or parchment
Put the beans into a heavy based saucepan, add the veg stock and gently bubble for 40-45 minutes.  Give them an occasional stir and keep your eye on the liquid, if it looks like it's bubbling dry add a bit more veg stock or just water
While they're boiling roast the veg - put the diced tomatoes, red onions and fresh herbs (see note) onto the tray and add a drizzle of oil and a good sprinkle of salt and pepper.  Give a quick mix together with your hands or a large spoon
Tear a piece of foil and put the head of garlic into the middle.  Drizzle with a tiny bit more oil then wrap the foil round the garlic to completely encase.  Put on the tray with the veg
Put the tray in the oven and roast for 45 minutes
When everything is cooked carefully transfer everything except the garlic to a blender cup (or into a large bowl or saucepan if you're using a stick blender)
Squeeze the garlic out of the skins and add to the blender cup.  Add the balsamic, tomato puree and soy sauce
You might need to do the blending in a couple of batches as I did but blend until smooth
If you find the soup too thick add a bit more veg stock or water.  Taste for seasoning too and add salt and pepper as necessary (smoked paprika and cumin powder would add lovely flavour too if you like a bit of spice!)
Cool then chill and/or freeze for another day or reheat in a saucepan if you're eating straight away!
Notes
If you can't get hold of fresh herbs simply sub each one with 1/2 to 1 tsp dried
Recipe by The Cook & Him at https://thecookandhim.com/recipes/roasted-garlic-and-tomato-soup/