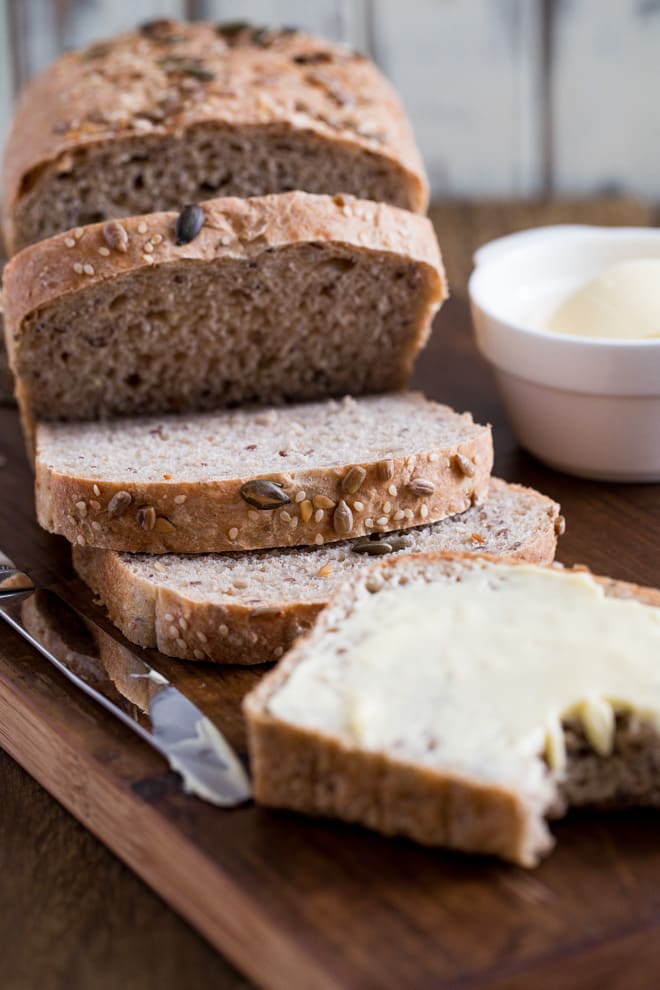 Kombucha Bread
Prep: 30 mins | Cook: 40 mins | Total: 70 mins | Quantity: 1 loaf (8-10 slices)
Ingredients
2 cups (300g) strong white bread flour
1/2 cup (75g) wholemeal flour
1 tblsp coconut sugar
1/4 cup (30g) rolled oats
2 tblsp flax seeds
1 x 7g sachet fast action dried yeast
1 cup (240ml) Remedy Kombucha – Original Flavour
1 tsp salt
drizzle of oil
1 tblsp mixed seeds
Instructions
Into a large bowl put both the flours, the coconut sugar, oats and flax seeds
Into a small saucepan put the kombucha and very gently warm. This only takes a minute or two - you want the temperature to be 'blood temperature' meaning that when you put a finger in the liquid you can't tell if it's hot or cold!
If you overheat the liquid allow to cool to blood temperature
Whisk in the yeast then stir the liquid into the bowl of dry ingredients and mix together to form a dough
Turn out onto a lightly floured work surface and knead the dough by holding one end with one hand and using your other hand to stretch the dough away from you. This tears the gluten in the flour which gives the dough its elasticity and allows the bread to rise and form air pockets
When you've needed for about 10 minutes put the dough into a clean, lightly oiled bowl, cover with a clean t-towel and leave somewhere relatively warm to prove until doubled in size. This can take an hour or two dependent on temperature (see note)
Once it's doubled in size tip it out of the bowl and knead again for just a couple of minutes
Shape into a log and gently lift into your tin - I used a lightly oiled loaf tin 9 x 5 inches (23 x 13 cm)
Sprinkle the mixed seeds on top and gently push into the dough - this helps prevent (most of) them falling off once baked! Just be careful not to push too hard
Cover with the tea-towel and again leave to prove until doubled in size
Just before it's ready to go be baked preheat your oven to 200 Fan / 220 C / 425 F / Gas 7
Remove the tea-towel and bake for 35-40 minutes until lightly golden. If you want to check if it's cooked, carefully lift out of the tin and tap the base - if it's cooked it will sound hollow, if not, return to the oven and bake for a few more minutes
Leave to cool in the tin for 5 minutes before turning out onto a wire rack to cool completely
This kombucha bread is definitely best served fresh (and warm!) but it also makes wonderful toast if you don't eat it all before it starts to go stale!
Notes
When proving dough you don't want the temperature you prove it at to be too hot or you risk either over proving the dough and it sinking or killing the yeast (the dough will stop proving and will not rise)
Anything below 40 degrees should be fine!
Recipe by The Cook & Him at https://thecookandhim.com/recipes/kombucha-bread/