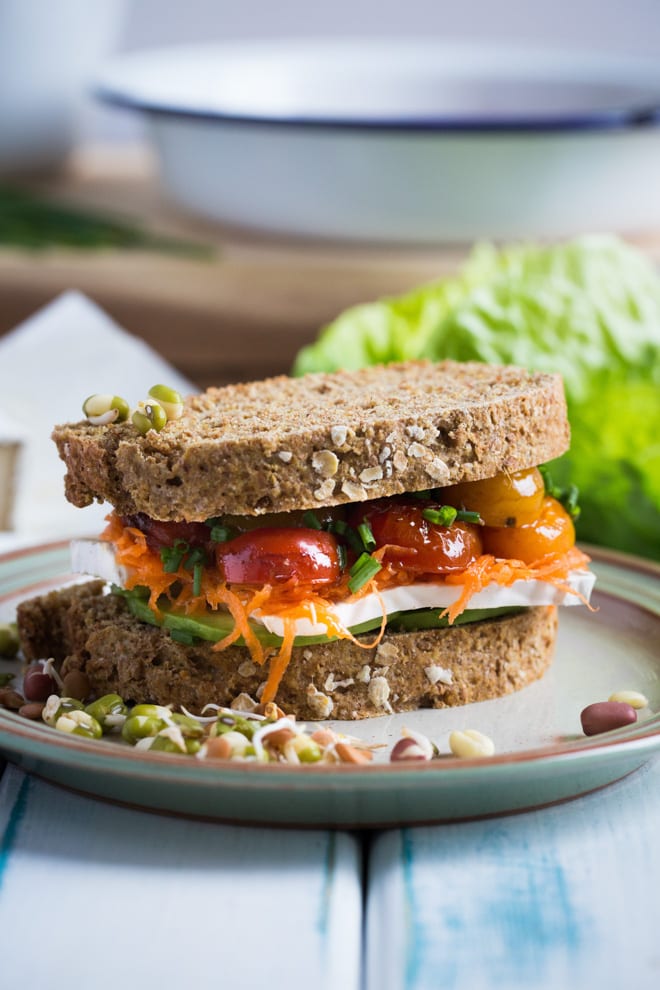 Ultimate Vegan Sandwich
Prep: 20 mins | Cook: 30 mins | Total: 50 mins | Quantity: 4 sandwiches
Ingredients
Bread:
2 cups (280g) wholemeal flour
1 + 1/2 tblsp coconut sugar
1 tsp bicarbonate of soda
1 tsp salt
1/2 cup (115ml) kombucha (we love Remedy Kombucha)
1/4 cup (60ml) almond milk
2 tblsp olive oil
Roast Tomatoes:
1 cup (160g) cherry tomatoes
1/4 cup (60ml) vegan red wine
1/4 tsp dried rosemary
1 tsp balsamic vinegar
pinch sea salt
Filling:
Mustard of choice or dairy free spread
1 avocado – peeled, stone removed and sliced
1 x New Roots Camembert Vegan Cheese – sliced
1 small carrot – finely grated
4 tsp snipped fresh chives
Instructions
Start with the bread - preheat your oven to 180 Fan / 200 C / 400 F / Gas 6 and grease and dust with flour a loaf tin 3 x 9 inches (7 + 1/2 x 23 cm)
In a large bowl put the flour, coconut sugar, bicarb and salt and stir together
Add the kombucha, almond milk and olive oil and mix to form a dough. Tip out onto a lightly floured work surface and using your hands shape into a log, roughly the length of your tin
Bake for 30 minutes until firm and lightly golden. If you're unsure it it's cooked tap the bottom of the loaf - if it's cooked it will sound hollow, otherwise return to the oven until it's cooked through
While that's baking, toss together all the ingredients for the roast tomatoes and tip into a baking dish and cook for 20 minutes until the tomatoes have burst slightly
Remove the bread and tomatoes from the oven and allow to cool 5-10 minute before building your Ultimate Vegan Sandwich!
Thickly slice the bread into 8 slices and spread with mustard or spread of choice
Lay the sliced avocado on 4 of the slices of bread, top with sliced cheese, then the grated carrot. Top with some of the roasted tomatoes, a sprinkle of chopped chives then finally top with the remaining slices of bread
Dig in and enjoy!
Recipe by The Cook & Him at https://thecookandhim.com/recipes/ultimate-vegan-sandwich/