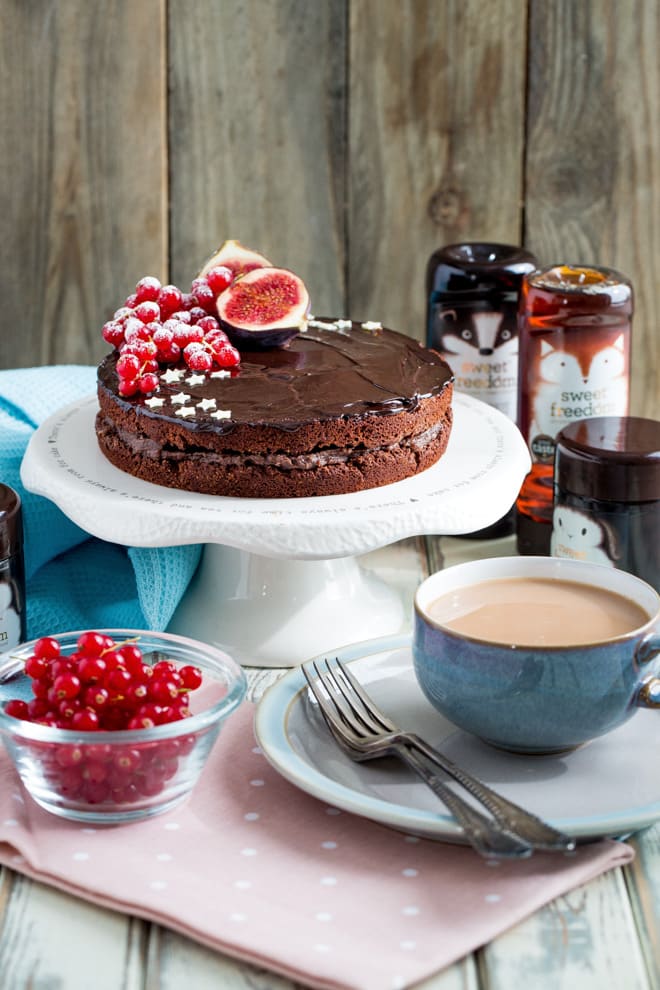 Gluten Free Chocolate Cake
Prep: 20 mins | Cook: 20 mins | Total: 40 mins | Quantity: 8 - 10 servings
Ingredients
Cakes:
2 tblsp ground flax seeds
2 cups (220g) ground almonds
1/4 cup (20g) raw cacao powder
2 tsp baking powder
1/2 tsp bicarbonate of soda
1/3 cup (110g) Sweet Freedom  Fruit Syrup
Middle Frosting:
1/4 cup (50g) dairy free spread (I use Vitalite)
1/4 cup (30g) icing sugar
2 tblsp Sweet Freedom Choc Shot
Top Frosting:
2-3 tblsp Sweet Freedom Choc Pot
Optional fresh fruit and/or sprinkles for decoration
Instructions
Preheat your oven to 170 Fan / 190 C / 375 F / Gas 5 and with a little oil or dairy free spread grease and then dust with flour two 6 inch (15cm) sandwich cake tins.  I also cut a disc of parchment for the bases - but my tins are old and losing their non-stick!
In a small bowl or mug put the ground flax seeds along with 1/3 cup (80 ml) cold water and set aside for 5-10 minutes to thicken slightly
Into a largeish bowl put the ground almonds, cacao, baking powder and bicarbonate of soda and stir together until well mixed
Add the flax and water mixture (often referred to as a flax 'egg') along with the fruit syrup and stir together until just mixed
Evenly divide the cake mixture (see note) between the two prepared tins and bake for 20 minutes until just firm
Leave to cool in the tin for 10 minutes then carefully lift or drop out of the tin onto a wire cooling rack to cool completely
While that's cooling, mix together the dairy free spread with the icing sugar and choc shot in a bowl and mix well together.  Keep in the fridge until your cakes are cooled
When the cakes are completely cold spread the middle frosting over one of the cakes then place the other cake on top
Spread the choc pot over the top of the cake and decorate however you fancy! I used fresh figs and redcurrants for a fruity, tart contrast to all that sweet scrummy chocolate!
Notes
There's no getting away from the fact that this cake doesn't have a typical cake texture while raw - it feels thick and too dry.  Trust me, when it's baked and decorated it's cake perfection!
Recipe by The Cook & Him at https://thecookandhim.com/recipes/gluten-free-chocolate-cake/