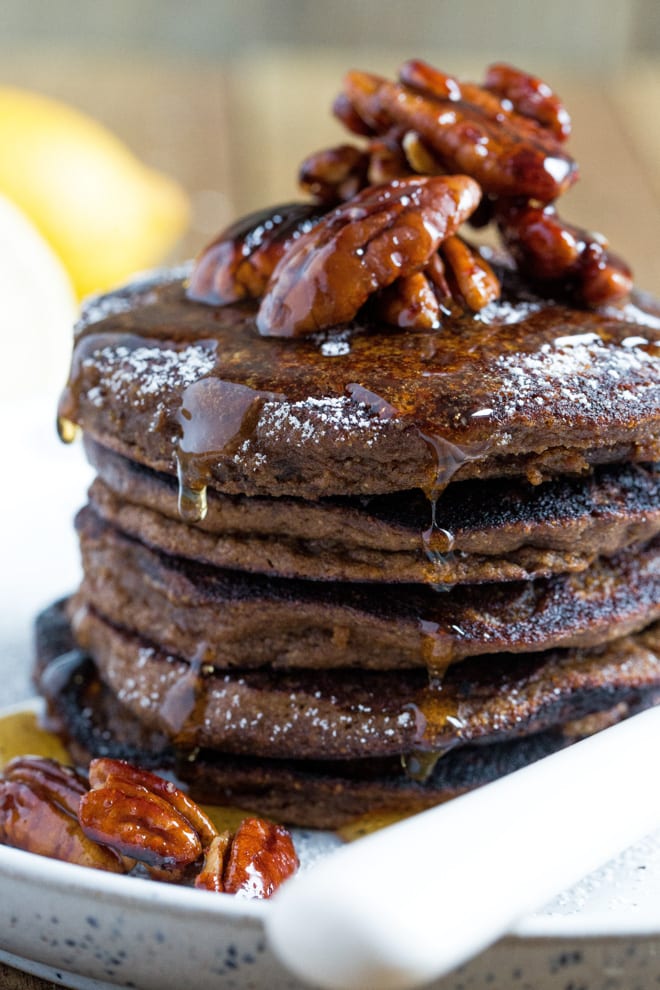 Gingerbread Pancakes
Prep: 10 mins | Cook: 15 mins | Total: 25 mins | Quantity: 6-8 pancakes
Ingredients
Pancakes:
1 large ripe banana – the spottier the better!
1 + 1/4 cup Hodmedods Quinoa Flakes
1/2 cup (120ml) unsweetened almond milk
juice of half a small lemon
1 tblsp black treacle or molasses
1/2 tsp baking powder
1/2 tsp bicarbonate of soda
2 tsp ground ginger
1/4 tsp ground nutmeg
1 tsp ground cinnamon
1/4 cup (50g) coconut sugar
Optional topping:
1/2 cup shelled pecan nuts
1 tblsp maple syrup
Extra maple syrup for drizzling
Blender or good food processor – I used a Nutribullet
Instructions
Simply put everything into a blender cup and whizz until thick and smooth (see note)
I find it easier to scrape the mixture out of the cup into a wide pouring jug or bowl. Leave to stand for a few minutes if you're making the maple toasted nuts
Put the nuts in a small frying pan with the maple syrup and cook over a medium heat for just a minute or two, tossing the pan or stirring the nuts very frequently. You want the nuts to have a dark caramel colour. Remove from the heat and set aside
Heat a large frying pan over a low - medium heat then pour or spoon in some of the mixture. I make 3-4 at a time. You can make the pancakes any size you want, just remember you have to flip them so leave some room in the pan!
Cook for a minute or so until large bubbles have formed on the uncooked side then using a large fish slice or palette knife carefully flip the pancakes
Cook on the other side for a further minute or so
Stack the pancakes on a plate, top with the maple glazed nuts and a little extra drizzle of maple syrup for indulgent festive heaven :)
Notes
If you have a decent food processor you can probably whizz the mixture in one of those too. You can also try not blending it - just mash the banana and add the remaining ingredients. The pancakes won't have a smooth texture though, but will probably be just as tasty!
Recipe by The Cook & Him at https://thecookandhim.com/recipes/gingerbread-pancakes/