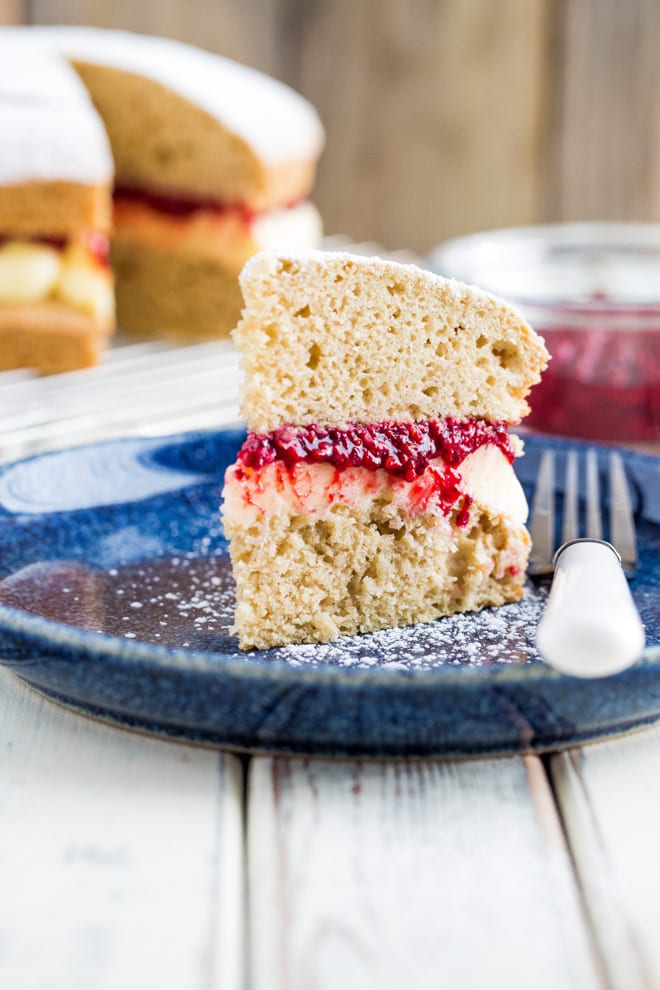 The Best Vegan Cake
Prep: 20 mins | Cook: 30 mins | Total: 50 mins | Quantity: 8-10 slices
Ingredients
Jam:
250g raspberries – can be fresh or frozen
1 tblsp maple syrup
1/2 lemon – grated zest and juice
1 tblsp chia seeds
Cake:
2 cups (260g) plain flour
3/4 cup (120g) golden caster sugar
1/2 tsp baking soda
1 tsp baking powder
1 cup (225ml) unsweetened almond milk
1/3 cup (60ml) oil – I used extra virgin olive oil but feel free to use whatever you'd prefer!
Frosting:
1/2 cup (100g) block margarine (see note)
1 cup (100g) icing sugar + extra for dusting
1 tsp vanilla extract
Instructions
If you're making the jam start this first. Put the raspberries, syrup and lemon zest and juice into a heavy based saucepan and bubble gently for 10 minutes
Add the chia seeds and bubble for a further 5 mintues before removing from the heat and leaving to cool
Preheat your oven to 170 Fan / 190 C / 375 F / Gas 5. With a little oil or dairy free spread grease and then dust with flour two 6 inch (15cm) sandwich cake tins. I also cut a disc of parchment for the bases - but my tins are old and losing their non-stick!
For the cake, sift the flour, sugar, baking soda and baking powder into a large bowl
In a smaller bowl or jug whisk together the almond milk and oil then add to the large bowl of dry ingredients. With a rubber spatula, stir lightly but thoroughly to mix them together
Divide this mixture evenly between the two tins, spreading to cover the base of each tin
Bake for 30 minutes until lightly golden and a skewer inserted into the middle of the cake comes out clean
Leave to cool in the tins for 5 minutes before removing to a cooling rack to cool completely
When the cake is cooled make the frosting by simply beating together the block margarine, icing sugar and vanilla until pale and creamy. You can do this by hand or in a stand mixer
If the cakes have domed slightly, cut a slice off the top of one of the cakes to make it flatter and put the cut side down onto your serving plate
Spoon the frosting into a piping bag fitted with a large round nozzle and pipe Hershey's Kiss style blobs all round the outer edge of the cake base. Pipe the remainder into the centre and smooth flat. Alternatively just spread the whole cake base with the frosting
Spread the jam mixture onto the bottom of the other cake then place on top of the frosting. Dust the top of the cake with icing sugar - I use a small tea strainer for this
Store the cake in an airtight container at room temp
Notes
If you're using an electric mixer to make the frosting you can leave the block margarine in the fridge till needed. If you're making the frosting by hand you'll find it easier to have the margarine at room temperature.
Recipe by The Cook & Him at https://thecookandhim.com/recipes/vegan-cake/