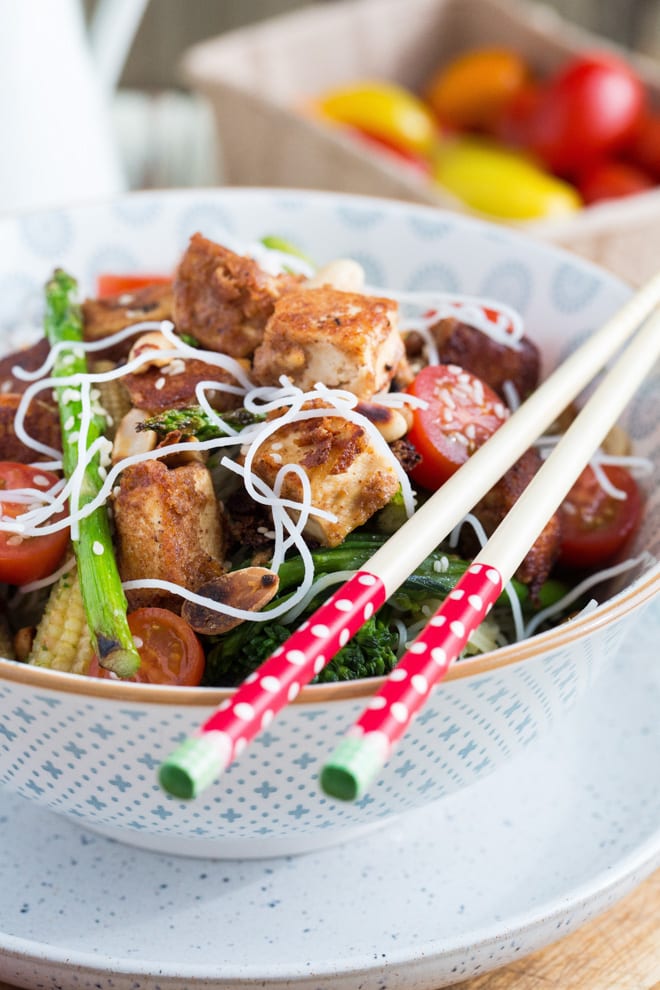 Tofu Stir Fry
Prep: 10 mins | Cook: 20 mins | Total: 30 mins | Quantity: 2 generous servings
Ingredients
Marinade:
2 heaped tblsp smooth peanut butter
2 tblsp soy sauce or liquid aminos
1 tblsp oil – I used macadamia nut but can sub with olive, sesame, canola or avocado oil
1 tblsp maple or agave syrup
2 tsp garlic powder
1 tsp mustard – I used dijon but wholegrain or English mustard would work too!
1 x 400g pack firm tofu
Stir Fry:
drizzle of oil – I used macadamia nut but can sub with olive, sesame, canola or avocado oil
8 spring onions – thinly sliced
2 cloves garlic – peeled and crushed
good couple of handfuls of mixed fresh veggies – I used a mix of tenderstem broccoli, baby corn, mange tout and asparagus
handful of whole peanuts
300g rice noodles
salt and peper
Optional:
sesame seeds
cherry tomatoes – halved
Instructions
Start by marinating the tofu (see note)
Whisk together the peanut butter, soy sauce, syrup, garlic powder and mustard in a large bowl. Add enough water to make a thick coating sauce. It took about 1/2 cup (125ml) water for mine
Open the packet of tofu and thoroughly drain off the water. Pat dry with some kitchen towel then thickly slice. Cut the slices into bite sized cubes
Add the diced tofu to the bowl of marinade and gently mix together, coating the tofu
Tip into a sealable container and put in the fridge for as long as possible up to 24 hours
When you're ready to cook, par boil the veggies in plenty of boiling salted water. Don't overcook, you want a little bite left to the veg. Cook the harder veg first (like broccoli and baby corn) then add the softer veg for the last couple of minutes
Drain the veg then swill under cold water to stop any further cooking, drain again and set aside
In a medium frying pan heat a small drizzle of oil over a low heat then gently drop in the pieces of tofu. Sizzle for a minute or two until golden and crisp on one side then turn and repeat for the other side. I use tongs to turn the tofu, saves burnt fingers!
While the tofu is cooking, heat a drizzle of oil in a large frying pan or wok and over a medium/high heat quickly saute the sliced spring onions and crushed garlic, stirring frequently. Add the veggies, peanuts, noddles and a good dash of salt and pepper and stir until sizzling
Portion the noodles and veggies mixture into 2 bowls and top with the crispy tofu.
If using, sprinkle over some sesame seeds and nestle in some halved cherry tomatoes
You can serve this immediately but it really is just as delicious cold the next day!
Notes
Marinate the tofu for at least 30 minutes but longer if you can - up to 24 hours. This gives the tofu plenty of time to really absorb all the lovely flavours!
Recipe by The Cook & Him at https://thecookandhim.com/recipes/tofu-stir-fry/