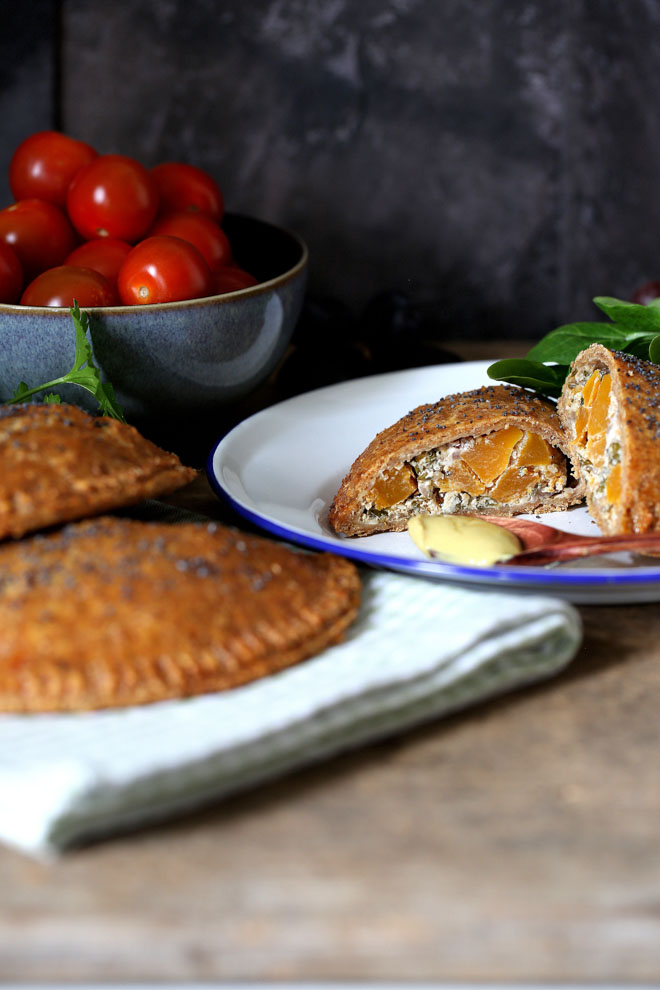 Butternut Squash & Goat's Cheese Pasties
Prep: 60 mins | Cook: 25 mins | Total: 85 mins | Quantity: 6 pasties
Ingredients
PASTRY:
200g wholemeal flour
100g cold butter – roughly diced
1 tsp salt
1 tsp paprika
100g strong cheddar cheese – grated
3 tblsp cold water
FILLING:
1 small butternut squash
1 tblsp olive oil
150g goat's cheese
1 tblsp sesame seeds
1 tblsp flax seeds
1 tblsp hemp protein powder
2 tsp ground cumin
1 tsp Dijon mustard
Handful of fresh basil leaves
Poppy seeds
1 small egg
Salt and pepper
Instructions
Heat the oven to 180 Fan / 200 C / 400 F / Gas 6
Peel the butternut squash then dice into smallish pieces. Toss with the olive oil and a good dash of salt and pepper.  Tip onto a baking tray and roast for 30-40 minutes until the pieces are tender and starting to brown at the edges.
Set aside to cool.
While the squash is cooking make the pastry!
For speed I use a food processor and start by grating the cheese using the grater attachment. Tip the cheese into a large bowl.
Swap the grater attachment for the blade and tip in the flour, diced butter, salt and paprika and pulse till the mixture resembles breadcrumbs. Add the grated cheese (don't wash the bowl yet!) and give a few pulses, then add the water, pulsing till the dough comes together into a ball.
Wrap the ball of dough in cling film and chill for 30 minutes.
Using the bowl you put the grated cheese in, tip in the cooked squash and add the goat's cheese, sesame seeds, flax seeds, hemp protein powder, cumin, and Dijon mustard.
Shred the basil leaves and add those to the squash mixture. Give it all a good mix together using a spoon or spatula.
Roll out the pastry to around 5mm thick then cut out circles – I use a small side plate that's 6 inches in diameter, lay it on the pastry and cut round it with a knife.
Spoon the filling onto one half of each of the pastry circles, leaving a 1cm border to the edge. Brush the edges with beaten egg then fold the pastry over, pressing down to seal in the filling.  Here you can decorate the edges how you like, I just use a fork and press that down to seal the pastry together.
Place onto a baking tray (or trays) and brush all over the tops with beaten egg. Sprinkle over some poppy seeds and bake for 25-30 minutes till crisp and golden.
Notes
Him likes finding these in his lunchbox with a crisp mixed salad – they freeze really well, making them very handy to make ahead!
They also reheat very well - just defrost completely if frozen and bake for 25 minutes at 180 Fan / 200 C / 400 F / Gas 6
Recipe by The Cook & Him at https://thecookandhim.com/recipes/butternut-squash-and-goats-cheese-pasties/