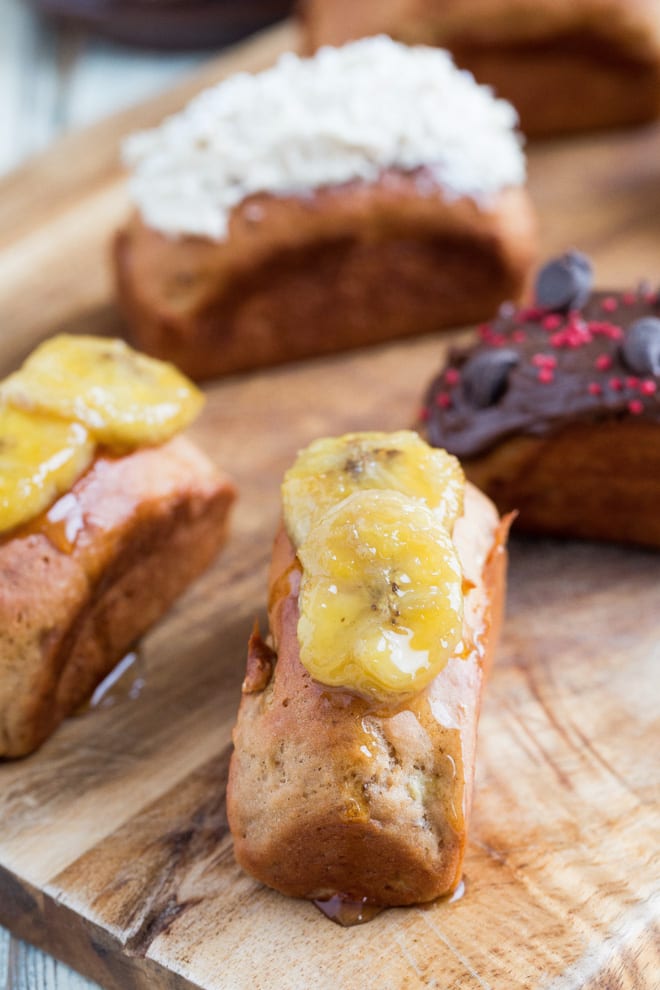 Mini Vanilla and Banana Protein Cakes
Prep: 20 mins | Cook: 25 mins | Total: 45 mins | Quantity: 12 mini cakes
Ingredients
Cakes:
Toppings (see note):
Instructions
Preheat your oven to 170 Fan / 190 C / 375 F / Gas 5 and grease a 12 hole mini loaf tin with spray oil, margarine or butter
Peel the bananas and break into chunks into a large bowl. Mash with a fork or a potato masher
Add the protein shake, coconut sugar and protein powder and whisk together until well mixed
Sift in the flour and baking powder and use a rubber spatula to mix everything together, stirring up from the bottom of the bowl so that no flour 'pockets' remain
Spoon the mixture evenly into your mini loaf tins and bake for 25 minutes until cooked. Check by using a skewer or cocktail stick inserted into the centre of one of the mini cakes - if it comes out clean with no raw mixture clinging to it, the cakes are done. If not, return to the oven for a few minutes until cooked
Leave to cool in the tin for 10 minutes before lifting out onto a wire rack to cool completely
If you're topping with the caramelised bananas, peel and thickly slice the bananas and place into a large frying pan with the syrup and a small drizzle of oil. Cook them over a medium heat for a few minutes each side until golden and caramelised
Carefully lift each slice out and lay on top of the mini cakes, drizzling over any extra syrup
If you're topping with the spreads make sure the cakes are completely cooled before frosting
Store the frosted cakes in an airtight container
Notes
I used a variety of different toppings to mix and match but you can use just one of the toppings or try your own! The spreads make a very quick and easy frosting though!
Recipe by The Cook & Him at https://thecookandhim.com/recipes/mini-vanilla-and-banana-protein-cakes/