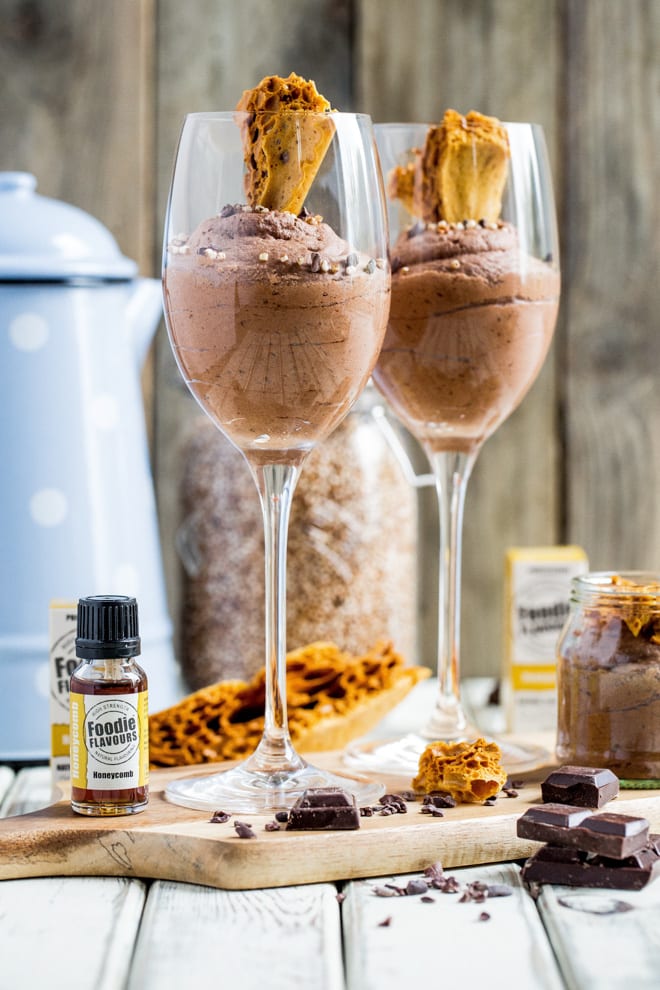 Honeycomb Chocolate Mousse
Prep: 20 mins | Cook: 0 mins | Total: 20 mins | Quantity: 4 generous servings
Ingredients
1 cup (160g) vegan dark chocolate
1/2 cup (130ml) aquafaba – roughly all the liquid from a 400g can of chickpeas
20 drops Foodie Flavours Honeycomb Essence
1/2 cup (75g) icing sugar
1/2 tsp cream of tartar
Electric whisk – either a stand mixer or hand held whisk
Instructions
Melt the chocolate in a microwave or over a bain-marie (a heatproof bowl set over a saucepan of barely simmering water)
Once it's melted set aside to cool slightly while you whisk the meringue
Whisk the aquafaba in your stand mixer or in a large bowl with a hand held electric whisk. It takes a good 5 minutes to get those giant fluffy peaks. I whisk on medium/fast speed
Once the meringue is fluffy and whisked to peaks add the honeycomb essence and whisk in for a minute
Mix the cream of tartar with the icing sugar then while still whisking (on a slower speed) gradually add to the meringue mixture until fully incorporated. I add a spoonful at a time
Pour in the melted chocolate and using a spatula (no whisking here, we want to retain as much of those fluffy peaks as possible!) gently but thoroughly mix it through the meringue until there are no white streaks
Spoon into serving bowls or glasses or spoon into a large piping bag and pipe into your glasses
You can eat this almost immediately but it does firm up a little after an hour in the fridge. Store in the fridge until you're ready to eat!
Recipe by The Cook & Him at https://thecookandhim.com/recipes/honeycomb-chocolate-mousse/