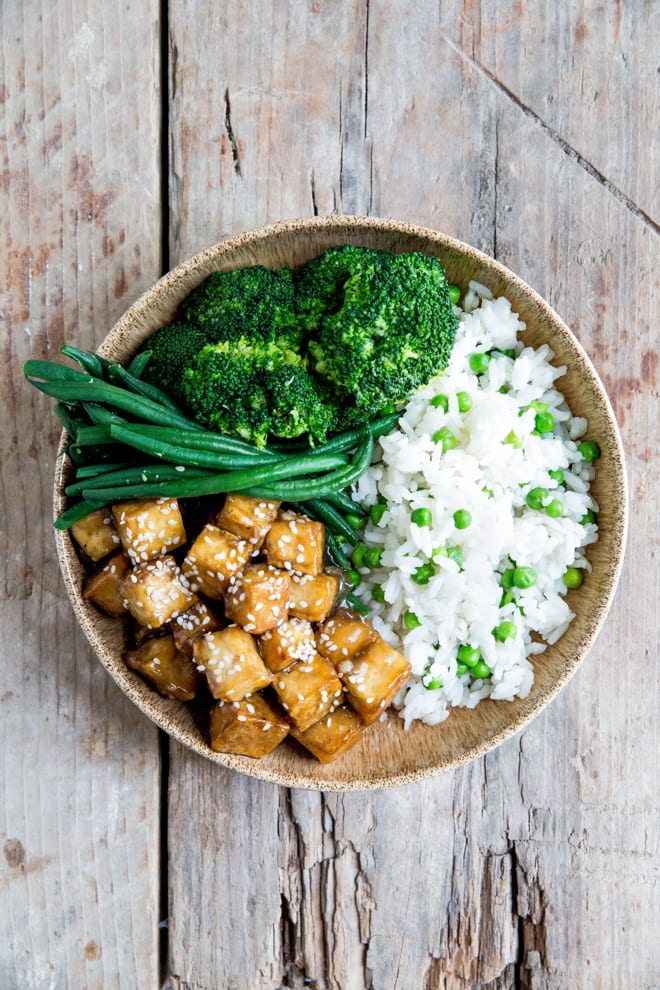 Teriyaki Baked Tofu
Prep: 15 mins | Cook: 30 mins | Total: 45 mins | Quantity: 2 generous servings
Ingredients
Tofu:
2 cups (400g) firm tofu
1 tblsp cornflour
1 tblsp liquid aminos (can be subbed with soy sauce)
1 tblsp oil
Teriyaki Sauce:
2 tblsp liquid aminos (can be subbed with soy sauce)
2 tblsp maple syrup  (can be subbed by coconut sugar or agave syrup)
1-2 tblsp dry sherry (can be subbed for any sherry, brandy, white wine, mirin or rice wine)
2 cloves garlic – peeled and crushed
1 tblsp cornflour
1/3 cup (80ml) cold water
Optional: 1-2 tsp grated fresh ginger
Instructions
Drain the tofu and leave sandwiched between a few sheets of kitchen paper for 30 minutes - this can be done as far ahead of time as you wish, but 30 minutes is enough to dry it out for crispy baked tofu!
Preheat your oven to 200 Fan / 220 C / 425 F / Gas 7 and line a large baking sheet with parchment or a silicon mat
In a medium bowl whisk together the cornflour, aminos and oil until no lumps of cornflour remain then add the tofu. Gently turn the tofu through the sauce until it's all well coated
Lay the tofu pieces onto your prepared tray placing relatively close together to fit them all on
Bake for 30 minutes
While the tofu is baking prepare the sauce
Into a pan or wok large enough to hold all the tofu put the aminos, syrup, alcohol and crushed garlic (and grated fresh ginger if using)
In a small bowl or mug mix the cornflour with the water until smooth and lump free, set aside
Bring the liquid in the pan to the boil then simmer for 1-2 minutes
Whisk in the cornflour and water to a smooth, glossy and sticky sauce
Once the tofu is cooked carefully tip it into the sauce, stir to completely coat each piece of tofu then serve immediately (see note)
Notes
The tofu is best served straight after cooking but it doesn't lose any flavour chilled and eaten later. It does lose some of it's crispiness though, becoming more chewy!
Recipe by The Cook & Him at https://thecookandhim.com/recipes/teriyaki-baked-tofu/