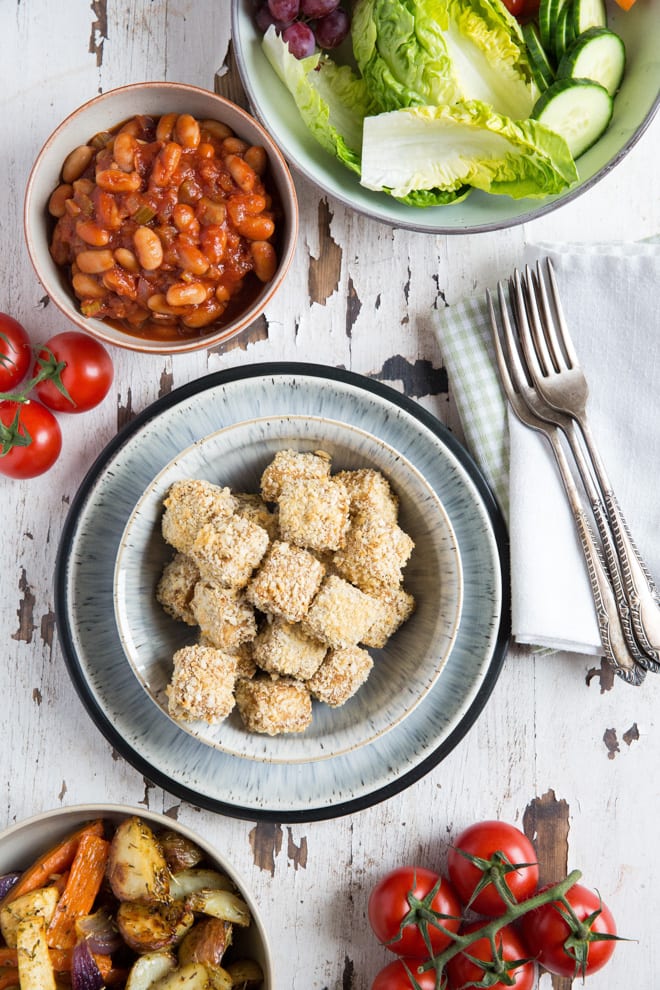 Baked Tofu Nuggets
Prep: 15 mins | Cook: 30 mins | Total: 45 mins | Quantity: 24 bite sized nuggets
Ingredients
2 cups (400g) firm tofu
3 tblsp liquid aminos (or sub with soy sauce)
1 + 1/2 tsp garlic powder
1-2 tsp smoked paprika
1 heaped tsp dijon mustard (or sub for wholegrain or English)
3 tsp gram flour (also known as chickpea flour)
1/2 cup (40g) panko breadcrumbs
2 tblsp nutritional yeast
1 tblsp sesame seeds
few grinds of black pepper
Instructions
Drain all the water from the tofu and pat dry with some kitchen towel
Cut into roughly 24 bite sized nuggets
In a shallow dish whisk together the liquid aminos, garlic powder, paprika and mustard then whisk in the gram flour
Add the tofu to the bowl and turn each nugget to coat. Set aside for 30 minutes (see note)
In another shallow dish mix together the breadcrumbs, nutritional yeast, sesame seeds and a few grinds of black pepper
Preheat your oven to 180 Fan / 200 C / 400 F / Gas 6 and line a large baking tray with parchment or a silicon mat
To coat the tofu just drop 1-2 pieces at a time into the breadcrumb mixture, turning and pressing the crumbs over all sides of the pieces of tofu. You can press quite firmly, the tofu can handle it ;)
Lay each piece of tofu onto your prepared tray and repeat until you've covered each piece
Bake for 30 minutes until crisp and lightly golden
These nuggets can be eaten immediately or left to cool. Once cooled they become crouton like and are lovely sprinkled into a chopped or mixed salad!
Notes
You can marinate the tofu up to 24 hours in advance but 30 minutes is also long enough to absorb plenty of flavour
Recipe by The Cook & Him at https://thecookandhim.com/recipes/baked-tofu-nuggets/