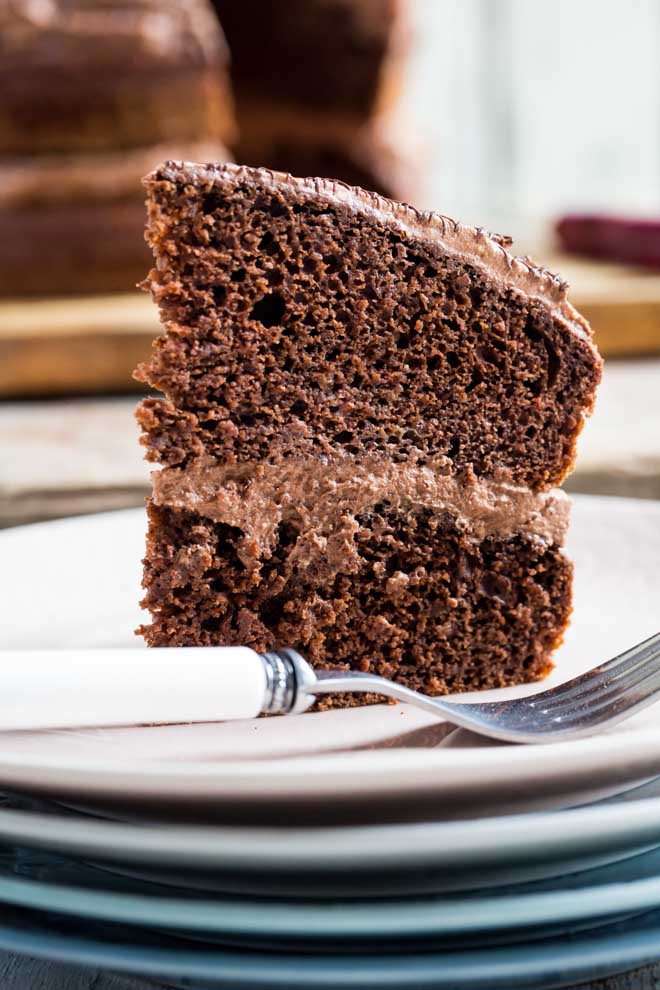 Chocolate Fudge Cake
Prep: 30 mins | Cook: 30 mins | Total: 60 mins | Quantity: 8-10 slices
Ingredients
Sponge cake:
¼ cup (40g) coconut oil
2 tblsp ground flax seeds
1 + 1/3 cups (250g) plain flour
1/3 cup (35g) raw cacao powder
2 tsp baking powder
1 tsp baking soda
¾ cup (135g) coconut sugar
½ cup (120ml) unsweetened almond milk
½ cup (140g) coconut yoghurt
1 tsp apple cider vinegar
¼ cup (80g) golden syrup
Frosting:
½ cup (100g) vegan butter
1 cup (100g) icing sugar
¼ cup (20g) raw cacao powder
Few squares of dairy free dark chocolate
Instructions
Preheat your oven to 160 Fan / 180 C / 350 F / Gas 4 and use a little soft margarine to grease 2 x 6 inch (15cm) sandwich tins. I also sprinkle in some flour to coat the margarine, tipping out the excess.
Melt the coconut oil and set aside to cool slightly
In a medium bowl mix the ground flax seeds with 1/3 cup (85 ml) cold water and set aside too
Sift the flour, cacao powder, baking powder, bicarb and sugar into a large bowl
To the flax mixture add the milk, yoghurt, vinegar and syrup and whisk well
Stir this into the flour mixture and mix together well, making sure no pockets of flour remain
Evenly divide between your two prepared tins, smooth the tops then bake for 30 minutes
Leave to cool in the tins for 5 minutes before turning out onto a wire rack to cool completely
While they're cooling you can make the icing – beat together the butter, icing sugar and cacao powder until smooth and cream
Once the cake is completely cooled cut the domed top off one of the cakes and use that as the base
Spread half the icing all over the base, covering completely
Spread the remainder over the other cake and gently place onto the base cake
Melt a few squares of chocolate and pipe or drizzle across the top of the cake
Notes
Storing this chocolate fudge cake in an airtight container keeps it fresh for a few days
You can use a little less icing in the middle and on the top and use the remainder to ice the sides of the cake!
Recipe by The Cook & Him at https://thecookandhim.com/recipes/chocolate-fudge-cake/