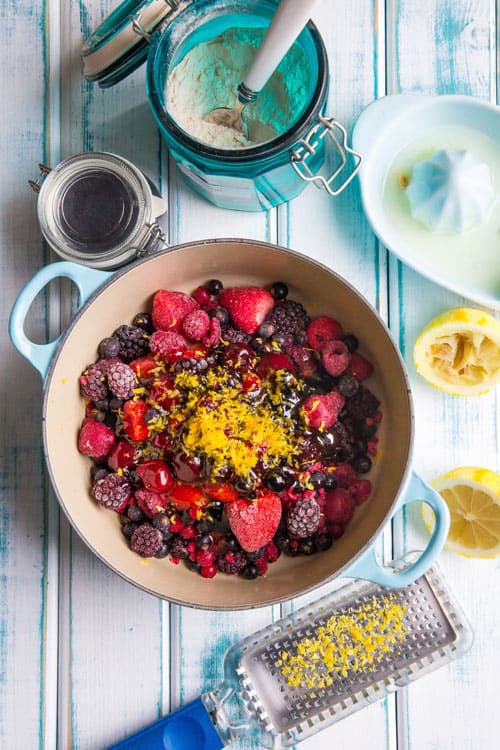 Chia Seed & Berry Jam
Prep: 5 mins | Cook: 25 mins | Total: 30 mins | Quantity: 2 medium jars
Ingredients
500g mixed berries – fresh or frozen
3 tblsp maple syrup
1/2 lemon – grated zest and juice
2 tblsp chia seeds
½ tsp vanilla extract
1 heaped tsp baobab powder
1 heaped tsp acai berry powder
Instructions
Tip the berries, maple syrup and the lemon zest and juice into a medium sized saucepan and gently bubble for 10-15 minutes until the berries become quite soft. Squash any of the larger berries with a fork or, if you have fussy 'no lumps' jam lover as I do give the mixture a quick blitz with a stick blender or in blender machine (being very careful of the hot liquid).
Add the chia seeds and vanilla and bubble gently for another 10 minutes. Turn off the heat, stir in the baobab and acai berry powders, carefully taste and add a little more honey if needed, then leave to cool completely.
Spoon into sealable jars and store in the fridge for 2-3 weeks.
Notes
Don't forget to prepare the berries if you're using fresh - remove stalks/stones/pits etc!
The jam goes wonderfully well with our Honey Oat Wholemeal Bread
Recipe by The Cook & Him at https://thecookandhim.com/recipes/chia-seed-berry-jam/