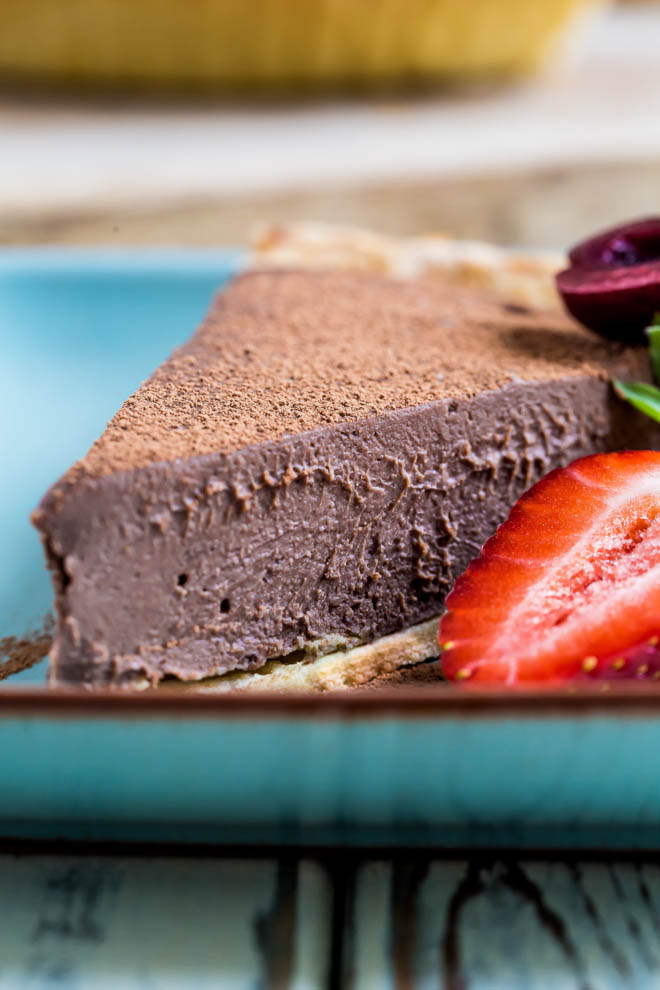 Vegan Chocolate Pie
Prep: 30 mins | Cook: 25 mins | Total: 55 mins | Quantity: 8-10 slices
Ingredients
Pastry:
1 + 1/3 cups (200g) plain white flour
1/2 cup (100g) vegan butter
1 tblsp golden caster sugar
2-3 tblsp cold water
Pie Filling:
1 +1/4 cups (230g) vegan dark chocolate
12 ounces (349g) pack silken tofu
1/2 cup (120ml) chocolate almond milk (or other nut milk)
1/4 cup (70g) cashew butter (or any other nut butter)
1/4 cup (70g) tahini
1/2 tsp vanilla extract
2 tblsp agave syrup (or maple syrup)
Optional Decoration:
Fresh fruit and vegan chocolate truffles
Instructions
Start with the pastry - put the flour, butter and sugar into a food processor and whizz until no lumps of butter remain. With the motor running add 2 tblsp water - if it doesn't come together to make a soft dough add a drop more water until it does
You can also do this whole process by hand - just put the flour and butter in a bowl and rub them together until the mixture ressembles sand or fine breadcrumbs. Stir in the sugar then enough water to make a soft dough
Whichever way you make it, wrap the dough in cling film and put in the fridge for 30 minutes
Unwrap the pastry and roll out on a floured surface until it's big enough to fill a 10 inch (25cm) loose bottomed pie tin. Gently lift the pastry and drape into your tin, flattening it across the base and pushing it against the sides
Trim off the excess (see note) and leave the edge plain or crimp gently with your fingers and thumb
Prick all over the base with a fork then put the tin in the freezer for another 30 minutes
Preheat your oven to 180 Fan / 200 C / 400 F / Gas 6
Put the tart tin onto a tray and put straight into the hot oven from the freezer and bake for 25-30 minutes until lightly golden and crisp. Leave to cool while you make the filling
Melt the dark chocolate in a microwave or over a bain marie (a heatproof dish set over a pan of barely simmering water)
While it's melting put the remaining ingredients into your food processor (or you can use a blender if you don't have a food processor) then add the chocolate once it's melted
Whizz until smooth and creamy then pour into your cooked pastry case
Leave to set in the fridge for 1-2 hours
Decorate however you like - I used fresh fruit and cocoa dusted vegan chocolate truffles
Notes
I re-roll and cut the pastry trimmings into strips, put on a tray and bake them with the tart base - no need to freeze them though! Both the garden birds and Meg love them!
Recipe by The Cook & Him at https://thecookandhim.com/recipes/vegan-chocolate-pie/