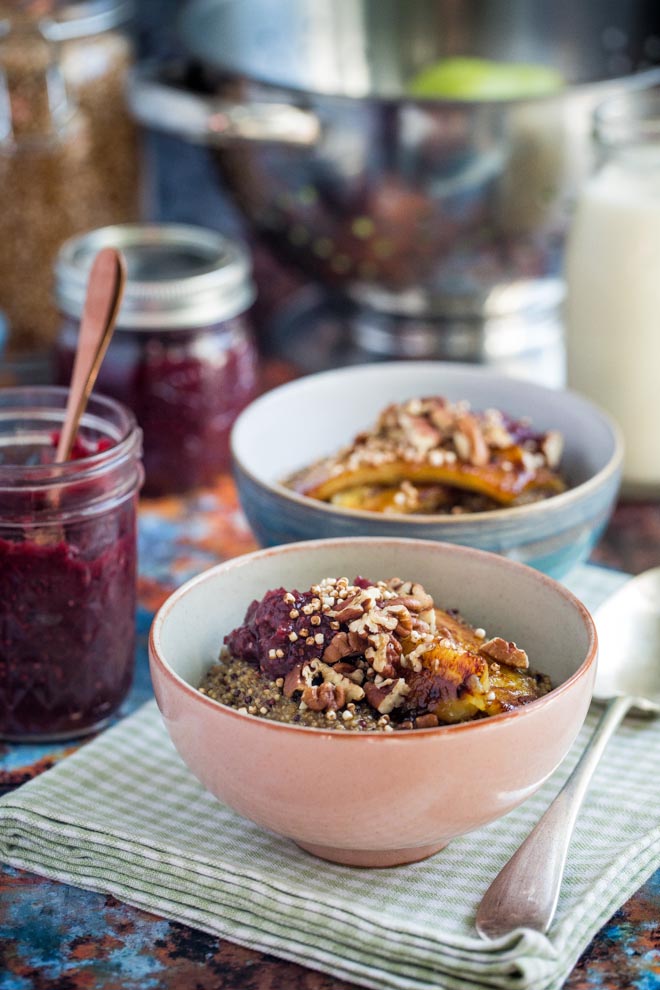 Quinoa Porridge with Autumn Fruit Jam
Prep: 10 mins | Cook: 45 mins | Total: 55 mins | Quantity: 2 servings
Ingredients
Jam:
1 + 1/2 cups (225g / 3 small) pears – core removed and roughly diced
1 + 1/2 cups (225g / 3) plums – stone removed and roughly chopped
1 cup (130g) blackberries – fresh or frozen
1/2 tsp ground cinnamon
2-3 tblsp agave syrup (can sub with maple syrup)
1/4 cup (60ml) water
1 tblsp chia seeds
Quinoa Porridge:
1 cup (200g) quinoa – I used this Two Colour Quinoa from Hodmedods
1 + 1/4 cups (310ml) unsweetened plant milk
1 + 1/4 cups (310ml) water
1 tblsp ground flax seeds
1/2 tsp ground nutmeg
1/2 vanilla extract
Optional topping:
Caramelised bananas (see note)
Chopped pecans
Instructions
Start with the jam, as you'll need to give it a little time to cool before using. Put all the jam ingredients except for the chia seeds in a heavy based saucepan with a lid
Cook over a gentle heat, stirring once or twice, for 10-12 minutes until the fruit is soft
Add the chia seeds and cook for a further 2 minutes, stirring frequently
Allow to cool for a few minutes before transferring to clean jars. Leave the lid off until cooled completely then store in the fridge
To make the porridge put all the ingredients into a medium saucepan and cook over a low heat for 25 - 30 minutes, stirring frequently, until almost all the liquid has been absorbed
Pour into your favourite bowl, spoon on the jam, add your toppings and enjoy!
Notes
To make caramelised bananas simply peel and slice a large banana in half then in half lengthways so you get 4 pieces of banana. Fry in a hot pan with a drizzle of maple or agave syrup for 1 minute each side until sticky and caramelised
Recipe by The Cook & Him at https://thecookandhim.com/recipes/quinoa-porridge-with-autumn-fruit-jam/