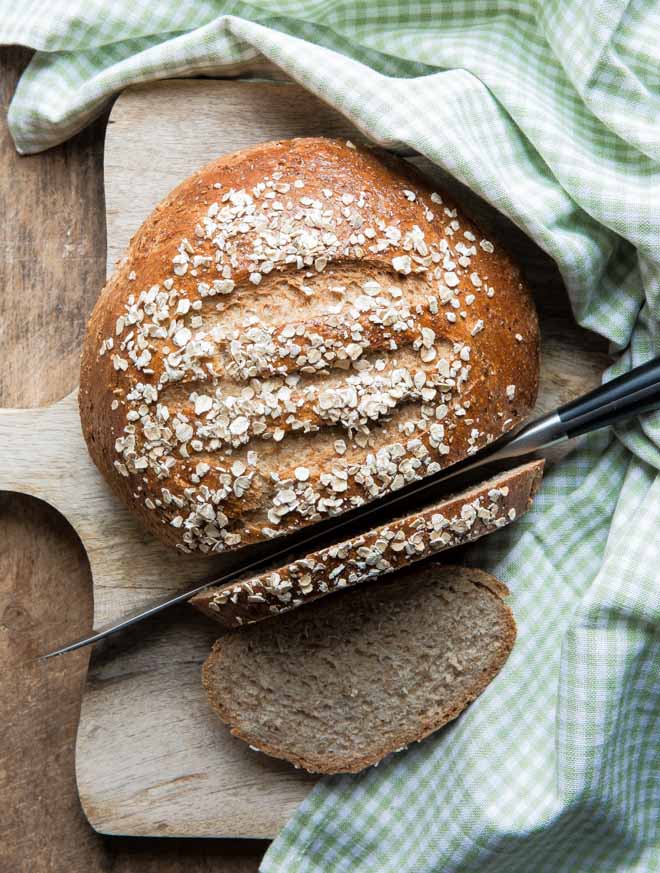 How to Make Bread
Prep: 150 mins | Cook: 50 mins | Total: 200 mins | Quantity: 2 loafs
Ingredients
1 cup (250ml) water
1 cup (250ml) unsweetened plant milk
1 tblsp (10g)  fast action dried yeast
2 tblsp sugar – it can be any type of sugar or even maple or agave syrup
2 1/2 cups (400g) wholemeal flour
2 cups (320g) strong white bread flour
1/4 cup (50g) vegan butter
1 cup (120g) rolled oats
1/2 tblsp (10g) salt
Optional
a little extra plant milk for glazing + extra oats for topping
Instructions
Warm milk, water and sugar in a saucepan until just tepid (remember, not too hot or it kills the yeast) on the stove or in a microwave, then pour into large mixing bowl.
Whisk in the yeast and set aside for 10-15 minutes till the top of the liquid is foamy
In the same saucepan or bowl you used to warm the milk and water, melt the butter then set that aside to cool
Add both the flours, oats, melted butter and salt to the liquid and mix together until a dough starts to form
Tip everything out onto your work surface and knead for a good 5-10 minutes with as much energy as you can muster till you have a soft but not sticky dough
Put back into a clean, lightly oiled bowl, cover with a clean t-towel and leave somewhere warm till the dough has doubled in size (around 1 - 1/2 hours)
Tip the dough back onto your work surface, knock the air out of it then divide the dough in half.  
Work one into a log shape (if you find you have a seam put that on the underside) then pop into a non-stick loaf tin (or a greased/lined one if yours is not non-stick)
Work the other half into a ball - you can make it round or rugby ball shape - the choice is yours!  Again tuck any seams to the bottom and put onto a tray lined with greaseproof or baking parchment
Cover the tin and the tray with the clean t-towel and prove again till roughly doubled in size - around 40 minutes to 1 hour
Before the loaves are finished proving, preheat your oven to 180 Fan / 200 C / 400 F / Gas 6
Optional: Using a sharp knife make deep slashes in the tops of the loaves then brush with a little extra milk and sprinkle over some oats
Bake for 40-50 minutes - test if they're cooked through by tapping the bottom of the loaf - if it's cooked it should make a hollow sound
Cool completely before storing in an airtight container. This is perfect as a fresh loaf eaten the same day but also makes great toast and can be frozen too!
Notes
This bread is just amazing when fresh and just as amazing a couple of days later toasted
Freeze one of the loaves in slices if don't plan on eating it within a couple of days
Recipe by The Cook & Him at https://thecookandhim.com/recipes/bread/