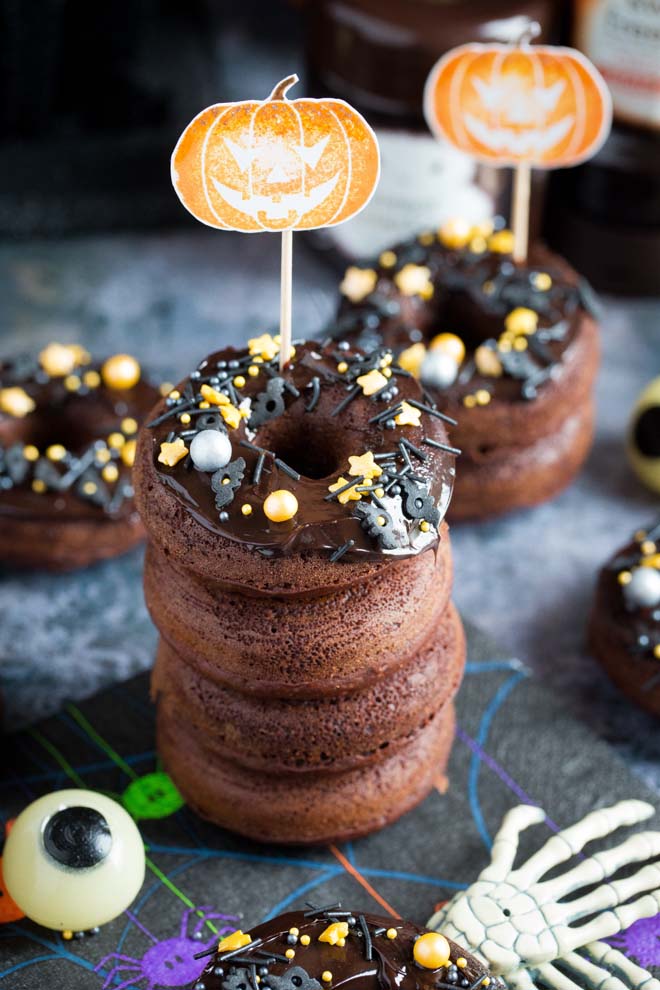 Haunted Halloween Donuts
Prep: 20 mins | Cook: 25 mins | Total: 45 mins | Quantity: 12 donuts
Ingredients
Donuts:
1 tblsp ground flax seeds
150g plain flour
1 tsp baking powder
1/2 tsp bicarbonate of soda
2 tblsp raw cacao powder
1 tsp ground cinnamon
1 tsp ground nutmeg
1/4 cup (80g) Sweet Freedom Vanilla Syrup – or sub with Sweet Freedom Fruit Syrup or any agave or maple syrup
1/4 cup (90g) Sweet Freedom Choc Shot Orange Spice
1/2 cup (150g) plain coconut yoghurt
1/3 cup (80ml) unsweetened plant milk – I used almond milk
Topping:
3-4 tblsp Sweet Freedom Choc Pot
Silicon donut moulds – I used these ones (colours may vary)
Instructions
Preheat your oven to 180 Fan / 200 C / 400 F / Gas 6
In a small bowl or mug put the ground flax seeds along with 3 tblsp cold water, stir together then set aside
In a large bowl put the flour, baking powder, bicarbonate, cacao powder, cinnamon and nutmeg and stir together
In a medium bowl whisk together the milk, yoghurt and flax seed mixture (also known as a flax 'egg') and the Sweet Freedom Syrup and Choc Shot
Add the bowl of wet ingredients to the bowl of dry ingredients and whisk together. Make sure to scrape up from the bottom of the bowl so no 'pockets' of unmixed flour remain
Grease your donut tins or molds. I used silicon molds and brushed with a little oil.
Spoon the donut mixture into a large piping bag with either no nozzle or just a plain tipped nozzle then pipe the mixture, filling each ring to roughly two thirds full
Bake for 25 minutes until soft but spongy. Remove from the oven and allow to cool in the tins for 5 minutes
Gently but firmly tap the donuts out of the tins or molds onto a cooling rack and allow to cool completely
When the donuts are cool spread a little of the chocolate pot on top of the rounded side of each donut and scatter the sprinkles. I put each donut on a plate before scattering the sprinkles to catch any that escape!
The chocolate pot doesn't set like melted chocolate so these donuts will have to be stored flat rather than stacked on top of each other
Store in an airtight container
Notes
On a previous recipe I experimented with not oiling the molds and those donuts did NOT turn out!
If you're using silicon moulds put them on a tray before piping - this just makes it easier to get them in and out of the oven!
Recipe by The Cook & Him at https://thecookandhim.com/recipes/haunted-halloween-donuts/