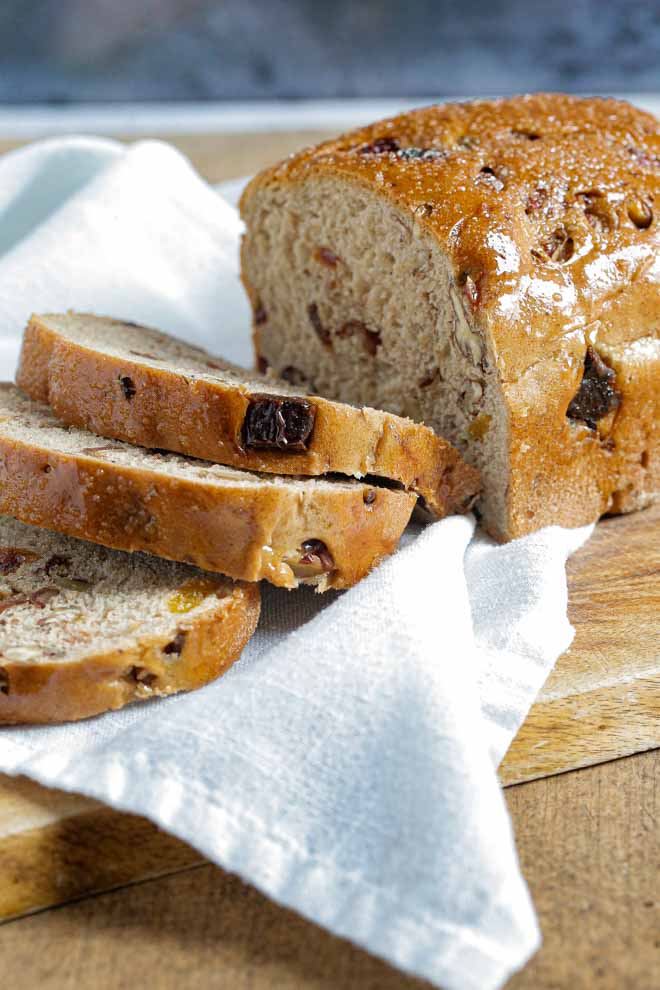 Date and Nut Spiced Fruit Loaf
Prep: 30 mins | Cook: 35 mins | Total: 65 mins | Quantity: 2 smaller loaves or 1 large loaf
Ingredients
1 + 1/3 cups (300ml) non-dairy milk
3 tblsp (20g) light brown sugar
7g sachet active dried yeast
3 cups (500g) strong white bread flour
1 tsp salt
1/4 cup (50g) vegan butter or margarine
2 tsp ground cinnamon
2 tsp ground nutmeg
1 cup (150g) dates
1/3 cup (60g) dried apricots
1 cup (130g) nuts – one type or a mixture of your favourite nuts!
Optional glaze:
2 tblsp maple or agave syrup
1 tblsp demerara sugar
Instructions
Put the milk into a saucepan and warm to blood temperature or barely tepid. When you put your finger in the liquid you shouldn't be able to feel if it's hot or cold!
Remove from the heat and whisk in the sugar and yeast. Cover with a tea towel and set aside for 5-10 minutes until the top is frothy
While the yeast is starting to ferment, put the flour, salt and butter into a large bowl and use your fingertips to rub the butter into the flour until no lumps of butter remain
Stir in the nutmeg and cinnamon
Pour the milk mixture into your bowl of flour and stir until it starts to form a dough, then tip out onto your work surface and knead for at least 5 minutes until the dough is stretchy, smooth and elastic
Put the dough into a lightly oiled bowl, cover and put somewhere warm until doubled in size - this can take anywhere from 30 minutes to over an hour dependent on temperature
While it's proving, roughly chop the nuts, dates and apricots into smallish pieces
Once the dough has proved tip it out again and roll or stretch into a large rectangle
Scatter over the chopped dried fruits and nuts and roll up tightly into a Swiss roll shape, kneading and folding to incorporate the fruit as evenly through the dough as you can
Shape into a couple of round or oval loaves or one large oval loaf. You can also use a bread tin to get a more traditional loaf shape
Once again leave in a warm place until roughly doubled in size
Just before they're ready, heat your oven to 180 fan / 200 C / 400 F / Gas 6
Bake for 30-35 minutes for the smaller loaves and 40-45 minutes for a larger one. To test, carefully tap the bottom of the loaf, if it's ready it should sound hollow
Leave to cool for 10 minutes then, if using, brush with the syrup and sprinkle over the sugar
Whilst most homemade bread is eaten fresh the same day this loaf is actually still pretty good the next day too! And after that it makes great toast!
Notes
For the nuts I've used various combinations of macadamia, pistachio, pecans and walnuts and they all tasted lovely!
I've not tried freezing the bread (it never lasts that long!) but I'm sure it will be freeze ok and be perfect for toast another day!
Recipe by The Cook & Him at https://thecookandhim.com/recipes/date-and-nut-spiced-fruit-loaf/